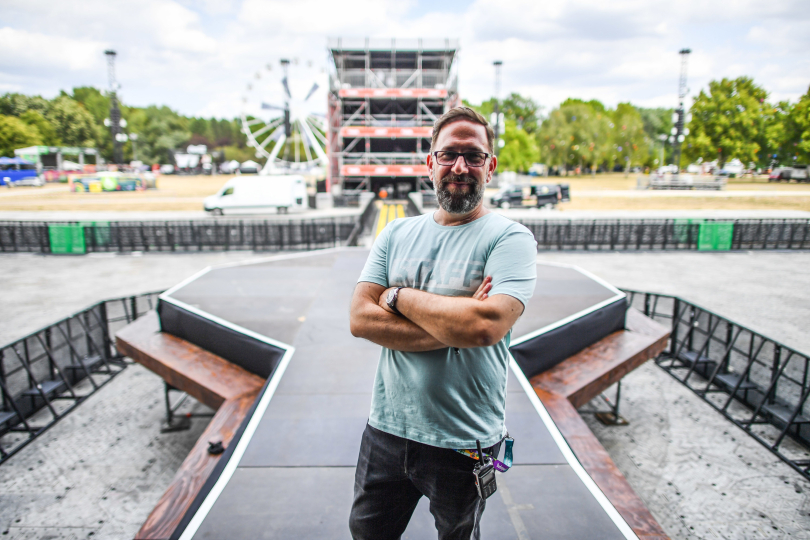 "I am really looking forward to the show of Billie Eilish, who has never played in our region before," says Tamáš Kádár. | Photo: archive Sziget
Tamáš Kádár (Sziget Festival): I Enjoy Most Concerts Where I Feel That Something Special Is Happening
Since 2011 Tamáš Kádár has been managing director of the renowned Sziget Festival in Budapest, which this year celebrates thirty years since its first edition. In addition to the established headliners, he tries to bring grassroots and emerging artists of different genres to the festival. "I think seeing these stars of tomorrow is definitely something which can give inspiration to musicians," says Tamáš Kádár, who is also proud of the fact that Sziget is an organisation that does not depend on any state grants or subsidies. This year, it takes place from the 10th to 15th of August and will feature performances by Billie Eilish, Imagine Dragons, Bonobo, Foals and many others.
This year marks 30 years since the first edition of Sziget, what do you think has been most successful and what would you like to change in the future?
I think the biggest success for us was that we were able to grow Sziget to one of the top European festivals in these 30 years but keep its friendly and familiar vibe and unique atmosphere. No matter the size, our guests can enjoy absolute freedom and happiness at Sziget. 
There is always a lot to change or improve, this year we have a very strong focus on visitor services and well-being – this is something we are putting a lot of effort into right now.
Abroad Sziget is one of the most renowned festivals in Europe, what is the position of the festival on the domestic scene?
Sziget is by far the biggest festival in Hungary, not only because the visitors come from more than 100 countries but also due to the huge numbers of local visitors. In the past 30 years, Sziget became a kind of institution within the Hungarian festival scene and the biggest cultural event of Budapest.
How has Covid-19 influenced the organisation of such a big event as Sziget?
Well, we missed two editions of Sziget during the pandemic, which was not only hard from a financial point of view but it was also hard to handle mentally for the team and our fans as well.
What challenges do you think lie ahead for the live event industry and how can Europe overcome them?
I think this year will be the first "normal" year after Covid-19, where smaller festivals and organisations will have to fight for their fans, while bigger brands might have the necessary trust from the fans. I think the big question lies in innovation and the way ahead for most of the festival brands, so not only to manage the comeback after the pandemic but setting new standards and paths at the same time.
What was behind the decision to shorten the Sziget festival from 7 days to 6?
We learned already in 2018 and 2019 that 7 days plus travel might be too long for a lot of our visitors, especially when it comes to a festival holiday – which Sziget is for a lot of them. To have the resources for such a long party seemed to be a challenge for many of our guests. Also, our neighbourhood, the inhabitants of the districts close to the Island of Freedom were asking for a shorter period. So these elements together made us cut one day off, but we are still one of the longest parties in the international festival scene. 
How many visitors come from abroad compared to domestic visitors?
The proportion of visitors is around 50-50 local and international, however, international visitors usually come for longer than locals, who attend for 1 or 2 days only.
Are there any new performers on the bill that you are particularly looking forward to? To what extent does Sziget try to represent and support underground and unsigned performers?
Every year we showcase a lot of upcoming artists, bands and DJs who are not known internationally, only on their local market. There is always something new and interesting to bump into, however this year I am really looking forward to the show of Billie Eilish, who has never played in our region before.
I assume that most of your invoices are paid and issued in Euros. How problematic is it for you that in Hungary you pay in Forint?
Almost the entire artist budget is paid in Euros or USD, so the weaker the Forint gets, the harder it is for us. The situation of the local currency is definitely a risk we have to manage carefully.
What is the situation for music promoters in Hungary today? Sziget stands with a clear message of equal rights for all without exception – is this somehow reflected in the support of the festival by the political representation in the country?
Sziget has had its values since the first edition, and these values remain unchanged no matter what the actual political situation looks like. In the past 30 years, we have seen a lot in our country, and we are proud of being an independent organisation not relying on any government grants or subsidies.
What do you like and appreciate about musicians at concerts? Which concerts do you enjoy the most?
I think it all comes down to the entertainment of the crowd and the interaction, the energy between the artist and its audience. I enjoy those shows, and concerts the most where I feel that something special is happening, some special vibe is taking shape and where you don't know how much time has passed.
What criteria do you consider when selecting artists for the festival?
We try to invite artists from all genres to provide a full-scale experience for our visitors and of course, we try to reach the best and most popular artists from all genres. This is not an easy task, it is not obvious that you can get all the artists to your festival you wish for.
Is there any educational program focused on musicians at Sziget?
There is no particular workshop or education for musicians, however, we have a list of stages where we try to show grassroots or emerging artists in different genres. I think seeing these stars of tomorrow is definitely something which can give inspiration to musicians.
Do you have time during the festival to see any of the programmes? How many concerts can you make it to during the festival?
Yes, of course, I spend a lot of time watching shows, concerts and DJ sets, on average I watch at least 4-5 artists a day, sometimes the full concert, sometimes only a part of it.
BIO: Tamáš Kádár was born in 1975 in Budapest, after a short stay in Germany he graduated from Eötvös József High School, then he graduated in Journalism/Communication at Kodolányi János College. At the age of 19, he started working as an advertising salesman at Radio Bridge, and two years later he founded Berg Média Budapest, which grew to become the largest media agency in Hungary in the 2000s. He co-founded EstFM, and later became a majority owner of the resulting radio station Radiocafé 98.6, which was a key player and innovator in the Budapest radio market. After the sale of the radio station, he became managing director of Est Média, where he helped launch NeoFm while building up its portfolio. From 2011 he has been managing director of Sziget.
If you have found an error or typo in the article, please let us know by e-mail info@insounder.org.