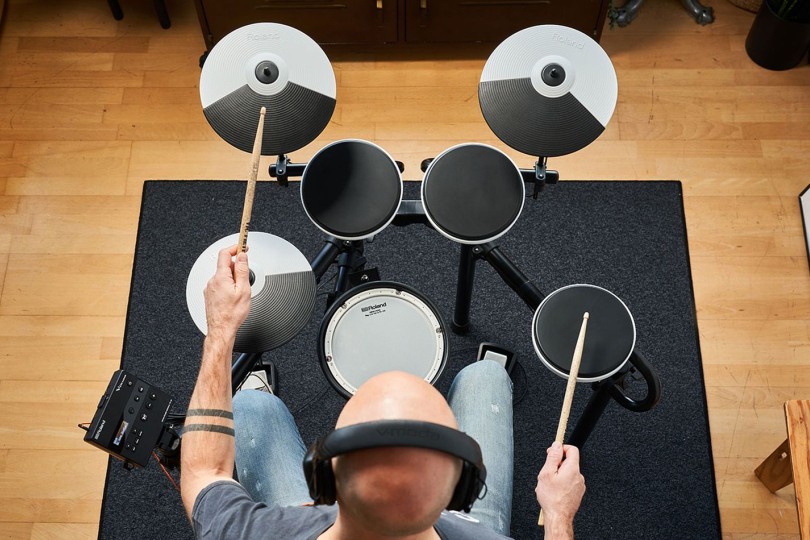 TD-02K and TD-02KV: Electronic Starter Drum Kits from Roland
Roland's V-Drums series of electronic drums are among the best that the current market has to offer in this instrument category. However, the prices of these kits reflect that, so you need to dig deep into your pockets when purchasing one of the higher-end models of the V-Drums series. However, the Japanese manufacturer also thinks about beginners or less affluent players who demand, above all, straightforward module control, stable sound with appropriate dynamics and mechanical durability from a kit of this type. These features, supplemented by additional functions, were already met by the TD-01 version, which is now followed by a pair of affordable TD-02K and TD-02KV.
Both kits use the new TD-02 sound module and come in five-piece configurations: 3 x tom PD-4, bass pedal KT-1, snare, hi-hat CY-5 + pedal FD-1, crash CY-5 and ride CY-5. The versions differ primarily in the snare, with the TD-02K featuring a PD-4 type, while the TD-02KV version has a PDX-8 drum with a tunable mesh head for better dynamics and more realistic response, including the option of rimshot and cross-sticking techniques.
In addition, there's also a difference in the ramp – the cheaper TD-02K kit is fitted with the simpler MDS-MINI rack with three posts, allowing a significantly lower pad position, ideal for the youngest adepts of the drumming craft, while the more luxurious TD-02KV kit features the MDS-LITE ramp with four posts, so the rack offers a wider component layout.
The TD-02 module includes 16 virtual kits, a metronome (20 to 260 bpm) with multiple rhythmic patters and 15 sounds, a two-track (+ 2x playback) recording unit with USB card, a clear display, tutorial modes (2x Time Check, Quient Count, Auto Up/Down, etc.), Mix In input, main/headphone output, DB-25 trigger jack, USB-B port, and a slot for the optional Boss BT-Dual Bluetooth MIDI audio adapter.
The station is powered by a 12 V DC power supply, you can add options such as the DAP-2X option pack, a second OP-TD1C crash, and although both pedals are modified to not transmit noise to the floor, special Noise Eater series isolation pads can also be purchased.
The Roland TD-02K kit is priced at 400 dollars, including a voltage adapter, wiring and a service key. A higher version of the TD-02KV costs about 600 dollars and you can also choose the financially discounted TD-02KV Bundle, which for a price of about 670 dollars also includes a Basix DC-2.1 professional seat, Superlux HD330 studio headphones and a pair of Vic Firth Nova 5A hickory drumsticks.
There's also a free Melodics app for V-Drums app (Mac, PC) containing selected percussion lessons, developing a sense of rhythm, timing and muscle memory. Subscribers also have access to additional premium content that includes over 70 lessons.
If you have found an error or typo in the article, please let us know by e-mail info@insounder.org.