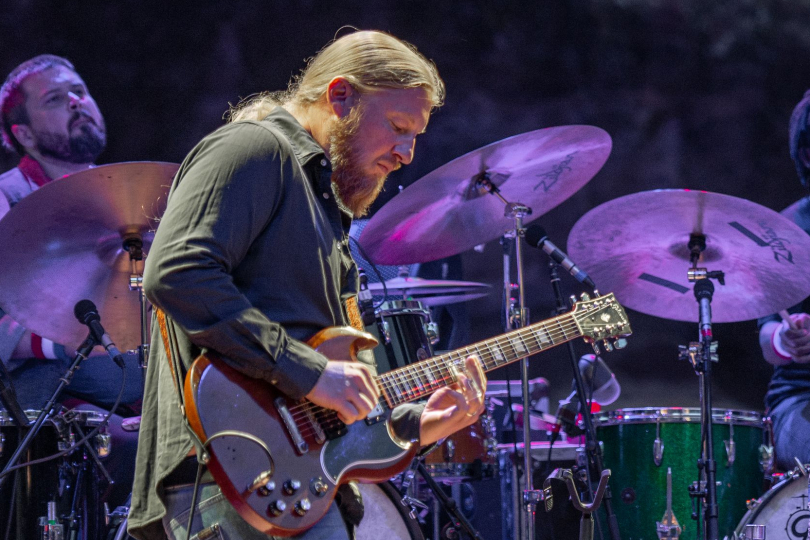 Derek Trucks probably doesn't take the bottleneck off his finger even in his sleep and his playing technique has reached absolute mastery. | Photo: Stuart Levine
Ten Best Slide Guitarists in the World
The following selection of ten world slide guitarists is based on the author's personal opinion. Many of them are considered icons of slide guitar, others practice the technique rather sporadically, but recorded at least one song that deserves our attention. They are ranked by date of birth and if your favourite slide guitarist is missing from the list, don't stone the author.
The slide guitar technique is over a hundred years old, stemming from some early African instruments, and was first used by African Americans to play the diddley bow, which was basically a single string stretched over a piece of wood. The slide guitar was first introduced into "serious" music by Mississippi bluesmen at the beginning of the last century. One of their distinctive playing techniques was sliding the neck of the instrument with the neck of a bottle (hence the common name for anything that is used for sliding, i.e. bottleneck), but also with a knife or a metal lighter. The resulting sound corresponded beautifully with the exalted vocal and in a way recreated an "answer" to the sung phrase.
From these pioneers of the slide, the method was taken up by rockers, first the blues-oriented ones, then the melodic players, who realised the enormous potential of this technique – it enabled them to achieve very precise emotional nuances in their play. It's also essential in country music (the genre-defining instruments, the Dobro and lap steel guitar and the pedal steel guitar, are built specifically for this technique – we'll exclude players of these instruments from this overview as they represent an entirely different style of music, we'll come back to them some other time) and of course in Hawaiian music – many listeners inaccurately refer to slide guitar as "Hawaiian".
1. Son House (1902–1988)
Out of dozens of Mississippi bluesmen, I have picked this one. Not only because he belonged to the first generation of this scene, but also because he was one of the wildest, toughest and most unforgettable slide guitarists. An incorrigible womaniser and drunkard, who paradoxically made his living as a religious preacher in his youth, was rediscovered for the world music scene in the 1960s thanks to the work of folk music revivalists. That is also the reason why he is the only one of his generation to be captured on film and television. Neither Robert Johnson nor Charley Patton, also masterful slide guitarists, accomplished this – by the time the wave of renewed interest rose, they had already been playing blues to the Lord.
2. Muddy Waters (1913–1983)
A transitional link between the Mississippi and Chicago electric blues, he was one of the first to apply the slide method to the electric guitar. His playing suddenly took on a piercing quality unprecedented at the time, literally digging into the ears and under the skin. Muddy Waters was not an astonishing instrumentalist, and in his old age he played quite sparsely – after all, he always had brilliant musicians in his band who "fixed" the music for him, while he focused only on singing and his charisma. However, when he did play his iconic Telecaster with a metal guitar slide, it was always an extremely emotional experience.
3. Elmore James (1918–1963)
He was one of the musicians who listeners labelled as the "king of the slide guitar", a title that is even carved on his tombstone. His most important recording is undoubtedly the "Dust My Broom", which he borrowed from Robert Johnson but gave a more modern, groovy, noisy and vigorously produced sound. Although Elmore James clearly belongs to the electric blues scene, he achieved his unique sound mostly by using a traditional acoustic guitar, which he amplified and thus significantly enhanced its volume. Therefore, like Muddy Waters, he can be considered an intermediate link on the journey from the cotton plantations of the South to the dingy bars of Chicago.
4. George Harrison (1943–2001)
Of our top ten, the youngest Beatle is actually the only non-American and also the only player who never had anything to do with the blues. His playing was always subtle but very distinctive, and always defined the overall feel of the recording. The slide guitar in Beatles songs is more of an exception, while in his solo career, George Harrison used it more – for example, in his most famous and successful song "My Sweet Lord" and in many others. However, his ability to make a point with just a few slide notes of a solo is reflected in "Handle With Care", a hit by the "superband" Travelling Wilburys with Bob Dylan, Roy Orbison, Tom Petty and Jeff Lynne.
5. Johnny Winter (1944–2014)
Whatever music he attempted during his long career, blues and his love of tradition were always present. This phenomenal guitarist may not have specialised in slide guitar one hundred per cent, but when he did take to it, it was an unforgettable listening experience, whether he was playing an all-metal resonator guitar like Son House, or the electric one – he used a Gibson Firebird model almost exclusively for slide until the end of his life. His slide masterpieces include "Mojo Boogie" and Dylan's "Highway 61 Revisited," which he arranged and sped up in a way that would have made the original guitarist Mike Bloomfield's eyes pop out of his head. Winter actually played it as an encore until the end of his life.
6. Duane Allman (1946–1971)
One of the greatest guitar virtuosos of the late 1960s and early 1970s, whose star career was cut short by a passionate love affair with a Harley motorbike, was arguably the first famous white slide guitar specialist. As the instrumental leader of The Allman Brothers Band, he introduced it to rock music, specifically to the emerging Southern scene. His recordings are still some of the most acclaimed guitar pieces of all time – it's no wonder he was ranked number two in Rolling Stone magazine's list of the 100 greatest guitarists of all time (you may guess who was number one).
By the age of twenty-four, when he kicked the bucket on the road in Macon, Georgia, Duane Allman had accomplished a lot and played with other stars of his time. Outside of his own band, he excelled in Eric Clapton's Derek And The Dominos, a project which didn't last long, but created the famous hit "Layla". But it is Duane's work in The Allman Brothers that stands out in his legacy.
7. Ry Cooder (1947)
The American desert, hot air glowing over the gravel, a rattlesnake crawling under a withered bush... and suddenly, the tense atmosphere is stirred by the sound of an electric guitar string being swept over with a slide. This is a typical scene from a film whose music was written by Ry Cooder, the man who has best visualised the slide technique. His soundtracks can easily be listened to as regular mainstream albums, that's how powerful the music is.
Of course, Cooder also makes normal song albums. Early in his career, he worked with Taj Mahal and Captain Beefheart, and in his solo work, he has touched on various forms of American music, from blues and zydeco to rock and jazz. His role as a mover and shaker in world music is also extremely interesting – without his involvement, we would not have known about the Buena Vista Social Club and probably not even Ali Farkas Touré, not counting the many other artists living outside the main showbiz routes. But this is where we should be talking about slide guitar. So: yes, as a slide guitarist, Ry Cooder is truly extraordinary.
8. Bonnie Raitt (1949)
Mostly in the USA, she is a hugely successful singer and guitarist, who moves between rock, blues and country. She is also the protagonist of several multi-platinum albums and the winner of thirteen Grammys, three of them this year, awarded two weeks ago. Photographs of the shocked musician the moment her name was called out during the announcement of the winners in one of the Song of the Year categories have become a hit on social media.
Bonnie Raitt has loved and admired old bluesmen since she was a young girl. In the early 1970s, she played with one of the icons of the genre, Mississippi Fred McDowell (a brilliant slide guitarist, by the way) and later she introduced blues elements into a folk-rock and country context. Raitt is known to enjoy taking part in various tribute projects to other musicians and has guested with many of her idols. Her version of Stevie Ray Vaughan's "Pride And Joy" was breathtaking and her duet with John Lee Hooker in "I'm In The Mood" is also beautiful.
9. Sonny Landreth (1951)
The Louisiana guitarist is one of the more or less hidden gems of the music scene, the kind we sometimes call a "musician's musician" – someone who is known and admired by most of his colleagues, who consider him a role model and at his concerts stare in disbelief at all the things that can be played, but who is never really discovered by ordinary listeners.
Perhaps the greatest service was done to Landreth (and a few others similarly "afflicted") by Eric Clapton when he invited him to his Crossroads guitar festival, where Landreth got the chance to introduce himself to a large number of fans live and also to hundreds of thousands of others through a recording released on CD and DVD. In addition to his own projects, Landreth has been a member of the bands of Louisiana Creole zydeco king Clifton Chenier, rock singer-songwriter John Hiatt, and Mayall's Bluesbreakers.
10. Derek Trucks (1979)
If anyone can be described as the absolute number one slide guitarist on the current scene, it is undoubtedly Derek Trucks, a full-fledged successor to Duane Allman in the now-defunct The Allman Brothers Band and frontman of his own band, which he leads with his wife, singer and guitarist Susan Tedeschi. Derek Trucks probably doesn't take the bottleneck off his finger even in his sleep and his playing technique has reached absolute mastery. His bluesy pentatonic improvisations sometimes touch the boundaries of Indian music (in which slide playing on guitar-related instruments is also widespread). This musically very thoughtful player is a hot candidate for the best slide guitarist of all time, and I state this even while acknowledging the suspect nature of all "absolute" claims. After all, look how he rocked when he was 14.
If you have found an error or typo in the article, please let us know by e-mail info@insounder.org.