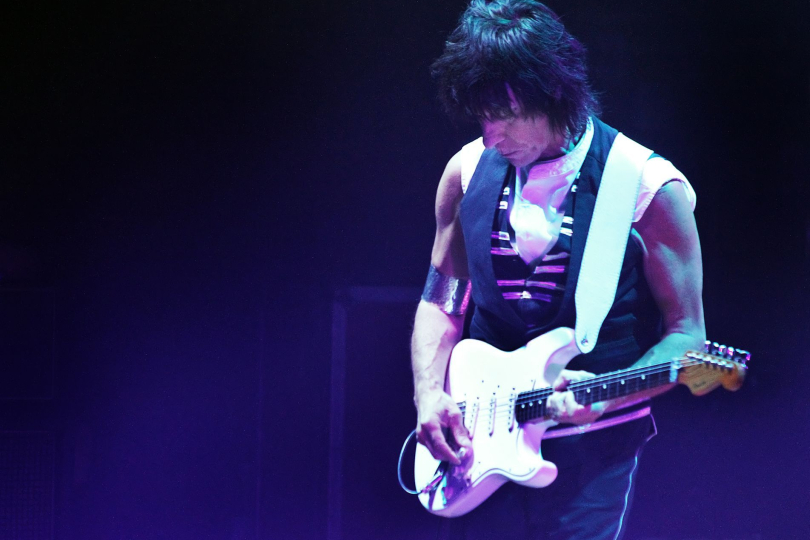 One of the greatest guitarists of all time has passed away. | Photo: archive of Jeff Beck
Jeff Beck: Interesting Facts From the Life of the Guitar Wizard
Phenomenal guitarist Jeff Beck died on Tuesday, 10th January, at the age of 78. When he released his album Loud Hailer in 2016, without any pompous commercials and flashy promos (as was his wont), we published an article about him in our partner e-zine Frontman. Today, in remembrance of this guitar master, we present a slightly edited version containing some interesting details from his life. Did you know about his Bohemian trace, film appearances and love of cars? Let's find out more about Jeff – whom we'll miss so much!
Let's skip the encyclopaedic facts about all the musicians with whom Jeff Beck played during his career. Also, let's leave out a long list of his recordings, and let's even forget about the technical analysis of his gear. We believe everybody knows that Jeff Beck has always played with only the best musicians, made a number of great albums on which he easily crossed genre boundaries and changed guitar colours like a chameleon. And it's no secret which guitars and amps Jeff has got "chummy with" throughout his career. Rather, let's focus on some little-known yet interesting bits and pieces of his career and let the man himself do the talking. It wasn't only with his guitar that Jeff Beck had something to say.
The Czech trace in the hands of a master
There can be no doubt that Jeff has had a good number of guitars pass through his hands, but one of the instruments is special to Czechs. This guitar was made in the workshop of the (unfortunately now deceased) luthier Petr Jurkovič, who teamed up with the artist Stefan Milkov for the occasion and built Jeff a guitar for his 67th birthday in 2011 – what else but a Stratocaster. And given the fact that Jeff had his premiere concert in the Czech Republic the day before his birthday, there was also an opportunity to present him with the gift in person. Let's at least briefly present this unique guitar.
As the guitar maker himself put it, he based the instrument primarily on the Fender signature model that had been made exactly to Jeff's specifications. The pickups and hardware were therefore identical to those used by Jeff, but otherwise, the guitar (with the exception of the fretboard) was made exclusively from Czech, high-quality and very old wood, which Petr Jurkovič selected from his archives. Moreover, the entire instrument was hand-made, including sanding and polishing the lacquer. The perfect craftsmanship was then underlined by the artist Stefan Milkov, who chose black and white ornaments for the pickguard.
The headstock was decorated with a stylised zodiac sign of Cancer, in which Jeff Beck was born, and the guitar's serial number was replaced by his date of birth. They say Jeff was thrilled with the gift, and Petr Jurkovič was fond of remembering this meeting. After all, not only Jeff Beck owned an instrument from his workshop, but so did Billy Gibbons and Eric Clapton. Whether this guitar can be heard on any of Jeff's later recordings is unknown, but hopefully, it can, and the Czech trace was recorded this way.
Jeff Beck in films
Although the most common place to see Jeff was in the studio or on stage, we also had the opportunity to see him on movie or television screens several times. The first time it happened was in 1966 in Michelangelo Antonioni's famous drama Blow-Up, where he played more or less himself – in the film he performed with the Yardbirds (at that time with Jimmy Page).
Then, in 1982, he appeared in the musical comedy The Secret Policeman's Other Ball recording, where he shared the stage with Sting, Phil Collins and Bob Geldof. In the same year, he also flashed on the British comedy series The Comic Strip Presents, with Elvis Costello appearing alongside him.
Six years later, he was seen alongside Arnold Schwarzenegger and Danny DeVito in the film Twins, where he acted "surprisingly" as a guitarist and contributed to the soundtrack. Another year later, he played himself again in the British comedy Lenny Live And Unleashed.
In 1991, he performed the role of a postman in another comedy The Pope Must Die, and then in the 2014 TV movie Harry and Paul's Story of the 2s, where he was joined by another well-known musical personality, singer Chrissie Hynde of The Pretenders.
A guitarist or car mechanic?
Many music icons can boast a collection of rare, luxurious, expensive cars, but how many can repair or polish their darlings to perfection? Jeff Beck has mastered all of this, and despite his hands being truly priceless, he didn't hesitate to pick up screwdrivers, pliers, wrenches and a welder with gusto. "I wear gloves," he always replied with a smile to journalists when the subject came up in interviews. Cars have been a passion of his since his early childhood when the then-nascent rock'n'roll and automobiles embodied the concept of America for him.
Jeff Beck was the owner of one of the largest and most beautiful collections of Ford Hot Rods in the UK and was also a keen fan of racing these unconventionally modified cars. One of his favourite pieces was a 1932 Ford Deuce Coupe replica and his own 1959 Corvette Resto Rod modification. This passion of Beck's was often reflected in his songs and some of his album covers. In fact, he commented on it: "When I'm in the garage, there's a kind of ray of hope around me. It's like I'm in heaven." And a lot of fans must feel the same way when listening to his music.
What did Jeff Beck say about the Stratocaster?
"For the first time, I saw Stratocaster in a film in about '59, and I was dying to see a real one and touch it, but there weren't that many in England at the time. And when I did see one, I had my nose stuck to the window for weeks. And I had to wait a hell of a long time for my first real Stratocaster.
Every once in a while someone comes up with a great invention, and this guitar is one of them. You have everything you need in this guitar, the whole spectrum of human emotion, you can play every note known to mankind. Every time I look at that guitar, I think it's just a piece of wood and a couple of wires that got me into a lot of trouble, but then I look around, and I see that because of that guitar I have all the material things I needed. It's cost me a lot of problems and breakups and stuff... my wife said to me one day, 'It's either this guitar or me!' And you can guess three times which one has left.
The most important and most perfect sounds of the 20th century were played on these guitars, and if it happened that God for some reason burned all the guitars and left me with just one old rickety piece of junk, I'd deal with it, because that's the guitar I started with.
If I play the right note, I don't care how I played it or why. As long as it fits. I don't want to worry about any music rules, I prefer freedom. I want people to be completely shocked by what I've shown them, something they haven't seen before. That's exactly what I want.
And why did I stop playing with a pick and start playing with my fingers? It's a more personal, immediate contact with the string... But mainly because I used to drink a lot on stage and the pick would often fall out of my hand and everyone would know immediately that I was drunk. So I ditched the pick and kicked everybody's ass."
Jeff, you will be remembered! Especially your Guitar Shop album was and still is one of the most essential ones in my collection, and you will always be, together with Jimi Hendrix, the greatest guitar innovator for me!
If you have found an error or typo in the article, please let us know by e-mail info@insounder.org.