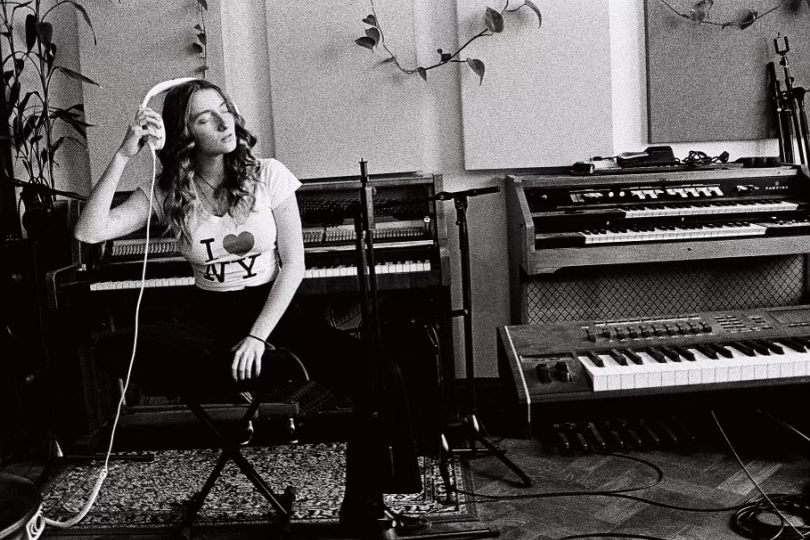 In "Please Be Gentle", I ask for sympathy, I ask to be listened to and maybe to go a few years back to the time when everything worked.| Photo: Jan Liška
The Title Track of the EP Helped Me Break away from a Toxic Friendship
After the release of the first single, "Karolina's Trip," I knew this journey would continue. Songwriting feels natural to me, I would compare it to writing a diary or confiding my feelings to a good friend. I had a few singles in my repertoire that I wanted to finish before the EP was released. But in the end, before the studio recording deadline, I composed some new songs with a bit more perspective on my past experiences. So, I came to Prokop Korb's studio with four songs—"Worms," "Spring Skin," "Reaching" and "Please Be Gentle." All of them, like the debut single, capture a dreamlike atmosphere. At the same time, they talk about selfishness and how it relates to growing up.
Now I would like to share with you the process of creating these songs through the notes from my diary.
Day One: 21 February 2022
"We are starting with 'Worms.' They found the drums and made a banger. There's still a lot of work to be done. I have so much endorphin in my body. Eating Vietnamese, walking around the garden of the art school in Ládví, drinking coffee. After a break, we improvise, jam. Prokop plays a river on the piano. The instrumental part for 'Spring Skin' emerges. So fragile. We're sketching 'Reaching' and 'Please Be Gentle.' I wonder how they'll turn out. See you later."
Worms
This song is one of the main reasons why we continued recording with Prokop Korb. Although I got a sound card for Christmas, I still didn't feel like producing it myself. I still need help in this regard, still need to learn. The sessions charge me with new experience. I wanted to support the song with drums, play around with it, break away from the clean acoustics I love so much. I composed it last autumn when I moved to Brno, started studying and enjoying student life. I was reflecting on my selfishness, my need to explore and do things that I know deep down are not good for me and the people around me.
Growing up.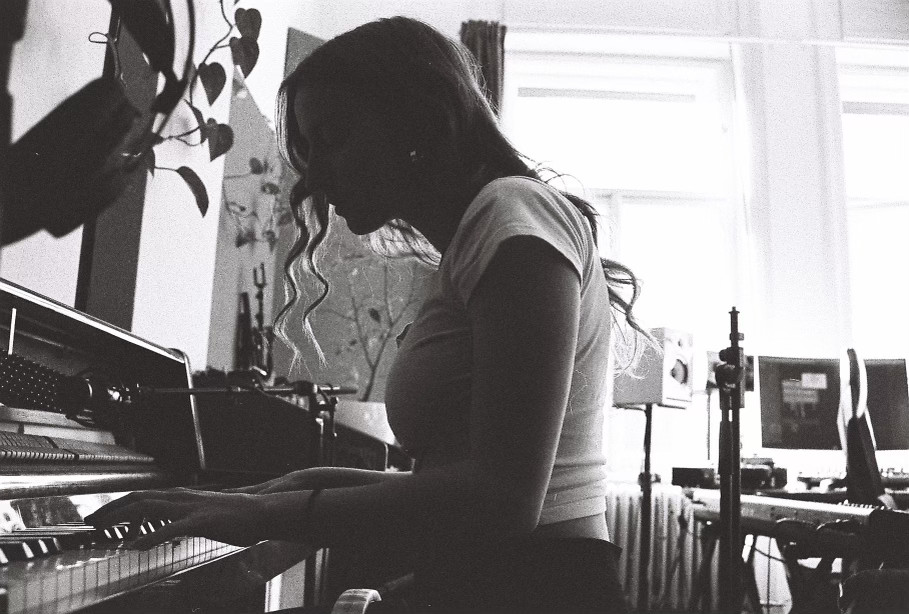 Day Two: 22 February 2022
"We're working on 'Worms again, ' I have a few notes about changes, Prokop disagrees with some of them, communication is crucial, producers know what works. It's good to take advice, humility is important in collaboration. Knowing when to assert your own and when to trust. The final feeling is victorious. Our session today was shot in an analogue by Janek (Jan Liška).
We're looking for harmonies for 'Spring Skin's' vocals and we're making a synth out of some of them. Goosebumps. We back up 'Reaching' with a bow on guitar. We're not pausing today. In the dark, around 10 pm, we record the purely acoustic 'Please Be Gentle.'"
Spring Skin
This delicacy was created shortly after the New Year which was particularly warm, both on the body and on the soul. I am experiencing true love, discovering its textures, believing in a warm tomorrow. The original version was a guitar version, we eventually accompanied its smoothness and high vocals with a piano, I call it a river.
Reaching
I think consciously, act subconsciously, with a grey conscience, actions are familiar, subconscious. Again, I reflect on my actions, and on why I meet people that I must not and do not want to expect anything from. I love and look away. My strong will and good values bubble to the surface.
For this song, I recycled a 2018 FAMU film I was in and I'm recycling situations as well. My younger self was looking up to others and constantly searching for her own identity. Similar moments might repeat in the next phase of my adolescence. But I already know that it is the attitude and change of values that teaches me to approach feelings differently.
Day Three: 23 February 2022
"Today, we only recorded the vocals. We got it. EP, looking forward to seeing you. I'm going home, absorbing. I'm grateful."
Please Be Gentle
In the last track, I don't discuss a love relationship, but a relationship with a friend. The song helped me to detach from a toxic friendship. I ask for sympathy, I ask to be listened to and maybe to go a few years back to the time when everything worked. The song gave me perspective on the situation. That's what I love most about composing.
The recording and composing process were pleasant. I was surprised by how easy it was. Many thanks to Prokop Korb. He facilitated the whole process with his talent and knowledge in music and mastering.
At the moment, I'm working on new singles, now only with little production in a bedroom with a friend. I have to admit it's a lot more work, but even that is shaping me into the sound I'm looking for. I'm grateful for the freedom of musical expression, the opportunities to create, to compose. I look forward to more.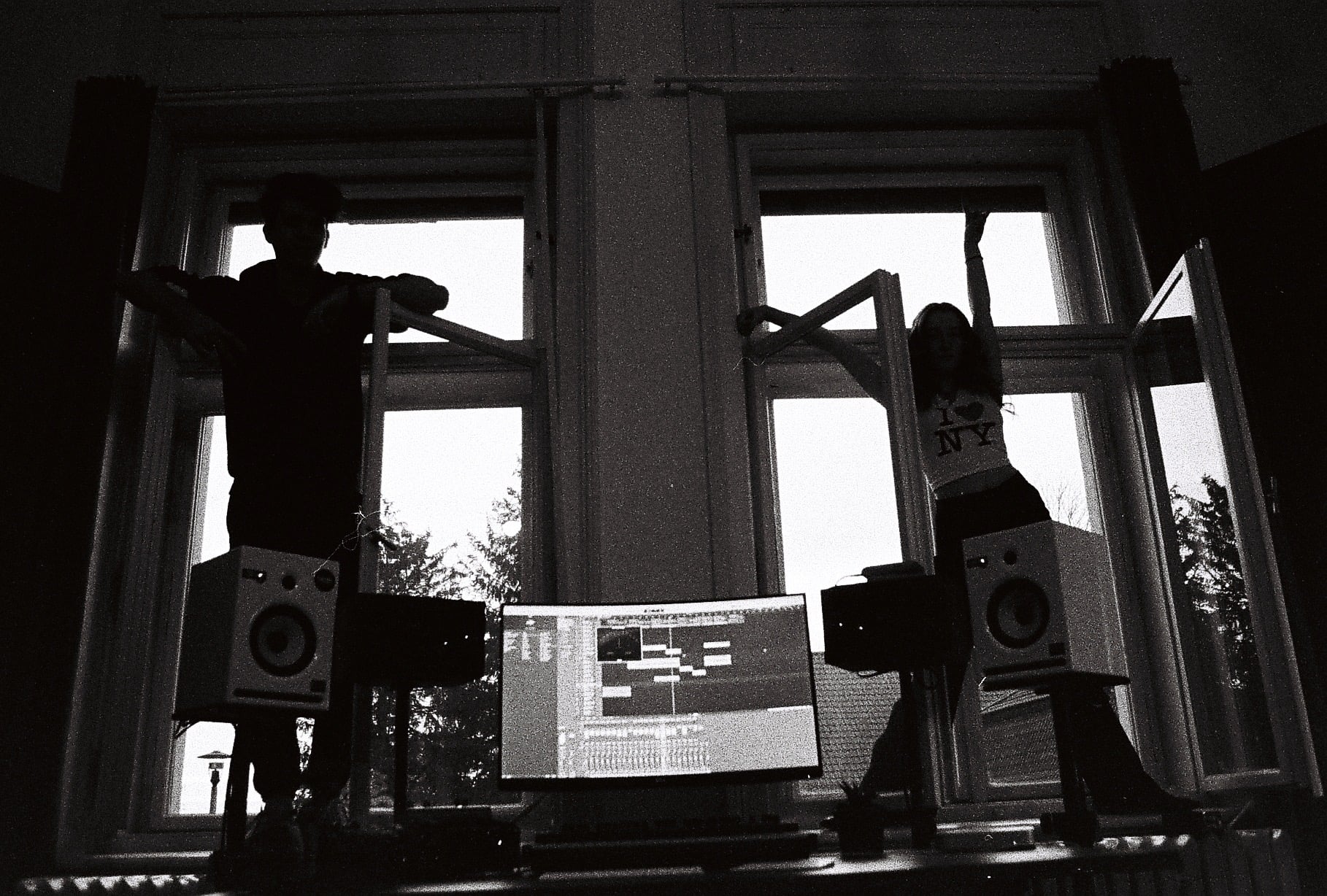 How did you prepare your songs for your first EP or album? Share with us in the comments or email us directly at redakce@frontman.cz.
If you have found an error or typo in the article, please let us know by e-mail info@insounder.org.