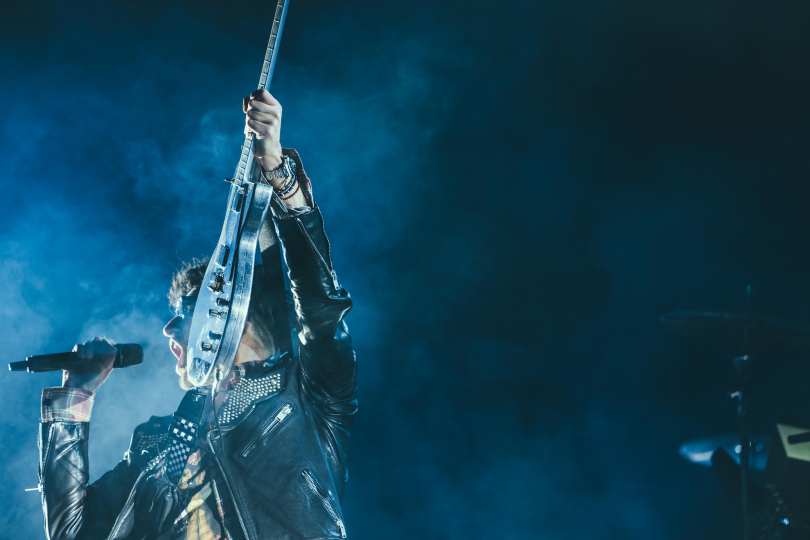 Sometimes it's hard to tell the difference between a perfectly normal effort to make enough money to run a band and survive and pure greed and opportunism. | Photo: Austin Neill (Unsplash)
TOP 10 Rock Bands That Didn't "Sell Out"
Fans feel sensitive about their musical heroes. This often makes them overly critical. They are especially unforgiving of excessive success, focus on the commercial side of things or flirtation with corporations. They feel betrayed. Their beloved garage band, which only a few insiders knew about, is suddenly on magazine covers, playing at stadiums and the bass player is lying on the beach with a famous top model. Unacceptable, undignified, a betrayal of the underground! It's happened to many bands and many musicians transitioning from the darkness of alternative clubs into the commercial spotlight. Suddenly, you're caught in your own success.
Each band deals with it in their own way. Most of the time, they decide to make a "back to their roots" album to show their fans that they're still the good old, faithful proponents of anarchy, wildness and rock'n'roll. They stop taking every interview offer and even resist their own menu at McDonald's. That is the beginning of the cleansing phase.
But at which point can you say that the band has sold out? Is it when they sign a deal with a major record label? When they have a hundred million hits on YouTube? When they are on the cover of a teen magazine? Waving the keys to luxury cars? When concert admissions exceed a level you find acceptable? Do you have to sell a kidney to get a photo with them backstage?
Sometimes it's hard to tell the difference between a perfectly normal effort to make enough money to run a band and survive and pure greed and opportunism. The costs of running a band are enormous, touring is getting more and more expensive and most money comes from merch and concert tickets. However, there has to be a limit and some bands have proven that it is possible to survive in the music show business without selling your soul or emptying your fans' wallets. Let's take a look at the TOP 10 rock and metal bands that didn't sell out.
But first, here's a little note on the choice of bands. I didn't include many that are undoubtedly authentic and have achieved cult status without "selling out". The main criteria for the selection below were the following factors:
A loyal fan base, independence (with a few exceptions as it is almost impossible not to be associated in some way with one of the TOP 4 music corporations – Sony, EMI, Universal and Warner)
long-standing presence on the scene
uninterrupted album production
success built the DIY way
integrity (walk your talk) and last but not least
originality and music quality
1. Motörhead
The team around Lemmy Kilmister, an icon and symbol of the rock lifestyle, were the embodiment of all the ideals of independence and finding your own way. Motörhead was most often labelled a heavy metal band, but their unique style gave rise to thrash and speed metal. Lemmy, however, always insisted that they were more of a rock'n'roll band. He said they had more in common with punk bands, and perhaps that's why Motörhead was accepted in both the punk and metal scenes. Lemmy's persona was respected both by fans of various genres and by the wider music community. Few have achieved such an iconic, undeniably authentic status as Lemmy and his crew.
2. Primus
The soul of Primus is Les Claypool, another distinctive and unclassifiable figure, a virtuoso bassist with an unmistakable style, typical nasal vocals and Dadaist lyrics about fish, cheese or some kind of mushroom weirdness. Kirk Hammett, Metallica's guitarist, remarked in a 1991 interview that Primus were "unique, like a square peg in a round hole".
I still don't get how Primus could make gold and platinum-selling albums with titles like Sailing the Seas of Cheese (1991), Pork Soda (1993) and Tales from the Punchbowl (1995), and that singles like "Jerry Was a Race Car Driver," "My Name Is Mud" and "Wynona's Big Brown Beaver" made the Billboard top ten. A unique story and a unique success of weirdness. As their fans would say in praise: "Primus sucks!" But in the best sense of the word.
3. Slayer
In 2019, when the band decided that thirty years of blasting out uncompromising riffs was enough, the so-called big four of thrash metal (Metallica, Megadeth, Anthrax and Slayer) lost one of its key members. Slayer were not afraid of controversial topics in their lyrics (serial killers, torture, genocide, organized crime, secret societies, the occult, terrorism, religion, fascism, racism and war) and have earned a cult status in the scene thanks to numerous album bans, lawsuits and criticism from religious groups.
Their third full-length album Reign in Blood (1986) is considered one of the most brutal and influential thrash metal albums of all time. I also give them an extra point for voluntarily ending their career. Slayer were one of the few bands with the courage and, more importantly, the dignity to realise that when you're sixty, those thrash riffs just don't sound that good anymore. Also, you lack the necessary brutality and rage that you had as a rebellious young man.
4. NOFX
NOFX's success came in the 90s during the neo-punk melodic wave, but unlike many of their contemporaries, this band never signed to a major label. In total, NOFX released fifteen studio albums and a number of seven-inch singles. The band's popularity was secured by their fifth studio album, Punk in Drublic (1994), which was a sales hit. With their DIY approach, NOFX have sold over eight million records worldwide, making them one of the most successful independent bands.
Their relationship with their fans is perfectly illustrated by an incident that took place on November 5, 2014, at a concert in Sydney, Australia. Fat Mike (lead singer and bassist) complained about a neck injury during the show and respectfully asked the audience not to throw objects at him and not to grab him because it was making him uncomfortable. Sure enough, during the show, an eager fan came on stage and put his arm around Mike's neck. Mike couldn't take it, elbowed the fan to the ground and then kicked him in his face. The fan got a big black eye but otherwise had no serious injuries. Fat Mike and the fan in question later apologised to each other via Twitter.
A video was also released of Mike having a beer with the fan and adding his own t-shirt as a bonus. He topped it off with a symbolic apology, letting the fan kick him with a big, fluffy boot. Well, wouldn't you love him?
5. Meshuggah
Considering how many Swedish death metal bands from the 90s and early new millennium have become pop hitmakers in the later stages of their careers, it's fascinating that the members of Meshuggah have maintained their utter intransigence and total disregard for "fan needs".
Djent, the genre they helped to create, has become increasingly mainstream over the years. At any time, Meshuggah could have decided to write a song with a catchy riff and a big, breathtaking chorus and they would have been celebrated for "natural evolution" or "crossing genre boundaries". But that's not for them. Playing in 4/4 time signature? Never!
6. Cannibal Corpse
In high school, I used to love wearing their t-shirts with motifs of dead people, disembowelled intestines, and disembowelled brains. It made the teachers love me all the more, haha. I'm also a big fan of their bassist, a three-fingered wizard named Alex Webster (not that he has three fingers, but he plays with a unique technique in his right hand that allows him to follow the infernal riffs of the guitarists).
The band have never strayed from their extreme metal approach, nor from their brutal aesthetic inspired by gore horror films. They always reacted with humour and exaggeration to the numerous bans on playing or selling their albums in Australia, Germany and Russia, for example. Alex Webster also claims that death metal fans enjoy this music all the more because they know that the violence depicted in the lyrics is not real. It's their way to vent their frustration when something really pisses them off in the real world. In short, it's good for world peace to release extreme metal albums.
7. Ween
With their wide range of musical styles and humorous lyrics, Ween are often compared to Frank Zappa. But they don't like it. They quote Prince as their main inspiration. Interesting, isn't it? Musically, the band could be placed in the huge alternative rock box. The central duo of Aaron Freeman and Mickey Melchiondo, better known by their stage names Gene and Dean Ween, form the heart of the band, which has produced a rich eclectic catalogue of funk, soul, country, gospel, progressive, psychedelia, R&B, heavy metal and punk rock inspired songs. Although Ween never received much mainstream recognition, they have built a large and, most importantly, devoted cult fan base and have also garnered critical acclaim.
8. Fugazi
This American post-hardcore band was formed in 1986 in Washington D.C. The four musicians, led by guitarists and vocalists Ian MacKay and Guy Picciotta, bassist Joe Lally and drummer Brendan Canty, were known for their stylistically distinct music, ethical attitude, DIY way of doing business and disdain for the music industry. The band had a huge influence on punk and alternative music. Since 2003, Fugazi have been on an open-ended break.
It's refreshing when bands on the scene really mean what they do. This is reflected in their "business" model – they viewed expensive admission to rock concerts as a price attack on the most loyal fans of the artist. That's why they set their admission price limit at $5. In later years, although they failed to keep ticket prices below the $10 to $15 range, Fugazi always tried to make ticket prices both affordable and profitable for the band. Unlike other indie rock contemporaries, Fugazi's shows and tours were always in the black, thanks to the band's popularity and their low production overhead.
9. Melvins
The band was named after a manager at a Thriftway store in Montesano where Buzz Osborne, the band's vocalist and guitarist, worked as a shop assistant. "Melvin" was very unpopular among the employees and the band members found his name to be appropriately derisive and odd as the name for their musical group.
The kings of Washington alt-metal have never written a pop-rock song or starred in a Pepsi-Cola commercial. It would break their fans' hearts. Fortunately, they've always followed the uncompromising motto that music is all that matters, and that's part of the reason they maintain their status as underground royalty. The band continues to make catchy, groovy sludge rock that stays safely out of the mainstream consciousness. And we can breathe a sigh of relief thinking that the world is still okay out there.
10. Frank Zappa
Last on our list, but certainly not last in terms of importance. His eclectic personality was a giant and a bright beacon on the indie scene. Zappa's work is characterised by non-conformity, free improvisation, sound experiments, musical virtuosity and, above all, satire aimed at American culture. Throughout his more than thirty-year-long career, Zappa composed rock, pop, jazz, fusion, and orchestral compositions and produced nearly all of the more than sixty albums released with his band Mothers of Invention or by him as a solo artist. Zappa also directed feature films and music videos and designed his album covers.
He is one of the most innovative and stylistically diverse musicians of his generation, and his legacy will remain with us forever. But I think Frank would give me a hard time for all that pathos! The scene is definitely missing someone with similar authority, insight and most importantly an uncompromisingly authentic attitude that challenges the current system. Freaks, troublemakers and mavericks of the music scene, where are you?
To conclude, I would like to say that I can hear your objections in my head. Where is Nirvana, RATM, System of a Down, Iron Maiden, Dio, Tool, Rush, Pantera, Napalm Death, Converge or Dillinger Escape Plan? And I'm sure I've left out plenty of others. Yes, I admit, the above TOP 10 bands are based mainly on my personal preference and the criteria set at the beginning of the article. However, I hope that even though this is an incomplete list, which is only meant to provide a framework for possible further discussion, it has inspired you and maybe even given you the courage to do things your own way.
Let us know in the comments below the article who should not be missing from the list and why.
If you have found an error or typo in the article, please let us know by e-mail info@insounder.org.