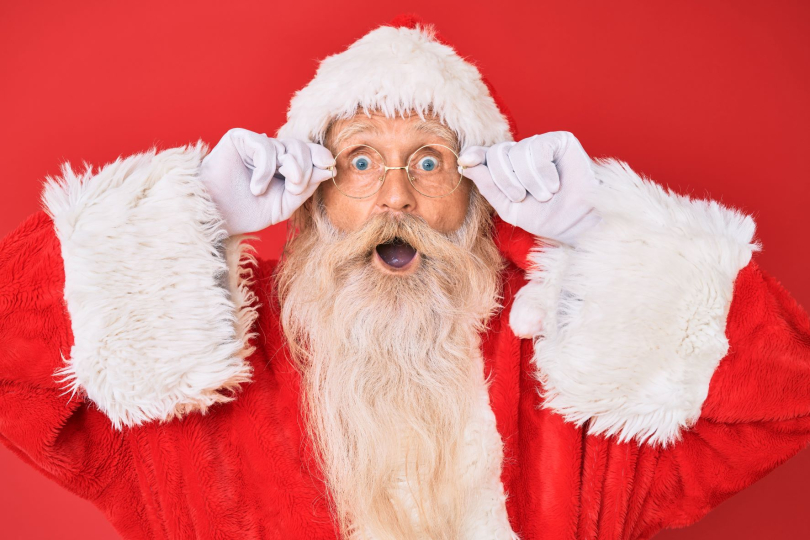 What? Mariah Carey didn't want to record "All I Want for Christmas Is You"? She was only twenty-five years old in 1994, and Christmas albums were reserved for established artists or aging legends. Photo: Krakenimages
TOP 5 Interesting Facts About the Megahit "All I Want for Christmas Is You"
Once Christmas time hits, it's impossible to escape one of the most famous and ubiquitous Christmas bangers, "All I Want for Christmas Is You" by Mariah Carey. Even though the song still sounds fresh, it's been with us since 1994. That entails a fair amount of history, but also stories that may surprise you with some interesting facts about its origins, recording methods or world records associated with this quintessential soundtrack to the Christmas feast.  
1. Mariah didn't want to record a Christmas song
She had no interest in recording a Christmas song and she was very resistant to the idea of a Christmas album. In 1994, Mariah Carey was only twenty-five years old and had three solo albums under her belt. At the time, Christmas albums were mainly made by older accomplished artists or those whose fame was on the wane. In his book Hitmaker: The Man and His Music, Tommy Motola, her ex-husband and music manager, recalls Mariah Carey's reaction when she first saw the cover of Merry Christmas: "What are you trying to do, turn me into Connie Francis?"
2. The hit was written in just 15 minutes
Mariah Carey composed the song together with experienced songwriter Walter Afanasieff. The secret of the song's success was the speed at which they wrote it. It's not an over-combined or unnecessarily overproduced ode to Christmas. A simple rock'n'roll form and a fantastically catchy vocal line are the two main ingredients that form the magical appeal of this Christmas potion that has enchanted the whole world.
In an interview for Billboard, Afanasieff described the creative process: "It was always the same sort of system with us. We would write the nucleus of the song, the melody primary music, and then some of the words were there as we finished writing it. [...] I started playing some rock 'n' roll piano and started boogie woogie-ing my left hand, and that inspired Mariah to come up with the melodic 'I don't want a lot for Christmas.' And then we started singing and playing around with this rock 'n' roll boogie song, which immediately came out to be the nucleus of what would end up being 'All I Want For Christmas Is You.' [...] That one went very quickly: It was an easier song to write than some of the other ones. It was very formulaic, not a lot of chord changes. I tried to make it a little more unique, putting in some special chords that you really don't hear a lot of, which made it unique and special."
3. Recording took place in the summer
This Christmas classic was recorded in a studio in New York during the beautiful summer of August 1994. However, that didn't stop Mariah Carey from providing some festive spirit and awesome Christmas inspiration during the recording process. "We had Christmas trees and lights brought into the studio to get us in the mood," said Afanasieff in an interview. "There was even talk of bringing in some snow at one point, but we didn't go with that, thank God!"
4. There is not a single live instrument on the recordin
Scandal! Afanasieff arranged the whole thing on his computer. The only real, human elements on the recording are the vocal lines of Mariah Carey and the backing vocalists. Originally, Afanasieff had the track recorded by a live band (drums and other instruments) trying to give it all a more raw and authentic sound, but he was dissatisfied with the results. He then rethought everything and ended up using his original arrangement where he programmed all the instruments you hear in the song (except for the vocals), including piano, effects, drums and triangle.
5. Success, success, success
As you can guess, the song is hugely successful on every imaginable level. Not only has it achieved worldwide sales with over 16 million copies, but it is the 11th best-selling single of all time. As of 2017, the song has reportedly earned over 60 million dollars in royalties alone. Its success is truly global. It has hit the charts in Hungary as well as in Australia, Japan, the Netherlands, Norway and the UK.
And that's not all, the song has also broken Guinness Book records as the highest-rated Christmas song by a solo artist on the Billboard U.S. Hot 100, the most streamed song on Spotify in 24 hours (twice!) and the Christmas song with the most weeks in the UK Singles Chart Top 10.
Whether you're an avid fan of this song or wish you'd never heard it on the radio again, it doesn't change one simple fact. "All I Want for Christmas Is You" has become an undisputed Christmas classic, and its dominance in the December media landscape for years to come is as certain as the fact that Santa's beard is white.
If you have found an error or typo in the article, please let us know by e-mail info@insounder.org.