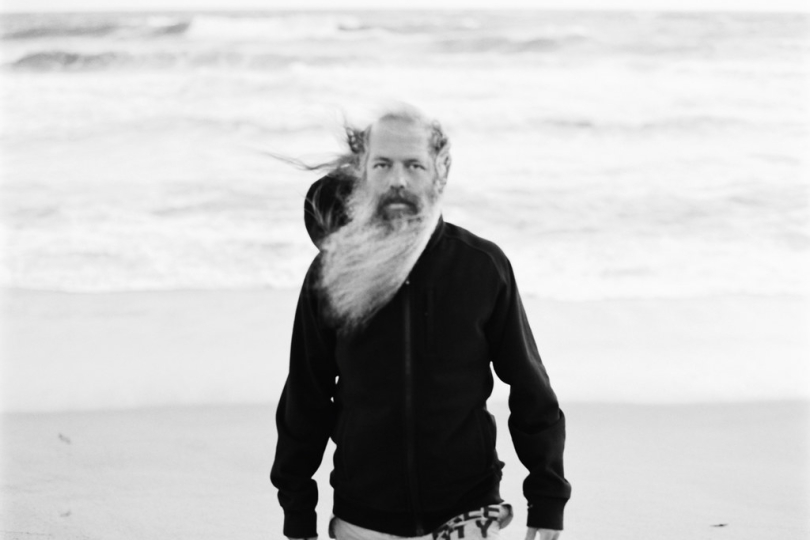 When you look at the vast number of albums and names of artists and bands he's worked with since the 80s, you're left wondering how this bearded, collectedly talking hippie with the aura of a shamanic guru could have achieved such success. | Photo: The Kingslayer ( Flickr)
TOP 5 Key Statements by Rick Rubin
Rick Rubin is an incredible figure in the music industry. To me and a few of my music friends, he's a mystical guru who knows something that we, mere mortals, don't even get a chance to glimpse. He sees beyond the horizon and perceives music as a harmony of celestial spheres. Therefore, I listen very carefully to what Rick Rubin has to say so that I don't accidentally miss how this seemingly chaotic and unpredictable musical world works. Since Rick Rubin seems to have all the keys.       
Rick Rubin's breathtaking career includes top management positions at multi-national conglomerates such as Columbia Records and Universal Music, but at the same time, he is a grey eminence in the alternative scene thanks to his own label, American Recordings. Along with the Beastie Boys, LL Cool J, Public Enemy, Geto Boys and Run-D.M.C., he has been instrumental in the hip hop scene's tremendous commercial rise. He has produced iconic albums for the metal scene (Danzig, Slayer, System of a Down), the alternative bands (Red Hot Chili Peppers, Weezer, The Cult) and has not hesitated to successfully break into the country music genre with Johnny Cash and The Chicks.
When you look at the vast number of albums and names of artists and bands he's worked with since the 80s, you're left wondering how this bearded, collectedly talking hippie with the aura of a shamanic guru could have achieved such success. Isn't there some magic behind it after all? Let's take a look at his top 5 quotes where he reveals his inner self.
1. "When you do something for the first time, you bring ignorance with you, which can greatly elevate the creative process."
My understanding is that there is no need to be afraid of experimentation, and especially no need to be afraid of mistakes and imperfections, which are a hindrance to the development of all musicians striving for perfection. Let go of the situation and be carried away in the flow of creativity.
2. "There is no pure ranking system for artistic success. Only you know if it's successful or not."
Here's where we start to get a little high on Rick Rubin's transcendental radar. Simply put, you yourselves feel very strongly whether a particular song or album is a success. And it has nothing to do with the number of likes or views on social media. Success is an artist's inner pride in their work.  
3. "When receiving suggestions, you can also try the exact opposite and see what happens."
This is where Rick Rubin resonates with me. How many times have you followed the advice of the "older and more experienced" to the letter, only to be utterly cranky or annoyed by the result? Follow your instincts first and foremost.
4. "Rules are expectations. Failure is merely an unmet expectation."
How much do we cling to expectations? What do we think of as success? Is the journey, the destination, or the company we travel in more important to us? I think musicians are constantly exposed to an endless stream of unmet expectations fed to them by the mass media culture with its simplistic understanding of the role of art and the artist in society.
5. "Laughter is a clue you're on to something."
I would be very careful with the interpretation here. We all probably know the kind of jokes we say in the van, the rehearsal room and the batch of all the crazy stories from touring or filming music videos. But that's goddamn fun, not laughter.
I feel like Rick Rubin is referring to the kind of laughter that comes from within. When your soul laughs at the sight of something innocent, beautiful or elusive. Or the moment you hear your newly recorded song for the first time and feel touched by something that transcends you. You look around and see that others are quietly laughing along with your soul.
Let the inspiration flow, follow Rick Rubin and his wisdom on Instagram, and never be tempted by short-term gains on your long-term musical journey.
If you have found an error or typo in the article, please let us know by e-mail info@insounder.org.