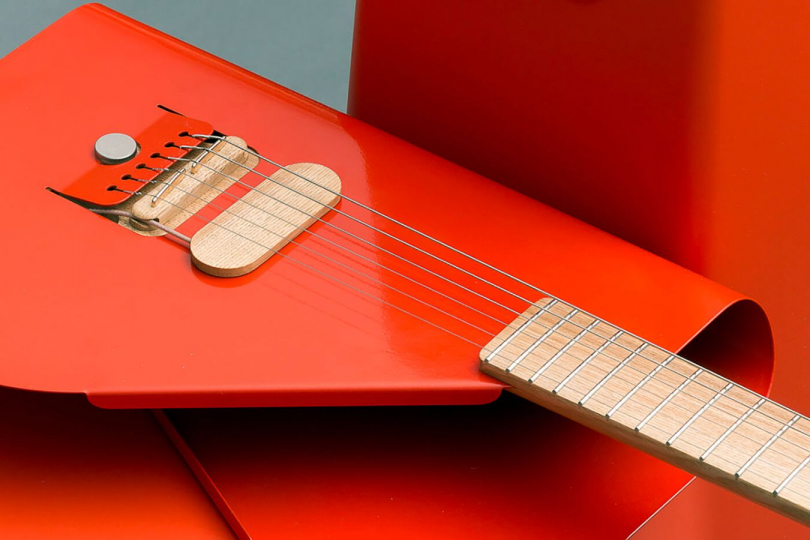 Verso Cosmo: A Futuristic Creation With a Metal Body
Robin Stummvoll, designer and head of Verso Musical Instruments—a boutique company in Kassel, Germany—recently presented an unusually conceived model of the Verso Cosmo guitar with a body made from a single piece of 1 mm thick bent steel sheet, powder-coated with a plastic-based paint. The other notable feature is a quick-change pickup attached to the body by a magnet, allowing the player to adjust its position to his or her liking. The wooden pickup cover visually blends in with the bridge base made of the same material, adding a warmer timbre to the resulting tone.
For the neck of this minimalistic guitar you can choose from maple, ash, cherry, walnut, apple or pear; and as expected from a boutique specialty, you can select the neck profile (C, V, or U shapes) and its thickness, the fingerboard radius, or any of a trio of humbuckers and single coils fitted with neodymium magnets. Of course, there are quality components such as gold-plated SMB connectors, internal wiring with silver-plated Teflon-coated wires, and reliable Schaller M6 Mini 1:18 tuning machines.
In addition to the Cosmo Standard version with a price tag of €1980, the €2850 Cosmo Plus version is also available with a pair of pickups, dual outputs, and a balance potentiometer for infinitely adjustable ratio of the two signal paths. The design and sonic possibilities of the Verso Cosmo Standard variant are presented in the videos below.
If you have found an error or typo in the article, please let us know by e-mail info@insounder.org.