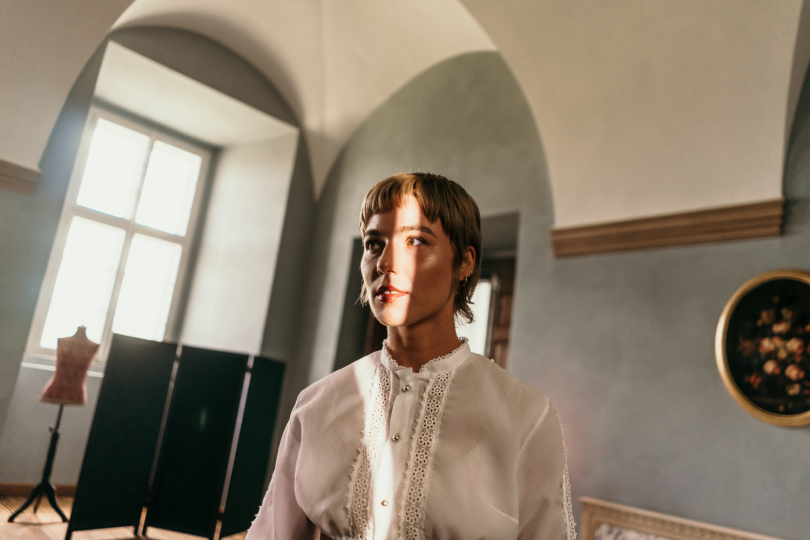 In the new music video "Gemini," dancer Zuzana Zizoe Veselá opens the door to the Gemini mind | Photo: David Poláček
When Everything Inside of Us Suddenly Switches and the Whole World Collapses
Following the single "Daughter Of The Sun" portraying a couple in love, I'm releasing my new music video "Gemini," in which you can see how their story ends. Through it, I show the internal emotional journey that happens after we lose someone close to us.
We filmed the clip in the beautiful baroque premises of Trpísty Castle. The dancer Zuzana Zizoe Veselá plays the main role, representing the twins with all their emotions. We try to show pure feeling. One moment we feel settled and reconciled—the next, something suddenly switch inside us and the whole world collapses.
In the song I describe the sign of the twins: Gemini. Eternal mutability, we never know which face will appear. Which mood will be stronger. As in the previous song, "Daughter of the Sun," the production was handled by British producer Steven Ansell.
The whole idea of the song came to me in connection with horoscopes, and how people believe in astrological signs. I often hear the phrase, "That person is like that because they're a Leo/Pisces/Sagittarius...." At first I found the phrase ironic, never stopping to think that the birth date might have a deeper meaning. It wasn't until I started to see the similarities between the signs. How is it possible that I've never met a Pisces who isn't interested in zodiac signs? And a Leo who doesn't think the world revolves around them? But as a friend of mine (a Pisces) would say, "Of course you don't believe in that, you're a Capricorn!" I still think of it as amusing rather than anything serious, though.
The main reason I wrote this song is because of the energy these people can have. I find it attractive and contagious, I like to be around people who have a sparkle in their eyes.
The music video was directed by Honya Tran again and is shot in my classic style. Our goal was to bring a sense of elegance and timelessness, to highlight female strength, and to communicate elements of stage dance.
How do you create your songs and music videos? Would you like to have your story published on Insounder's Community section? Send us an email: info@insounder.org.
If you have found an error or typo in the article, please let us know by e-mail info@insounder.org.