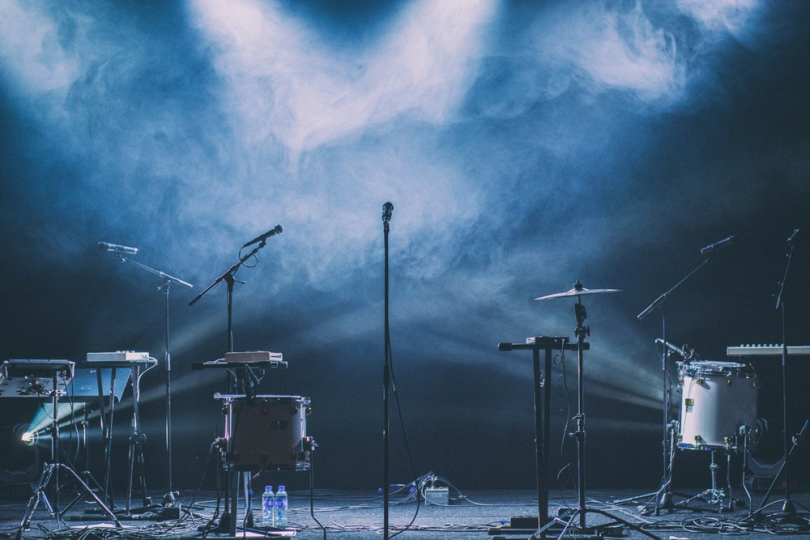 No punk singing in the rain is worth ruined instruments or an electric shock to the body. | Photo: Magnus Lunay (Unsplash)
3 Tips on How (Not) To Play a Gig When It's Raining Cats and Dogs
When the words "concert cancelled due to inclement weather" are uttered, more than one Faith No More fan sheds a sad tear at the memory of their cancelled performance at the Rock for People festival (2012). Luckily, the boys came again three years later and it worked out on the second attempt. No wonder the organisers were rather cautious. Just remember the tent that collapsed on the audience in a storm at the Pohoda festival (2009) or the tragic fall of the giant stage during the performance of the Sugarland band at the Indiana State Fair (2011). If you are performing musicians yourselves (meaning in the context of small bands production in the Czech Republic who do the booking and management by themselves), when is it worth fighting the weather and when is it better to pack your stuff and run away? I would like to point out that the examples mentioned in the following text actually happened.
1. The weather favours the prepared ones
Murphy's law concerning umbrellas says that if you take your umbrella with you, it is very likely that it will not rain at all, although the weatherman certainly promised it. Similarly, it pays to take precautionary steps when it comes to musical performances: always arrange with the organisers to provide a covered, safely fixed stage or a comfortable 'wet option' for an indoor concert. This will often ensure that there won't be a single drop of rain throughout your gig. For old stagers, this rule is just "taking owls to Athens", but it still doesn't hurt to remind ourselves of it.
After all, it's not much fun to find out after arriving at the venue that a flimsy party tent erected over a rickety stage (or better yet, right on a grassy patch) is only held together by a set of strings, a crib rail, a few broom handles and the earth's gravity. Watching the first raindrops hit the keys between your fingers as they seep through the tent canvas while you play, and wondering if it would be snooty to stop your performance, throw your coat over the instrument and run with it to safety, requires somewhat multitasking skills. Besides, it doesn't add to the quality of your musical performance, which, at that moment, is not really perceived by anyone in the audience anyway.
2. Move it! or contacts over gold
You're on your way to the concert when the phone rings and a distressed organiser tells you that the whole event has been cancelled because RIGHT NOW they have discovered a huge hole in the roof over the stage, which they won't be able to patch before the announced cloudburst. Or they simply cancel the gig on the day of the event, saying that in such terrible weather (which the radar has been warning about for the whole week ahead...) no people will come to the open-air event ("Are there cancellation conditions in your contract? Can I see them?").
What now? A van with musicians and instruments is on the way, time in the family schedule of all involved laboriously won, energy for the concert accumulated in your head, audience participation either promised or even pre-sold... Fight! It would be a shame to spend the evening somewhere with a beer instead of playing, moaning what a great concert it could have been if... Call the clubs and places around your venue tonight, where they might be able to host you. To that end, build up a network of contacts, it'll come in handy.
It's a safe bet that in big cities and on non-concert exposed days, you're more likely to be able to get the gig moved to a regular club where they don't currently have an act and they'll at least be happy that you'll increase their turnover and bar sales, or give them some cash. But even a local stuffy village pub hall or an empty hall of a nearby mini-factory (true story, really) is better than a cancelled gig – ideally, if the original promoter is willing to lend a hand, supply the sound (if you don't have your own) and maybe even refreshments for the audience. You'll still have time to tell your fans about the change of venue via social media – if they're loyal fans, they'll still appreciate your prompt solution.
3. Don't be pushing it
A lot can happen in the planning and during open-air gigs, and sometimes it's not the fault of anyone involved. In any case, a fair organizer will try to ensure technical comfort and safety and in case of problems, they prefer to cancel the concert in advance if possible and offer you an alternative date. Ideally, these situations will also be covered in the contract, so that everyone knows in advance what the rules are (I know, utopia...).
Of course, they tell you to come in all weathers, that they are ready for everything – but then, on-site, does it look like their makeshift shelter will fall on your head before it even starts to rain? Also, all your valiant attempts to move to alternative premises have failed? Then it's time to say: no thanks. Have clearly agreed rules with the rest of the band for these situations, so that you are consistent as a team to avoid arguing during the actual gig whether it's ok to carry on with the programme, or whether the cats are raining and it's time to bolt.
If you have respect for your instruments and yourselves, then on dodgy, technically unsecured "stages", don't even take your gear out of its case if rain threatens – you might lose your fee, you might hear a ton of crap about what prima donnas you are. But no punk singing in the rain is worth ruined instruments or an electric shock to the body.
What about you? Do you play when it's raining cats and dogs or are you more careful? Let us know in the comments!
If you have found an error or typo in the article, please let us know by e-mail info@insounder.org.