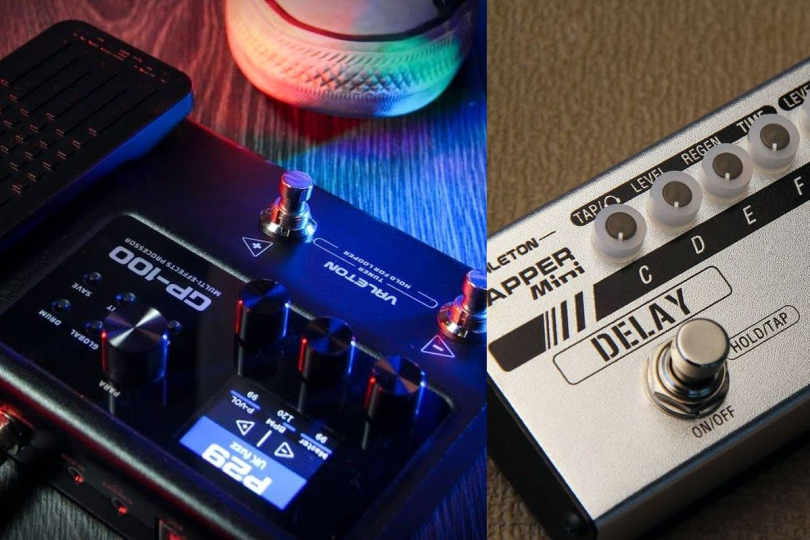 Affordable Valeton Guitar Effects
Valeton is one of the newly emerging competitors to the better-known Chinese brands Joyo, Mooer, or Caline, which have already established themselves on a global scale. As in the case of these companies, Valeton's products score above all with their superior price/performance ratio. The effects of this manufacturer are also available on the European market, where you can currently buy e.g. the volume/wah Surge EP-1, the volume/expression pedal Surge EP-2, the reverb Coral Echo II, the multi-effect pedal Dapper, supplemented by Mini, Indie, Acoustic Mini versions, or compact programmable preamp/multi-effects GP-100 and GP-100VT.
With their size of only 148.5 x 65.5 x 61 mm, the Surge EP-1 volume/wah pedal and the Surge EP-2 volume/expression pedal fit into smaller pedalboards and can be used in combination with guitar, bass, keyboards, and other instruments. Their users are informed about activation of the integrated footswitch mods (true bypass) due to two easily visible LEDs in case of the EP-1 model with 22 mA current consumption, while the passive EP-2 version (250 g) is able to automatically detect the output source and select the volume or expression function accordingly.
The miniature monophonic digital delay Coral Echo II with classic Mix controls—clean and effect signal ratio, Time – phrase length, and Feedback—number of repeats, has a rotary switch for selecting one of 16 presets, including modeling based on different types of delays (tape, modulation, tube, rack, lo-fi, etc.).
The footswitch also provides a Trail function (natural delay reverberation when the effect is turned off) and after a longer press it is possible to adjust the tap tempo. Compared to its predecessor, the second generation operates on a more advanced 24-bit platform, which has a positive effect on the sound quality and noise level. The effect, with an aluminium chassis of 42 x 94 x 52 mm, is powered by a standard 9V adapter.
The Dapper multi-effects series, inspired by the FlyRig collection of the New York company Tech 21, starts with the model of the same name equipped with a tuner with an associated display and a distortion consisting of a separate overdrive with Volume, Tone, Gain, and a distortion control with volume, gain, and two-band equalizers. There is also a delay with a maximum length of 1000 ms (Mix, Regen, Time parameters) and a second footswitch controlling the tap tempo.
The back of the chassis (dimensions 320 x 65 x 42 mm, weight 650 g) is designed for the input, output, power connector, send/return effect loop, and a slide switch activating the CabSim speaker emulation. In the more compact and cheaper Dapper Mini (197 x 65 x 42 mm, 417 g) there is an overdrive and distortion with common parameters of Volume, Tone, Gain, and the distortion modes are toggled with a lever switch.
The modulation is represented by a chorus, the footswitch of which also serves for activating the tuner with a backlit bar and marked notes. The analog-sounding delay, with a footswitch also providing the tap tempo function, is based on the larger Dapper, however lacking the effects loop and having CabSim emulation linked to a minijack headphone output.
The Dapper Acoustic Mini, designed for electroacoustic guitar, includes the same headphone output as the classic Mini version, but with an extra symmetric XLR output connector located on the left side and a tuner being arranged identically. The compressor (Volume, Comp, Attack) is placed behind the input circuit, followed by a preamplifier equipped with a three-band audio equalizer and a Notch and N. Freq filter circuit to remove potential feedback. The resulting fuller sound is achieved thanks to a simple but effective reverb, based on the classic hall algorithm.
The Dapper Indie, in light green metallic, is aimed at players who demand a more diverse selection of distortion, modulation, and reverb from their multi-effects. The basic concept isn't too distinct from the standard Dapper, but there is a different type of Indie Drive distortion to choose from, followed by a fuzz that, like the previous unit, features volume, gain and a two-band EQ.
The modulation section has also changed, with Depth and Speed controls and Chorus, Phaser, and Tremolo lever mod switches. The Echoes circuit (Delay, Regen, Time) offers Analog, Tape, Reverse modes and the Ambient unit with Reverb, Tone, Decay parameters includes Room, Hall, and Plate mods. The modulation and delay footswitches also determine the tap tempo, while the Trail mod can be selected for reverb when pressing the footswitch a little longer. The CabSim emulation is again linked to the minijack headphone output.
The programmable GP-100 preamp/multi-effect (dimensions 198 x 134 x 28 mm, weight 800 g) has a storage for 198 presets (99 user + 99 factory) and offers 45 well-known amplifiers' emulations, 40 factory IR pulses of various cabinets, 20 user IR storage slots for own samples, and more than 50 effects. Up to 9 items can be connected to a single signal chain and the converters operate at 24-bit/44.1 kHz resolution.I
Integrated is an expression/wah pedal, color display, a pair of footswitches with selectable Patch and Stomp modes, a chromatic tuner, and, last but not least, a looper (pre-FX) with a 90 second capacity and a unit with 100 rhythm patterns. Connectivity consists of an instrument input, a pair of main audio outputs, a USB-B 2.0 port, a mini-jack headphone input, an Aux In jack, and a 9V 500 mA adapter input.
The GP-100VT is different from the classic "100" due to its exclusive Jewel Violet hue, which, according to the manufacturer, is the result of a carefully proportioned palette of selected colors and six stages of complex manufacturing processes. Both GP processors communicate with a free editing app and are suitable for both electric and acoustic guitar, bass, and other instruments.
If you have found an error or typo in the article, please let us know by e-mail info@insounder.org.