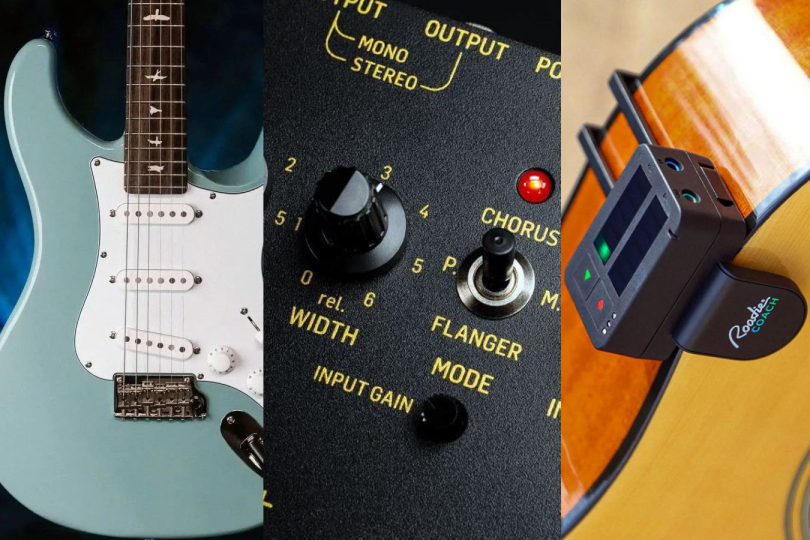 Guitar Gear Alert: March 2022
Are you a guitar fan? On the first Monday of each month, Insounder's news section will present a quick overview of new guitar gear that is about to hit the market. Guitar aficionados can thus get a general overview of the latest models of instruments, amplifiers, effects, or various accessories—strings, tuners, capos, etc. Technical equipment for bassists, drummers, keyboardists, singers, DJs, sound engineers, etc., will be presented in an overview on the third Monday of each month.
Guitars
PRS SE Silver Sky—long-awaited cheaper alternative to the American signature built for guitarist John Mayer has a poplar body, a bolt-on maple neck with a 635JM profile matching the original, and a rosewood fretboard with 22 medium frets. The strings are anchored in a PRS two-point tremolo and end in the company's vintage tuning machine with plastic keys. The instrument uses a trio of 635JM "S" single-coil pickups and is available in shades of Stone Blue, Dragon Fruit, Ever Green or Moon White for a price of around 1,000 euros including a padded gig bag.
Ibanez RG8560 J.Custom—this year's premium Japanese model based on the Custom Shop is offered in transparent shades of Sapphire Blue or Brownish Sphalerite fitted with passive Alnico DiMarzio Black Velvet pickups in HSS configuration. The African mahogany body carries a 4mm thick flame maple top with AAA quality drawings, while the neck, fitted with an RG J. Custom Super Wizard profile, is glued together from three maple slabs combined with two pieces of wenge wood. A Lo-Pro Edge double-locking tremolo with a low profile is installed. The limited edition is priced around 3,000 dollars.
Vintage Icon V65V—another excellent variation on the theme of the Fender Jazzmaster, an offset model that represents a stalwart of the independent rock scene. The instrument in black lacquer with relic finish offers two Wilkinson Soapbar single-coils, simple controls consisting of 1 x Volume, 1 x Tone and a three-position pickup selector switch, Wilkinson WJ55 machine heads and a vintage vibrato. The alder body is complemented by a maple neck with a vintage 'soft C' profile and a rosewood fretboard with 22 medium jumbo frets. The price has been set at around 580 dollars.
Effects
Crazy Tube Circuits Crossfire —a pedal that brings the sound of guitarist Stevie Ray Vaughan, whose signal chain often comprised a Strat, Tube Screamer and Fender combo amp. Two separate circuits with associated footswitches offer a gain section equipped with three-band EQ, gain, volume or a headroom switch, and a distortion circuit with selectable clipping. A loop is provided for external effects, the price is set around 220 euros.
Maestro Original Collection—Gibson's five analogue pedals revived the iconic brand Maestro Electronics that launched the first mass-produced fuzz, the FZ-1, in 1962. You can choose from models Ranger Overdrive, Fuzz-Tone FZ-M, Invader Distortion, Comet Chorus and Discoverer Delay. The new effects line provides options that reflect the needs of today's guitarists, one of the common features are three triangle diodes or a footswitch wired in true bypass mode. Prices range from 150 to 160 dollars depending on the specific model.
TC Electronic SCF Gold—Stereo Chorus Flanger, TCE's first pedal from 1976, is back in a modified reissue. The modulation, which at the time earned the nickname "The Sound of Silence" due to its lack of noise, features a modified analogue preamp with improved low-frequency response and greatly enhanced dynamic range. Like the nearly 50-year-old original, it has Chorus, Pitch Modulator and Flanger modes, and the circuit is built on BBD chips producing a natural tone. The SCF Gold is available for about 140 euros.
Amplifiers, combo amps, preamps, cabinets, etc.
Kemper Kabinet 2022—German brand, which has established itself on the market with guitar and bass systems with technology that creates an accurate "fingerprint" of the signal chain, has updated its patented Kemper Kabinet. The new model with improved design has undergone a slimming treatment, resulting in a weight reduction to around 10.5kg. The passive cabinet has lost weight mainly due to the 12-inch speaker Kemper Kone Neo 200 Watt / 4 Ohm, fitted with a lightweight neodymium magnet.
In combination with the Kemper Profiler, the Speaker Imprint mode is again available, allowing a choice of 19 emulations of classic speakers from Celestion, JBL, EV, Eminence, Jensen, etc. The modified cabinet, measuring approx. 42 x 51 x 23 cm, comes with a soft case for 450 euros.
Valeton Asphalt TAR-20G—a small and light-weight amplifier head with a power output of 20 W, represents a budget-friendly platform for effects or preamps. The single-channel model features potentiometers for gain, volume, active three-band corrections, and digital reverb. It includes an 8/16-ohm cabinet output, Aux-In jack, send/return effects loops, and a phones jack with a built-in cab simulator. The TAR-20G can be purchased for around 3000 CZK, including the adapter. A bass version TAR-20B is sold for the same price.
Accessories, software, etc.
Plugin Alliance Friedman Buxom Betty—with the blessing of Dave Friedman himself, the Buxom Betty virtual guitar has been added to the Plugin Alliance range of guitar software, combining a vintage tube sound with the versatility of modern high-end models. Like the hardware master, the plug-in responds to the instrument's volume potentiometer, and the company's modelling technology replicates circuit features based on the design of amplifiers Fender "Blackface" and Marshall "Plexi," including the final stage with EL34 tubes. There is an FX section, Power Soak, hundreds of presets, etc.
Boss GT-1000 Update Ver.3.2—free update for Boss GT-1000 and GT-1000Core multi-effects brings a total of eleven mastering effects, support for wireless Bluetooth control with the company's pedal EV-1-WL, new IR pulses, microphone RBN121, and five sophisticated delays. The Boss Tone Studio editing app GT-100 Ver.3.2 is also available for download.
Roadie Coach—model combining a guitar recorder, MIDI controller and teaching device, is equipped with a vibration sensor and a system for attaching the module to the sides of the instrument. The player can select a song from the company's extensive library and the box will analyse his playing using the above-mentioned contact sensor, adjacent to the guitar body, as well as the standard integrated microphone. The device constantly compares the playing to the original performance of the song and provides feedback via the accompanying software, so the musician gets an immediate response to their performance.
Monty's Guitars Bethnal Green—the British brand claims that this pair of humbuckers are the most accurate replicas of pickups from the famous 1959 Gibson Les Paul Standard with serial number 9 2208, originally owned by Peter Green of Fleetwood Mac, then by Gary Moore and now by Kirk Hammett of Metallica. The Bethnal Green set is made from period parts and those interested in this set should prepare to pay about 500 dollars.
If you have found an error or typo in the article, please let us know by e-mail info@insounder.org.