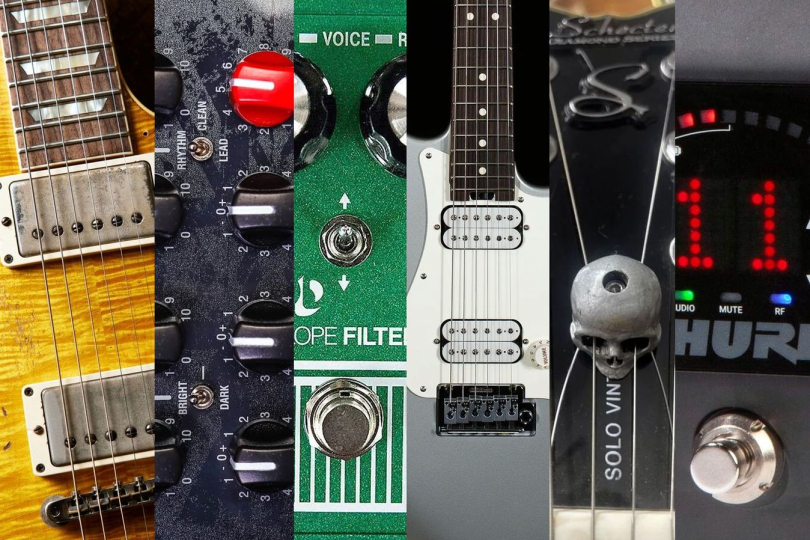 Guitar Gear Alert: May 2023
Are you a guitar fan? On the first Monday of each month, Insounder's news section will present a quick overview of new guitar gear that is about to hit the market. Guitar aficionados can thus get a general overview of the latest models of instruments, amplifiers, effects, or various accessories – strings, tuners, capos, etc. Technical equipment for bassists, drummers, keyboardists, singers, DJs, sound engineers, etc., will be presented in an overview on the third Monday of each month. Some of the products introduced in this overview will be discussed in more detail in later posts here in the News section.
Guitars
Charvel Prashant Aswani Signature Pro-Mod So-Cal Style 1 PA28 – the signature model of the genre-defying guitarist is inspired by the Stratocaster with modern touches. The alder body has a milled inner side of the lower edge, which, along with the ergonomically shaped neck joint, allows more comfortable access to the higher positions of the 22-fret, 12-inch radius rosewood fingerboard, whose edge bears luminescent dots. The maple neck is reinforced with graphite rods, the Graph Tech composite nut is 42mm wide and the electronics consist of two Charvel PA28 passive humbuckers, Dunlop pots (Volume + Tone) and a five-position switch. The strings are anchored in a Wilkinson WVS 130 2P locking tremolo and the headstock features the company's locking tuning machines. Colour: Inca Silver, price: approx. 1350 euros.
Strandberg Boden RESQ:D – a new edition including six, seven and eight-string headless guitars from the Original NX, Prog NX, Plini Edition NX, Fusion NX and Standard series. The more price-friendly collection has been given the originally discarded bodies with natural wood defects, which does not affect the final sound or design of the guitars, the first batch of which is painted in Pink Coral. Bodies made of chambered mahogany, swamp ash or solid basswood are complemented by a maple top, the neck made of the same graphite-reinforced material has an EndurNeck profile; a Richlite composite fingerboard was used, as well as two passive humbuckers and Rev 7 hardware (tremolo or fixed bridge). Prices range from 1500 to 1700 euros.
Gibson Custom Shop Kirk Hammett "Greeny 2023" – after a limited edition with a $50,000 price tag, featuring a copy of the famous 1959 LP Standard owned by Peter Green and Gary Moore prior to Hammett, Gibson began offering a more financially "affordable" version of the Greeny in a detailed relic finish from the Murphy Lab division. The basic construction is made of select lightweight mahogany, figured maple top, neck with matching profile, Indian rosewood fingerboard and a pair of Custom Greeny Bucker Alnico 2 humbuckers, with the neck pickup having a reverse magnet installed like the original. Price: about $20,000 including Lifton Reissue hard case, certification, strap locks, CS medallion, etc. A cheaper version with a standard Greeny Burst finish and a price tag of about 3200 dollars is coming to the market soon.
Effects
DOD Envelope Filter 440 Reissue – after the Overdrive Preamp 250, the reborn American brand decided to reincarnate the still sought-after envelope filter, suitable for use with guitar and bass. The analogue design with a circuit responding to the strength of the stroke has, in addition to the Volume (adjustment of the envelope sensitivity depending on the playing style) and Range (frequency range) parameters, also a Voice lever switch, which in the upper position offers the classic EF 440 sound, while the lower position adds more bass and synth attack to the resulting sound. The chassis is made of aluminium, the footswitch is wired in true bypass mode and there is a blue status LED. Price: about 130 dollars.
Stone Deaf FX Black Edition – a special effects series featuring a trio of modified pedals with adjusted circuitry and voicing features. BE Fig Fump: EHX Big Muff style fuzz with a slightly different sound character, tighter bass and modified noise gate circuitry. BE Kliptonite: a distortion combining features of Velcro Fuzz and classic overdrive, whose signal paths can be seamlessly mixed. BE Warp Drive: compared to the previous standard version, it also has a symmetrical LED-based clipping mode for a more harmonically rich tone. Each model will be produced in an edition of 500 units. Price: identically approx. 150 pounds.
Catalinbread STS-88 Flanger/Reverb – a modulation effect combined with reverb offers both classic flanger registers and experimental-sounding textures achieved through an integrated reverb circuit with the associated controller. The modulation section features Depth, Rate, Mix parameters, and hidden inside the chassis are two small trimmers for adjusting input sensitivity and selecting buffered or true bypass. LFO noise is eliminated by a built-in soft noise gate, and a 9-18 V adapter provides the power. Current draw: approx. 100 mA, dimensions: 60 x 110 x 50 mm, weight: 180 g, price: approx. 250 euros.
Amplifiers, combos, preamps, boxes etc.
Laney Ironheart Loudpedal – a small floor amplifier with 60 W RMS power for boxes with 8 to 16 ohms impedance, it can be used not only as a classic amp but also as a preamp or standard distortion pedal. The model, which is representative of the new Foundry product line, offers a two-channel concept with a common equalizer, a total of five gain or voicing modes, an independent boost, an effects loop, DI output with box emulation and other features. The power supply is handled by a 24V/2.5A adapter. Dimensions: 62 x 151 x 124 mm, weight: 1 kg. Price including power supply: approx. 300 dollars.
Synergy Peavey 6505 – a preamp tube module bringing the sound of the famous high-gain amplifier is equipped with two identical channels with independent three-band corrections, volume, gain and lever switches selecting between Crunch and Lead modes. Apart from being independently activated, the two branches can also be mirrored to use one of the channels as a lead boost. In addition, there is a sliding Cathode Select switch on the back that allows you to adjust the bass response of the input circuit in three steps (modes 1: USA, 2: Brit, 3: Soldano/Vai). Tubes: 2x 12AX7, price: approx. 400 dollars.
Acorn Solid State Preamp – a second-generation transistor pedal preamp, bringing the sound of the small older Peavey Decade combo heard on Queens of the Stone Age recordings. A more compact and also more budget-friendly version of the pedal features Normal and Saturated channels, a three-band EQ, gain, volume and a Thick switch to increase distortion and tone volume. The box is equipped with a pair of footswitches (Bypass, Norm/Sat), and the power supply is handled by a 9-18 V adapter. Price: about 180 dollars.
Accessories, software etc.
Fender CuNiFe / Cobalt / Chrome – new pickup editions with less traditional magnet types include CuNiFe Stratocaster (approx. 380 euros): 3x single coil, vintage voicing; Cobalt Chrome Telecaster (approx. 330 euros): 2x single coil, more pronounced attack; Wide Range CuNiFe Jazzmaster (approx. 440 euros): 2x humbucker (neck 9.4 kOhm, bridge 11.6 kOhm), full basses and pure highs, CuNiFe/Cobalt Chrome Jazzmaster (approx. 330 euros): 2x humbuckers, combination of both technologies, clearer highs.
Available in microphone versions, the Shure GLXD 16+ wireless guitar system can operate in both 2.4 and 5.8 GHz bands thanks to new technology, more than doubling the available frequency range while automatically detecting the "cleanest" bands to prevent interference and signal dropouts. The system consists of a small GLDX1+ bodypack transmitter and a GLXD6+ pedal receiver, capable of connecting multiple units and acting as a tuner at the same time. The receiver is powered by a standard 9V adapter, while the transmitter is equipped with a Li-Ion battery with up to 12 hours of continuous operation. The GLXD 16+ also scores points with its imperceptible latency and wide dynamic response. Price: about 500 dollars including the premium WA305 cable connecting the instrument and transmitter.
Tune Voodoo Skull – an aid for guitars with Gibson-type headstock and straight-slotted nut, where the D and G strings are at the sharpest angle with the zero fret, which can cause unstable tuning, e.g. during bending and related playing techniques. The Tune Voodoo's small skull shape reduces this angle while raising both strings slightly, eliminating friction and tension in the nut grooves. The segment is made using 3D printing, the holes (eye sockets) for the brass inserts are filed by hand and the skull can simply be screwed into the hole of the original screw holding the plastic brace screw cap. A model in the shape of a scaled-down Gibson head is also available. The prices are around 29 euros.
If you have found an error or typo in the article, please let us know by e-mail info@insounder.org.