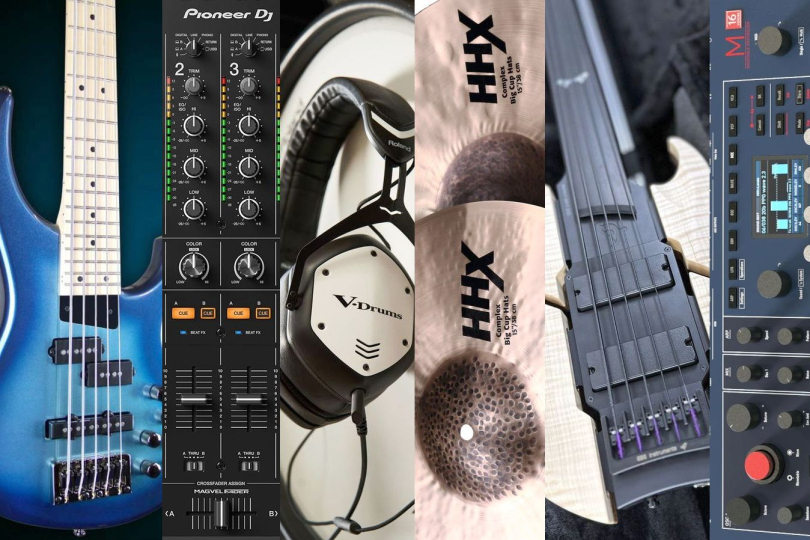 Miscellaneous Gear Alert: April 2023
Do you play bass, drums or keyboards? Are you DJ, singer, sound engineer or a studio aficionado? Then every third week of the month is "your week" here on Insounder – with a quick overview of gear and new releases that will be on the market in the current or upcoming period and that you shouldn't miss. A similarly conceived article is dedicated to technical equipment for guitarists every first week of the month. Some of the products introduced in this overview will be discussed in more detail in later posts in the News section.
Bass guitar
Sandberg Florence Bass – the German brand is back again, this time with a retro model whose aesthetics indirectly refers to vintage Gibson basses of the EB-2 or Ripper series. You can choose from a solid mahogany or alder body, maple or mahogany neck and a rosewood or maple fingerboard, carrying twenty medium-weight frets. The Florence Bass, with its solid top-load bridge and vintage tuning machines, is fitted with a large humbucker Forty-Eight controlled by Volume and Tone equipped with push/pull split-coil. The scale is 30 inches and there is also a fretless version. Colours: Natural, Tobacco Sunburst, British Racing Green, Ruby Red. Price: approx. 1650 euros.
Michael Tobias Design Kingston Lynn Keller Signature 432-24 / 532-24 – four and five-string basses, previously available exclusively as part of the USA Artist premium edition, are now offered in more affordable versions of the Kingston line. The instruments with a shorter 32-inch scale feature a lime body and a maple neck with an asymmetrical MTD NC profile. The fingerboard made from the same wood with a variable radius provides 24 jumbo frets and uses the compensated tuning system Buzz Feiten. Two P/J single-coils are connected to a Bartolini active preamp with three-band EQ and passive/active switch. In addition to the company's Smoked Chrome-finished hardware, Hipshot branded bridge and tuning machines should also be available. Colours: Mystic Seafoam, Lake Placid Blue, Candy Apple Red, Sky Burst Metallic. Prices: 432-24 approx. 980 dollars, 532-24 approx. 1000 dollars.
EBG EBG-5 Jigsaw Fretless – a fretless five-string model from German boutique brand EBG Instruments features a modular body composed of an aluminium central segment complemented by four body sections made of iroko wood covered with a thick slab of flame nut. The carbon neck carries an ebony fingerboard with a 45 mm wide brass nut. Two passive Noiseless Jazz pickups are controlled by separate volume controls and a common Tone. EBG Fatsus bridge is accompanied by GraphTech Ratio tuning machines. Price including hard case: approx. 4580 dollars.
KHDK Totality –  a boutique distortion, designed in collaboration with bassist Alessandro Venturella (V-Man) from metal band Slipknot, offers an aggressive sound, ideal for more punchy genres.  However, unlike some competing drives, it retains the sound characteristics of the instrument because the input signal is split into two paths (original signal + distortion). The Direct path has its own two-band EQ and Volume fader, while the Distortion circuit features Gain, Tone and of course Volume, controlled by a slide potentiometer. The Mid Shift switch is also an important feature. The effect is produced in the Czech Custom Shop of the brand and costs about 285 euros. The limited edition contains 250 pieces.
DiMarzio Sixties PJ Pair – after the Relentless pickup series, the American manufacturer now offers the Sixties PJ Pair DP306 set for modern Precision guitars, such as the Jackson or Charvel models, equipped with a "split" middle pickup and a "Jazz Bass" single coil. Both pickups (DP124 and DP304) fitted with Alnico 5 magnets have rounded edges, the top surface of the metal cover copies the radius of the strings, the four-core wiring allows for different wiring methods and it uses vintage enamel wire windings. Colours: Nickel, Gold, Gloss Black Metal. Set price: approx. 220 dollars.
Ampeg SGT-DI – a bass pedal preamp and DI box with three-band active corrections, semi-parametric mids, a pair of Ultra Lo/Hi switches for the extreme frequencies, an SGT overdrive circuit with SVT or B15 series voicings, a 10:1 max compressor and a section containing six slots with factory IR cabinet pulses, three of which can be used for third-party samples. Connectivity consists of an instrument input, a Thru jack, a Preamp Out, a line output that also functions as a headphone output, a pair of Aux In jacks with their own volume, a USB-C port, and a DI XLR output, again with a level control and ground lift. Price: approx. 430 euros.
Keys
Waldorf M 16Voice – an improved 16-voice version of the original eight-voice wavetable synth M with four parts, a pair of oscillators assignable to each voice, analogue filters and a VCA section for creating sounds in the style of the Microwave I and Microwave II/XT models. Owners of the eight-voice version can upgrade to the 16-voice version with the M Voice Expansion V0.6 module. The company is also launching the Waldorf M Backpack (new logo) for M, Iridium or Kyra models with storage space for a tablet, laptop, etc. It is made with durable 168D polyester, high-quality zippers, edge and bottom reinforcements and other protective features. Prices: the Waldorf M 16Voice approx. 2300 euros, the M Voice Expansion module approx. 700 euros, the M Backpack approx. 135 euros.
Behringer PRO-800 – in 2020, the German brand introduced a prototype of an eight-voice analogue synthesiser, which is only now coming to market in the form of a model based on the vintage Sequential Circuits Prophet-600 synth from the early 1980s. The upgraded version, co-designed by GliGli, adds a dedicated LFO, VCA and noise generator. There is also a two-track polyphonic sequencer and a bank for 400 presets. The synth was supposed to go into mass production in January 2021, but the plans were thwarted by the lockdown (covid-19), which led to a shortage of the necessary chips. Price: about 600 dollars.
Chompi Club – a small sampler/looper, whose concept is quite close to the older Casio SK-1, offers seven-voice polyphony, space for more than 6 hours of recording (stereo WAW 16bit / 48kHz), forty preset slots, four working modes (Chompi, Jammi, Cubbi, MIDI), a sophisticated Tape Looper, a keyboard in the style of computer keyboards, intuitive controls, interchangeable controls, etc. The hardware sampler uses the flexible Daisy platform from the company Electro-Smith and the engine can be easily expanded with additional features. In a very short time, this project surpassed the one million dollar mark on Kickstarter. The Chompi Club can be pre-ordered for a price of about 500 dollars, the later price tag is expected to be around 600 dollars. Colours: Classic Black & Gold, Limited Edition Pink.
Drums
Sabian HHX Complex Aero Crash and HHX Complex 15" Big Cup Hi-Hat – a trio of 16, 18 and 20-inch B20 bronze alloy crashes with milled, radially spaced holes combines the sound characteristics of the HH, HHX and Aero series by combining techniques of hammering and a raw bell. The fifteen-inch hi-hat Big Cup has an enlarged bell that improves projection and also creates the feeling of smaller cymbals, giving the player a denser "fifteen" sound with a feel close to the classic "fourteen". Prices: HHX Complex Aero Crash 16" approx. 400 euros, 18" approx. 460 euros, 20" approx. 530 euros, HHX Complex 15" Big Cup approx. 700 euros.
Roland VMH-D1 – special drum headphones from the V-Drums series, designed in collaboration with V-MODA for monitoring electronic drum kits. The 50 mm drivers are optimised for the wide frequency range and aggressive transients typical for electronic drum sets. The circumaural design also sufficiently isolates ambient noise, the impedance is 32 ohms, the sensitivity is 100 dB and the frequency response ranges from 5 Hz to 40 kHz. Dimensions: 150 x 85 x 200 mm, weight: 285 g, accessories: jack adapter, carrying pouch, 2x cables (1.5 and 3 m) and a hanger to be attached to the stand. Price: approx. 200 euros.
Ukulele
Vox Ukulele 50 – compact 50 W combo amp with two-channel preamp for independent connection of microphone and ukulele. Each channel has a volume and equaliser, the instrument section with three-band EQs has a phase switch and an effects section combining chorus and reverb. The microphone channel equipped with an XLR connector, two-band EQ and reverb has an optional phantom power supply. There is an overall master, mini-jack headphone inputs and Aux In or line out jack. The model based on technology which uses the patented Nutube 6P1 tube circuit, features a Vox Original 8" dual-band coaxial speaker. Price: approx. 340 euros.
DJ
Pioneer DJM-A9 – four-channel professional mixing console featuring new A/D converters (32-bit) from ESS Technology, expanded connectivity options, advanced beat effects Mobius, Triplet Filter and Triplet Roll, colour display with an improved graphical interface, X-Pad touch control panel, more robust potentiometers, upgraded faders, etc. There is the third-generation Magvel crossfader, the microphone input has phantom power, a trio of effects (Echo, Pitch and Megaphone) have been integrated into the section, and the headphone controls are more detailed with two dedicated inputs. The current flagship model of the brand, which follows the DJM-900NXS2, costs about 3200 euros.
Studio
Audient iD24 – USB/ADAT sound card (10x in/14x out) with a pair of Class-A microphone preamps and a separate instrument JFET input is equipped with high-quality DACs (24bit/96kHz), DSP mixer with low latency, phantom power, pads, HPF filters, loopback, iD, Dim and Cut functions, three programmable buttons, optical In/Out connectors, two inserts, four jack outputs, USB-C port and world clock output. You can use the headphone jack and minijack with a level potentiometer. Dimensions: 198 x 66 x 134 mm, weight: 1.15 kg, price: approx. 350 euros. The package includes a download license for Audient ARC software, containing various plug-ins, libraries or Steinberg Cubase LE and Cubasis LE 3 DAWs.
Joyo JMH-01 – studio headphones with an interesting price/performance ratio have a foldable closed-back design with shells rotatable at an angle of 90 degrees. 50 mm drivers with oscillating coils made of aluminium wire with copper cladding can reproduce a wide frequency spectrum in the range of 15 Hz to 28 kHz. Impedance is 32 ohms, sensitivity is set at 99 dB/mW and maximum input power is limited to 1600 mW. The European price of the JMH-01 is expected to be around 80 euros including a cable and minijack/jack adapter.
Warm Audio WA-MPX a WA-2MPX – single and dual-channel valve microphone preamplifiers of top quality, equipped with a pair of 12AX7 triodes and one 12AU7 tube per channel to achieve the harmonically rich and assertive sound known from vintage preamps produced in the 1960s. The sound quality is also enhanced by American CineMag transformers. Gain reaches 90 dB, the Tape Saturation function adds nice compression and there is a high-pass and low-pass filter (80 Hz / 2 kHz), needle VU metre, XLR/TRS inputs and outputs, polarity switch, 48V phantom, etc. Prices: WA-MPX approx. 750 dollars, WA-2MPX approx. 1400 dollars.
If you have found an error or typo in the article, please let us know by e-mail info@insounder.org.