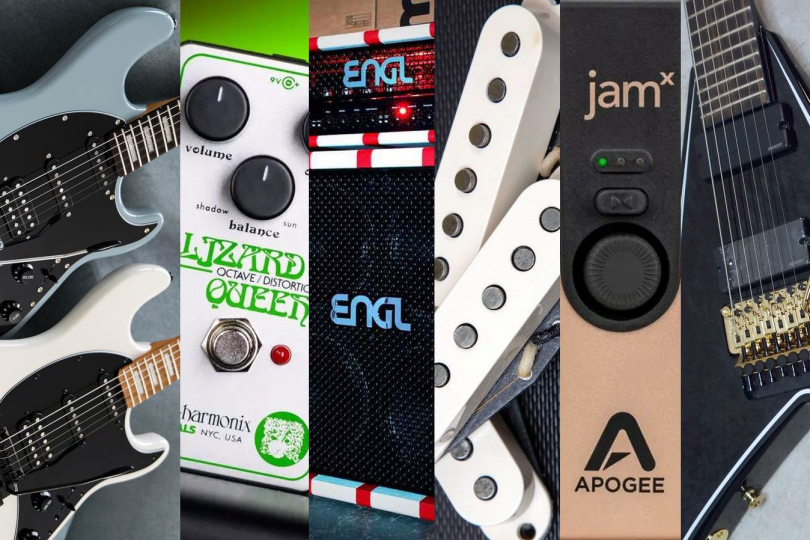 Guitar Gear Alert: June 2023
Are you a guitar fan? On the first Monday of each month, Insounder's news section will present a quick overview of new guitar gear that is about to hit the market. Guitar aficionados can thus get a general overview of the latest models of instruments, amplifiers, effects, or various accessories – strings, tuners, capos, etc. Technical equipment for bassists, drummers, keyboardists, singers, DJs, sound engineers, etc., will be presented in an overview on the third Monday of each month. Some of the products introduced in this overview will be discussed in more detail in later posts here in the News section.
Guitars
Charvel Pro-Mod So-Cal HSS and HH 2023 – another variation on the Superstrat theme features an alder body, a maple neck reinforced with graphite rods, an ebony or maple fingerboard with a variable radius of 12-16 inches, 22 jumbo frets and a new, easily accessible bracing adjustment screw located in the space behind the last fret. It uses a Floyd Rose 1000 tremolo system, a Seymour Duncan TB-6 Distortion bridge humbucker and a pair of Custom Flat Strat SSL-6 single coils from the same manufacturer. The HH versions feature SD TB-6 and SH-6N humbuckers. Colours: Pharaohs Gold, Ferrari Red, Lambo Green Metallic, Gamera Black, Gloss Black, Three Tone Sunburst, Snow White, Vintage White, Infinity Blue. Price: approx. 960 euros.
Sterling by Music Man Cutlass CT50 Plus – the popular series of guitars has received another economical version, produced by SbMM, a division specialising in more financially friendly guitars and basses. This year's CT50 Plus version is even more versatile thanks to the new Music Man Modern pickups, consisting of a bridge humbucker and a pair of single coils. In addition to the five-position switch, common volume and tone, there's now a push/push system that activates the mid-boost. The fingerboard has received luxurious-looking position block markers, the neck is made from heat-treated maple, the strings are anchored in a two-pivot vintage tremolo and there are locking tuners on the headstock. Colours: Aqua Grey, Chalk. Price: approx. 650 dollars.
Jackson Pro Series Signature Mark Heylmun Rhoads RR24-7 – a seven-string model designed for the guitarist of Suicidal Silence is based on the company's upgraded Flying V Randy Rhoads, which features a more compact nyatoh body with arrow-shaped bouts of different lengths, a reverse hockey stick headstock and a scale extended to 26.5 inches compared to the Gibson original. The through-body maple neck received carbon bracing, the 12" – 16" variable radius ebony fingerboard carries 24 jumbo frets, the sound is delivered by two Fishman Fluence Modern PRF-MH7-CB1/AB1 active humbuckers and the strings are anchored in a Floyd Rose 1000 double-locking tremolo. Colour: Gloss Black with white lines, price: approx. 1700 dollars.
¨
Effects
JHS / EHX Lizard Queen and Nano Lizard Queen – developers from Electro Harmonix and JHS Pedals have teamed up to create a 1970s-inspired octave-distortion effect. Two versions are available, a vintage "Big Box", referencing older production from EHX, and a smaller Nano version. The analogue transistor circuit design was conceived by JHS chief engineer Josh Scott, who fitted the pedals with Volume, Octave and Balance controls. The larger version, which is included in a limited collection of 1,000 pieces, can be purchased for about 350 dollars, while the miniature Nano model costs a more affordable 100 dollars. The graphics of the chassis was created by the original EHX designer Daniel Danger, the power supply is handled by a 9V adapter and the footswitch is wired in true bypass mode.
Revv Shawn Tubbs Tilt Boost – an analogue pedal, adding a separate boost section to the previous ST Tilt Overdrive, offers Boost controls (up to +20dB of organic level), Tilt EQ (two shelving filters working in opposite directions) and a Tight switch with a three voicing modes to optimise the low bands affecting the final articulation of the sound. A new Drive switch has been added to provide a full overdriven tone. Activation of the effect is done by a silent footswitch with an attached relay. Power supply: 9 – 18 V adapter, dimensions: 11.1 x 6.7 x 5 cm, weight: 320 g, price: approx. 170 dollars.
Wampler Cory Wong Compressor – pedal built for the famous funky guitarist, member of the band Vulfpeck, includes boost and compressor circuits with custom footswitches. The MDX Strat-based booster circuit features a volume knob and midrange switch (Flat/Mids – 550 Hz), while the compression section received Attack, Tone, Sustain, Volume and Blend potentiometers. In addition to standard connectivity, there's also a balanced XLR output for direct connection to a mixing console, DAW, etc. The XLR connector has an associated ground lift button and a similar switch, located on the right side of the chassis, activates the permanent Comp On function. Power supply: 9V/30 mA DC adapter, dimensions: 64 x 120 x 38 mm, price: approx. 270 dollars.
Amplifiers, combo amps, preamps, cabinets, etc.
Dr Z. Carmen Ghia 35th Anniversary – this year's limited edition combo amp celebrates 35 years of existence of the renowned American brand. Building on the company's first-ever model, the special series is hand-built from premium components and it has newly received a post-phase master volume inverter (PPIMV) to achieve versatile low-volume overdrive. When the potentiometer is turned to maximum, the circuit is disconnected from the signal path. The 18 W single-channel unit is equipped with one 10" WGS Veteran 30 speaker. Outputs: 1 x 4, 1 x 8, 1 x 16 Ohm. Power tubes: 2 x NOS Mil Spec 6n14n (EL84 version), rectifier: 5Y3, preamp tubes: 2 x 12AX7/ECC83. Dimensions: 45.5 x 43 x 25.5 cm, weight: 13.6 kg. Price: approx. 2100 dollars.
Fender Audio RIFF – a small combo amp for guitar and bass, functioning as a Bluetooth (5.2) speaker playing AAC and SBC audio codecs, has a 60 W Class-D power amp connected to two full-range drivers and an equal number of tweeters, the low bands are helped by a pair of bass radiators. An integrated rechargeable Li-ion battery lasts for an average of 30 hours, touch controls located on the top maple panel provide the two-band EQ and volume, while other elements activate the two built-in microphones, Play/Pause, Stereo/Party mode and pairing. There's also a mini-jack Aux In, USB-C port or automatic room-dependent audio correction. The Fender Control mobile app also takes care of adjusting gain or mix. Dimensions: 30 x 20 x 20 cm, weight 2.41 kg, price including strap and USB-C cable: approx. 470 dollars.
Engl Fireball 100 and Fireball 25 40th Anniversary LTD – the well-known Bavarian amp manufacturer is celebrating its 40th anniversary this year with a special design series of tube amplifiers complete with matching cabinets. Both the smaller model Fireball 25 with a 2x12 vertical cabinet and the 100-watt head Fireball 100 with a 4x12 cabinet have received a cover made of red leatherette combined with white racing stripes. Each collectors' series will be released in forty sets: prices: the Fireball 25 40th Ann. approx. 1100 euros, the Fireball 100 40th Ann. approx. 1600 euros, the E212VB Pro 40th Ann. cabinet approx. 830 euros, the E412XXL 40th Ann. cabinet approx. 1350 euros. Both cabinets are equipped with Celestion Vintage 30 speakers.
Accessories, software, etc.
Seymour Duncan '63 Cradle Rock Strat – pickup set consisting of a trio of single-coil pickups, representing exact replicas of the models installed in vintage Stratocaster 1963 Sunburst of guitarist Joe Bonamassa. The singles are fitted with aged Alnico V magnets, and the company's Custom Shop has also chosen cables appropriate to the period of the originals. The pickups are only available as a set for now, with a limited edition of 1,000 sets to be produced. Resistance of each single-coil: bridge SC – 6.33 kOhm, middle SC – 6.15 kOhm, neck SC – 6.15 kOhm. Price: approx. 375 dollars.
Apogee Jam X – the next generation of compact USB-C sound cards for guitar recording offers a built-in analogue compressor with a trio of optimised modes (Smooth Leveler, Purple Squeeze, Vintage Blue Stomp). The circuit is based on PureDIGITAL technology and there's the Blend function known from the previous Jam+ series. In addition to the port, connectivity consists of an instrument jack input and a mini-jack headphone output. The card (Mac, Windows, iOS) comes with the DAW app Ableton Live Lite and an extended trial version of Neural DSP's Archetype Tim Henson software, featuring virtual amps and effects. Price: approx. 200 dollars.
DiMarzio Mirage Jake Bowen DP434F and DP435SN – signature passive pickups from the guitarist of the band Periphery, consisting of a ceramic bridge humbucker DP434F with a strong output of 425 mV, boosted mids and decent highs (bass 5.5, lower mids 7, upper mids 7, highs 3.5), and a neck mini-humbucker DP435SN with single-coil character, neodymium magnet and an output of 265 mA (bass 3.5, lower mids 4.5, upper mids 5, treble 3). Colour: Satin Nickel with silver, gold or black pole extensions, prices: DP434F approx. 150 dollars, DP435SN approx. 110 dollars.
If you have found an error or typo in the article, please let us know by e-mail info@insounder.org.