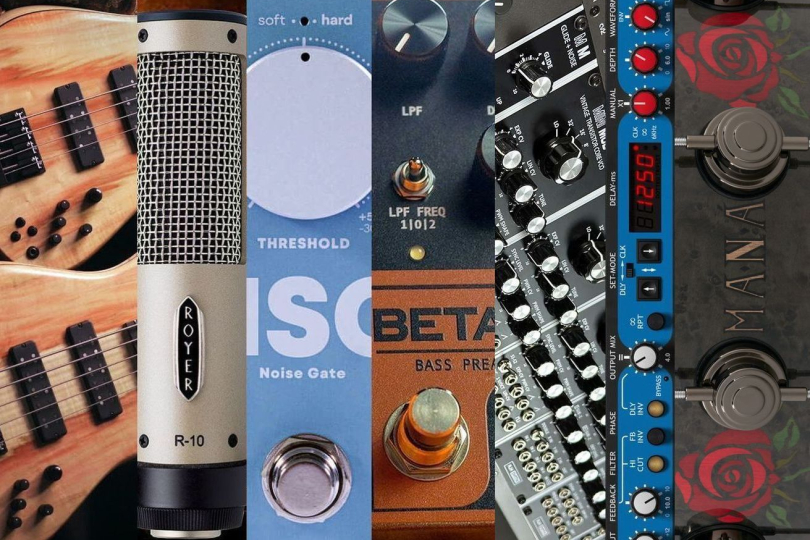 Miscellaneous Gear Alert: May 2023
Do you play bass, drums or keyboards? Are you DJ, singer, sound engineer or a studio aficionado? Then every third week of the month is "your week" here on Insounder – with a quick overview of gear and new releases that will be on the market in the current or upcoming period and that you shouldn't miss. A similarly conceived article is dedicated to technical equipment for guitarists every first week of the month. Some of the products introduced in this overview will be discussed in more detail in later posts in the News section.
Bass guitar
Fodera 40th Anniversary Emperor Deluxe –  the manufacturer of high-end basses is celebrating forty years of existence with a pair of Emperor 4 and Emperor 5 Deluxe models featuring an ash body covered with a Japanese maple top. The neck, glued to the body via an ergonomic joint, is constructed from three pieces of select hard maple, while the ebony fingerboard carries 24 jumbo frets and a brass nut. The 34-inch-scale instruments feature the company's top-load bridge and lightweight Gotoh tuning machines. The sound is carried by two Fodera/Seymour Duncan Dual-coil 60s Spacing pickups connected to active electronics with volume, tone, three-band EQ, balance and switches for coil decoupling and passive/active selection. Colour: Natural. Price including hard case: 9300 and 10200 dollars respectively.
Dunable Asteroid Bass – a four-string Flying V-style model has a mahogany body, maple neck and a 12-inch radius fingerboard with 21 jumbo frets and block position markers. There's a pair of D-Split single-coil pickups, a Hipshot Supertone bridge and Ultralite Clover lightweight tuning machines of the same brand. For an extra cost, you can choose a body in swamp ash or black limba, a top in highly figured maple, an ebony fingerboard, a 35, 34 or 30.75-inch scale, hardware in several finishes, D-Bird, Baphomet, Katana, Bigfoot pickups, etc. The price starts at about 2650 dollars including the case.
Darkglass NSG – noise gate from the Finnish bass gear specialist has really simple controls and a compact size, so it won't take up too much space in the pedalboard. The circuit, which eliminates noise and other interference, is linked to the Threshold parameter, which indicates the threshold at which the circuit starts to affect the incoming signal. The potentiometer with a large cap also functions as a switch for the Soft and Hard modes (softer or more aggressive gate, -65 to -30 dBV or -45 to +5 dBV), whose activation is indicated by a two-colour LED. The power supply of the effect with an average current consumption of 60 mA is provided by a standard 9V DC adapter. Dimensions: 100 x 50 x 36.5 mm, weight: 205 g, price: approx. 200 dollars.
Joyo R-28 Double Thruster –  an affordable bass overdrive offering clear, punchy lows, bright highs and selectable midrange voicing. Smooth adjustment of the combination of the original and distorted signal is handled by the Blend control. There's an optimised tone and, of course, volume and gain potentiometers. Additionally, the amount of distortion can be influenced by the Gain Boost lever switch, the Mid Boost switch is designed similarly. As with the other effects from the Joyo Revolution edition, we can find a slide switch on the bottom of the chassis for selecting the activation of the elongated LEDs running along the back and front of the pedal. Power supply: adapter 9V DC (80 mA), dimensions: 109 x 72 x 48 mm, weight: 250 g. Price: approx. 90 euros.
Origin Effects DCX Bass – a pedal combining overdrive, boost and equaliser is built on a platform based on the Universal Audio 610 studio preamp, which can deliver analogue warmth and pleasing colour. In addition to the Level and Drive knobs and low-pass and high-pass filter potentiometers, there's an EQ/OD mode switch and a Voice lever switch with Dark, Flat and Medium modes. An adaptive circuit is used to respond to the dynamics of the playing, while the footswitch uses a buffer circuit. The system features premium components. The price of the effect, manufactured in the brand's English headquarters, is around 260 pounds.
SolidGoldFX BETA-V – a bass preamp and drive in the form of a classic pedal is equipped with a redesigned BETA circuit, providing an organic sound close to classic vintage tube amplifiers. There is a two-band active EQ, volume, gain and low-pass filter connected to a lever switch activating a pair of modes affecting the expression of the midrange frequencies. The effect, with an average current draw of 13 mA, can be powered by a 9-18 V DC adapter, and the silent footswitch is wired in true bypass mode. Dimensions: 70 x 120 x 60 mm, weight: 250 g, price: approx. 220 euros.
Keys, synths, groove boxes, samplers, etc.
Akai Pro MPC X SE – a special edition of the sampler, currently the most powerful model of the MPC X series, received a quad-core processor, 4 GB of RAM and compared to the classic series, the storage capacity was also increased to three times, i.e. a total of 48 GB. More than 20 MPC instruments are now available, complemented by a hundred insert effects. In addition, the design of the model with 16 pads or a 10-inch display has undergone a facelift referring to the older versions of this now iconic product line. Price: approx. 2400 euros.
AJH Synth MiniMod Keyz – a modular synthesiser in the style of Minimoog Model D with modular units housed in the NiftyKeyz system, also consisting of a keyboard with 49 standard keys, CV outputs and velocity and aftertouch functions. There is also MIDI to CV conversion, arpeggiator, modulation wheel and various signal routing options. Modules consist of a pair of bass generators, three VCO sections, a vintage ladder filter, high-pass filtering, Dual Contour, Glide Noise, Ring modulator, VCA (Dual Cascaded) and LFO units. Price: approx. 2900 dollars.
Behringer Toro – a bass analogue synth in Eurorack format, based on the famous Moog Taurus pedal synth, is equipped with a pair of VCO oscillators, the same number of envelope units, a ladder filter and four presets (Variable, Toro, Tuba, Bass) with the registers of the original template. The range is five octaves, there are CV jacks (Pitch, Filter, Gate), headphone mini TRS output, DIN MIDI In/Thru, jack audio output, USB-B port and four DIP switches for channel selection. Power supply: adapter 12V DC 1A, dimensions: 93.4 x 424.4 x 135.6 mm (80 HP), weight: 1.6 kg.  European price: approx. 240 euros.
Drums
DW Alex Gonzalez ICON Snare – signature drum for a member of the Latin-pop band Maná measures 14 x 16.5 inches and the shells are made from 11 layers (HVLT) of hard North American maple, with the outer veneer featuring a luxurious birdseye maple grain. The shell is decorated with inlays of exotic koto, tulipwood and pearwood. The black nickel hardware consists of True Hoops rims, True-Pitch fine thread tuning screws and MAG Throw-Off / 5P BP tuning machines. Price: approx. 1800 dollars including deluxe case and certification.
Techra Black Diamond – high-end drumsticks made of carbon fibre using patented technology, which makes this series last up to ten times longer than conventional wooden drumsticks. In addition to the durability and precise balance of the two pieces in the pair, the bottom of the body is coated with a rubber layer to dampen vibrations. The Black Diamond edition is offered in the following versions: 5A – 409 / 14.3 mm, 56 g; 5B – 409 / 14.8 mm, 58 g; 7A – 409 / 13.6 mm, 51 g; 2B – 419 / 15.6 mm, 56 g. Price per pair: approx. 20 euros.
DJ
Reloop Flux – a three-channel sound card with six inputs and outputs, optimised for deejaying – it features DVS support for Serato DJ Pro (Flux unlocks the full version) and its internal sampler, high-quality converters (24bit/96kHz), RCA inputs + outputs (3x stereo) for decks 1/2/3/Aux, 2x USB-A port (hub), the same number of USB-C connectors (power + data, Power Delivery), etc. Of course, the model can also be used as a standalone card for recording, playback, streaming, podcasting and other uses. Price including 2x RCA, 1x USB-A / USB-C, 1x USB-C / USB-C cables: approx. 400 euros.
Studio
Royer Labs R-10 Hot Rod – limited anniversary edition of the ribbon microphone commemorates 25 years of the brand's existence. Compared to the standard version, the Hot Rod is fitted with a custom transformer adding 5 decibels more output, which contributes to more assertive projection and more detailed expression of the mid and low bands. Like its predecessor, the new product is designed for electric guitar pickups, but can also handle recording or voicing acoustic instruments, including drums, or it can work as an ambient microphone. The Royer can also be purchased as a calibrated pair (MP). Max. SPL: 135 dB / 50 Hz, 160 dB / 1kHz, frequency response: 30 Hz – 15 kHz (+/- 3 dB), prices: approx. 800 dollars or 1700 dollars per pair.
PSP Lexicon PSP42 V2 – an improved software version of the legendary rack processor Lexicon PCM42, which can still be seen in many recording studios today. The graphical interface honours the design and layout of the hardware digital reference, including the delay time display and modulation section. The plug-in now offers more realistic modelling as well as greater flexibility – in addition to delay emulation and tape saturation algorithms, Clean, Lims and Full modes have been added, the max delay is 28800ms, there is a hi-cut filter, LFO sync, Envelope Controller signal inversion and other new features. AudioUnit, AAX, VST, VST3. Price: 149 dollars or 69 dollars for users of the previous PSP42 variant. Owners who purchased an older PSP42 within the last 12 months get the upgrade for free. A 30-day demo is also available for download.
Yamaha YH-WL500 – wireless headphones for musicians feature a circumaural design, a frequency response ranging from 20 Hz – 20 kHz, and high-quality 40 mm dynamic drivers. The main advantage of this model, complete with a docking transmitter and working with technology in the 2.4 GHz band, is the minimal signal latency, which the manufacturer claims to be less than 4 ms so that the headphones can be used both in concert and in the studio, at band rehearsals, etc. Bluetooth 4.2, a cable input (3.5 mm) and an internal rechargeable battery with an average of 7 hours of operation are also included. Weight: 310g, price: about 350 dollars.
If you have found an error or typo in the article, please let us know by e-mail info@insounder.org.