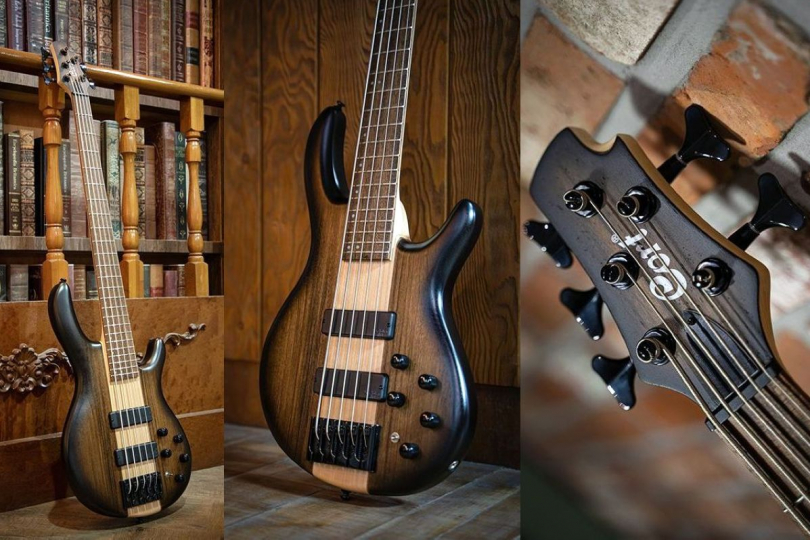 Bass Guitars Cort Artisan C4 and C5 Plus OVMH
Cort has announced the launch of a pair of new Artisan series basses in four- and five-string versions—the C4 and C5 Plus OVMH. Both instruments, designed by the Korean manufacturer to offer the features of this premium series at a more affordable price, feature a sandwich body, high-quality Bartolini pickups, and an active system from the renowned Markbass brand.
The core of the body, a central maple block lined with walnut, has body wings of mahogany glued to it, covered with an ovangkol top, whose sound character lies between rosewood and bubinga. The neck, bolted through an ergonomically shaped joint, is made of hard Canadian maple and durable jatoba was chosen for the 400mm radius fingerboard.
There are 24 jumbo frets, and the scale length is the standard 34 inches. The strings are housed in a solid MetalCraft M bridge with string spacing of 19 (M4) and 18 mm (M5) respectively. The bridge allows for a dual method of string attachment, either through the body or top-load style, with milled grooves for faster string changes. The chosen solution thus offers, among other things, a combination of individual string attachments where the player can find their optimal tension, resulting in more comfortable playability.
The sound is transmitted by two Bartolini MK-1 soapbar pickups connected to a Markbass MB-1 preamp producing a natural transparent sound. Controls consist of a small switch selecting active/passive mods, volume, three-band EQs and a balance potentiometer to adjust the smooth ratio of the two pickups. Most of the hardware has a black finish.
The instruments, finished in a subtle Antique Brown Burst lacquer, are factory fitted with D'Addario EXL165 or 170-5SL strings; official European prices are around €519.00 for the Artisan C4 Plus OVMH model, while the five-string Artisan C5 Plus OVMH version goes for around €559.00.