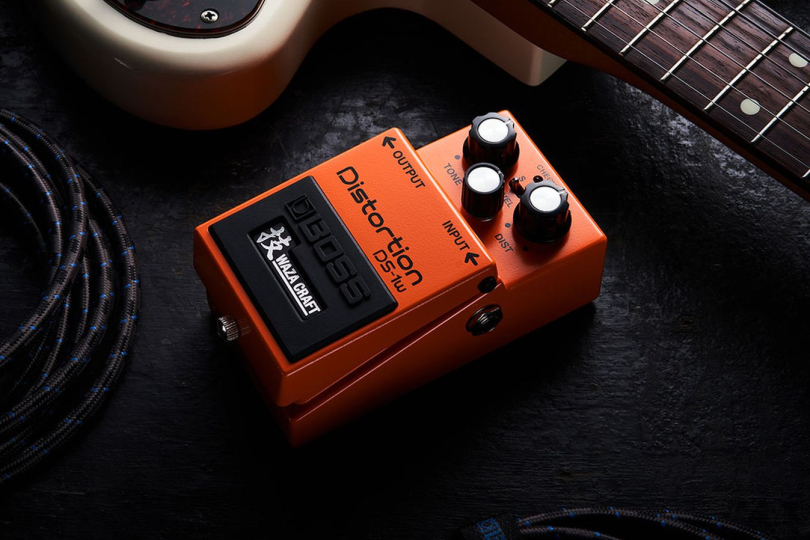 Boss DS-1W: Classic Model in a Premium Waza Craft Version
The Distortion DS-1, which sparked the phenomenal popularity of Boss pedals in 1978, has been an indispensable part of the guitar sound of many bands including Nirvana, Red Hot Chili Peppers, Jane's Addiction or solo albums by Joe Satriani, Steve Vai and Mike Stern. This year, the Japanese manufacturer returns to this now-iconic effect in the form of the DS-1W from the Waza Craft series, which offers the sound of the classic template plus a new mode with a more modern character.
Like the rest of the Waza Craft collection, the DS-1W honours the design and controls of the prototype (Volume, Tone, Dist) but adds a small two-position switch to choose between Standard and Custom modes. The former provides the traditional sound of the original version, while the Custom mode pushes the classic into more modern-sounding areas.
In this case, the second switch position delivers a more voluminous, fuller tone with a more pronounced midrange, a high proportion of harmonic components and a more sensitive response to playing dynamics. Thus, the instrument's sound can better assert itself in a band mix, while expanding the possibilities of this distortion instrument, which can be used in a range of musical genres, from pop to funk, rock, grunge and metal.
Another important modification of the dual circuit, based on transistors and operational amplifiers, is a +6 dB boost in output volume, which allows this effect to work better as a boost for the tube preamp. The tone correction is optimised for both modes and the signal input to the clipping section has also been boosted. The tone has a clearer attack, longer sustain and responds more naturally to manipulation with the guitar volume potentiometer.
The fully analogue Boss DS-1W Waza Craft, fitted with a high-quality buffer and powered by a 9V adapter or battery, is manufactured in the company's Japanese headquarters. European price is around 160 euros.
If you have found an error or typo in the article, please let us know by e-mail info@insounder.org.