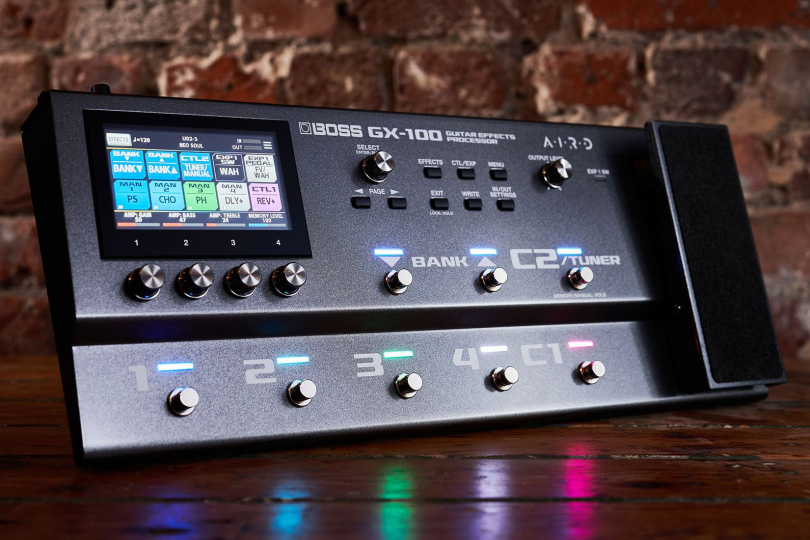 Boss GX-100 Touchscreen Preamp/Multi-Effect
Boss launches the new GX-100 preamp/multi/effect, bringing a whole range of advanced features and functions. The new product gets a large colour LCD touchscreen display for easy editing, uses cutting-edge AIRD (Augmented Impulse Response Dynamics) modelling technology and, unlike competing products, it has no fixed signal chain. This greatly increases the flexibility of this model, which is likely to become the successor to the older GT-100 in the Japanese brand's portfolio.
Other processors on the market today model the amplifier and cabinet as two separate blocks, but in fact, the apparatus and the box form one complete dynamic feedback system. AIRD technology takes this complex electrical interaction between the pair of units into account, resulting in a more realistic playing feel and authentic response when working with the guitar's volume pot, among other things.
There are 23 well-known (Fender, Mesa, Vox, Marshall, etc.) specially created company virtual amplifiers to choose from, many cabinet IR samples to choose from, and the storage is also ready for uploading 16 custom WAV impulses. Reverbs, delays or modulation effects are taken from the Boss 500 series but with more straightforward editing, and there are also emulations of popular pedals such as Slow Gear, Space Echo, Tera Echo, Acoustic Simulator, etc., which are included in the storage with over 150 effects.
The user interface has undergone a significant overhaul thanks to the touchscreen, which allows you to drag your finger to include up to 15 blocks in a preset, including dual apparatuses and basically any combination of effects whose representatives are hidden under the Effects Pallette button. Placing an effect between two existing blocks adds that item, while moving a new effect directly onto a block replaces the original one.
In this way, it is possible to add several delays or reverbs to one preset, up to the limit of the engine, which is indicated by a darkened block. To remove a block, simply point your finger back to the Effects Pallette icon. In addition to the expression pedal, classic knobs and rotary encoders, the GX-100 is equipped with eight footswitches: four primary switches, two CTRL switches and the same number of switches for bank movement.
Each footswitch can be fully customised for any function, and with the Assign matrix, up to 20 different effects or parameters can be controlled with a single footswitch. Connectivity includes an instrument input, two main outputs, MIDI In/Out, send/return effect loops, outputs usable for external exp. pedal or classic amp channel switching, a headphone output and a USB port linked to a built-in soundcard with DACs operating at 24-bit/48kHz resolution.
There's also a slot for an optional Bluetooth module, a 38-second looper (19 seconds in stereo mode), a tuner with a tolerance of about +-0.1 cents, and 100 factory plus 200 user presets. The power supply for the Boss GX-100 preamp/multi-effect, measuring approx. 46 x 19.3 x 7.3 cm and weighing 3.5 kg is provided by the included PSB-1U adapter. The price is around 610 euros.
If you have found an error or typo in the article, please let us know by e-mail info@insounder.org.