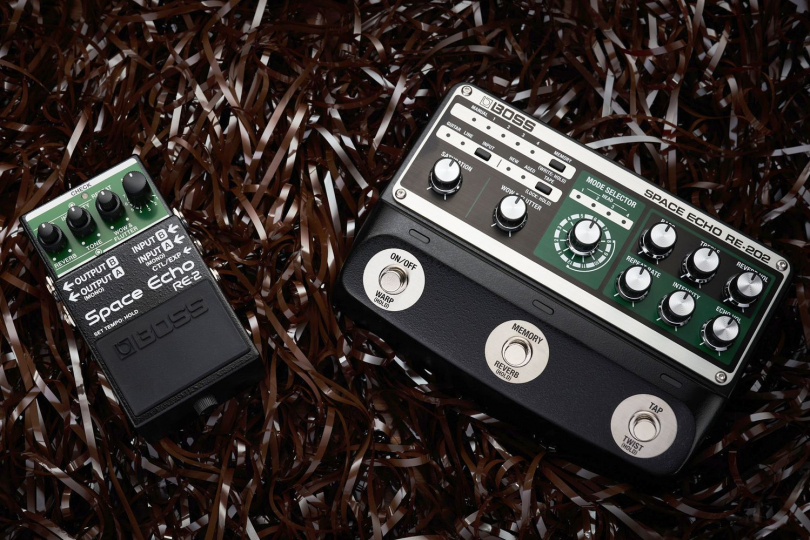 Boss RE-2 and RE-202 Space Echo: The Legend Returns in Two Versions
Almost half a century has passed since the initial—and now again sought-after—Roland Space Echo RE-201 tape delay was created. Its successor, the upgraded Boss RE-20 version (launched 15 years ago), is slowly being sold out, as the company reportedly has no plans for further production. The reason for this is prosaic. Based on the aforementioned 1974 Vintage RE-201 Delay, Boss has introduced two new pedals, the RE-2 and RE-202 Space Echo, to satisfy the fans of this type of reverb—except perhaps analogue purists because both new products use digital circuitry with very advanced emulation and analogue "dry" path.
The Roland RE-201 Space Echo, which was being produced for over 14 years (until 1988/1989), is one of the iconic effects in music history. It is especially appreciated for its distinctive sound with a warm character, as well as some special features. This tape-based classic continues to inspire musicians, producers and sound engineers who are discovering the magic of this model.
The Boss RE-2, like the RE-202, has a main panel covered with an aluminium plate in a colour evocative of the original RE-201, and both echoes have a longer delay time than the original one. The former variant offers the format of standard Boss pedals, while the more luxurious RE-202 evokes in its design the well-known vintage Boss CE-1 Chorus Ensemble, based on the Matsushita MN3002 BBD chips that the brand launched in 1976, adopting the successful concept integrated into the Roland Jazz Chorus JC-120 combo introduced a year earlier.
Basic specifications of each model
Boss RE-2 Space Echo – a sound built on the original configuration with a trio of pickup heads, 11 different modes, Mode, Echo, Intensity, Repeat Rate, Reverb (a stereo emulation of the RE-201 space echo spring reverb), Tone and Wow & Flutter controls (adjusting the natural modulation of the tape).
Twist and Carryover functions, input for external CTL/expression pedals, true stereo connection using two inputs and outputs, tap tempo option, the choice between analogue "dry" signal and RE-201 preamp modelling, power supply via 9V battery or adapter. Dimensions 129 x 73 x 59 mm, weight 450 g, price approx. 250 dollars including battery.
Boss RE-202 Space Echo – a programmable version with four storable presets, Manual mode and a trio of footswitches, has basically the same features as the smaller RE-2. However, an additional virtual tape head is added, 12 sound modes can be used, and the separate reverb section features Hall, Plate, Room, Ambience reverbs, as well as dual-band EQ.
There's a Saturation knob controlling saturation, compression and preamp behaviour, a new Warp function, switching between new and old tape sounds, a bank for 127 presets, input sensitivity selection to be used with instrument or line, MIDI In/Out mini-jack connectors and a USB port. Dimensions 192 x 133 x 53 mm, weight 860 g, power supply via an adapter, price approx 400 dollars including power supply and rubber feet.
If you have found an error or typo in the article, please let us know by e-mail info@insounder.org.