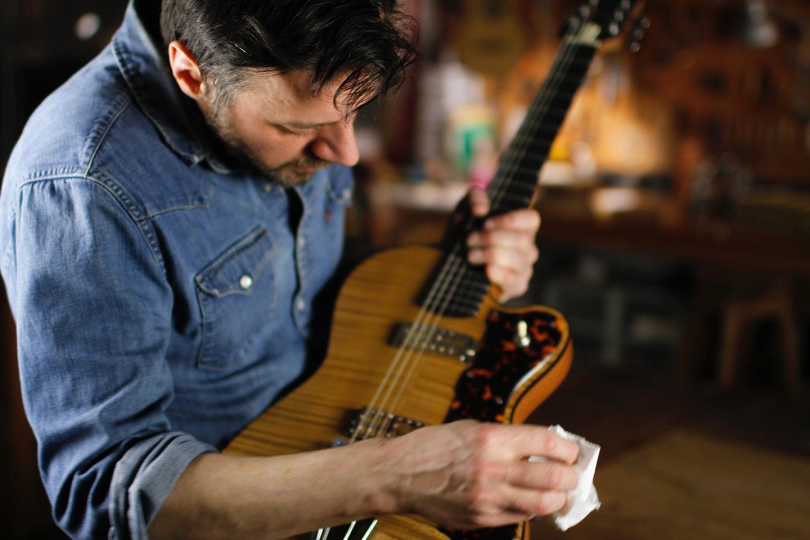 Lenny with BeeKay model | Photo: archive of Daddy Mojo
Dreamstruments #15: Lenny P. Robert (Daddy Mojo)
The name Daddy Mojo evokes a certain amount of nostalgia, and this is no different for the instruments made under this brand by Canadian painter and guitar maker Lenny P. Robert. The reference to (not only) the musical history of America is clearly visible in his work, yet his guitars also represent, with great ease, something brand new or, at least, unorthodox. Whether it's instruments inspired by the interwar years and the Southern blues, guitars that look too classy for even the fanciest of New York halls, or Ozark models, they all emphasize typical "Americana" features in a sophisticated reference to an experience common to all quarters of the vast United States.
The fondness for old things, which the general public often associates with the hipster subculture, has been inherent in musicians for quite a few years. Les Pauls from 1959, PAF pickups and other pieces de resistance have popularized this trend. Today, all it takes for instruments is to be at least forty years old and the prices skyrocket from the level of professional instruments into the collector's realm. For the really old pieces, we are already talking about investments. Because this age check is in great demand, manufacturers and guitar makers have also resorted to artificially ageing the appearance of instruments to make them look like well-worn pieces. Let's leave aside whether guitar relicing is cheating the viewer or legitimate "aesthetic surgery" – at the highest level, it's definitely an artistic expression.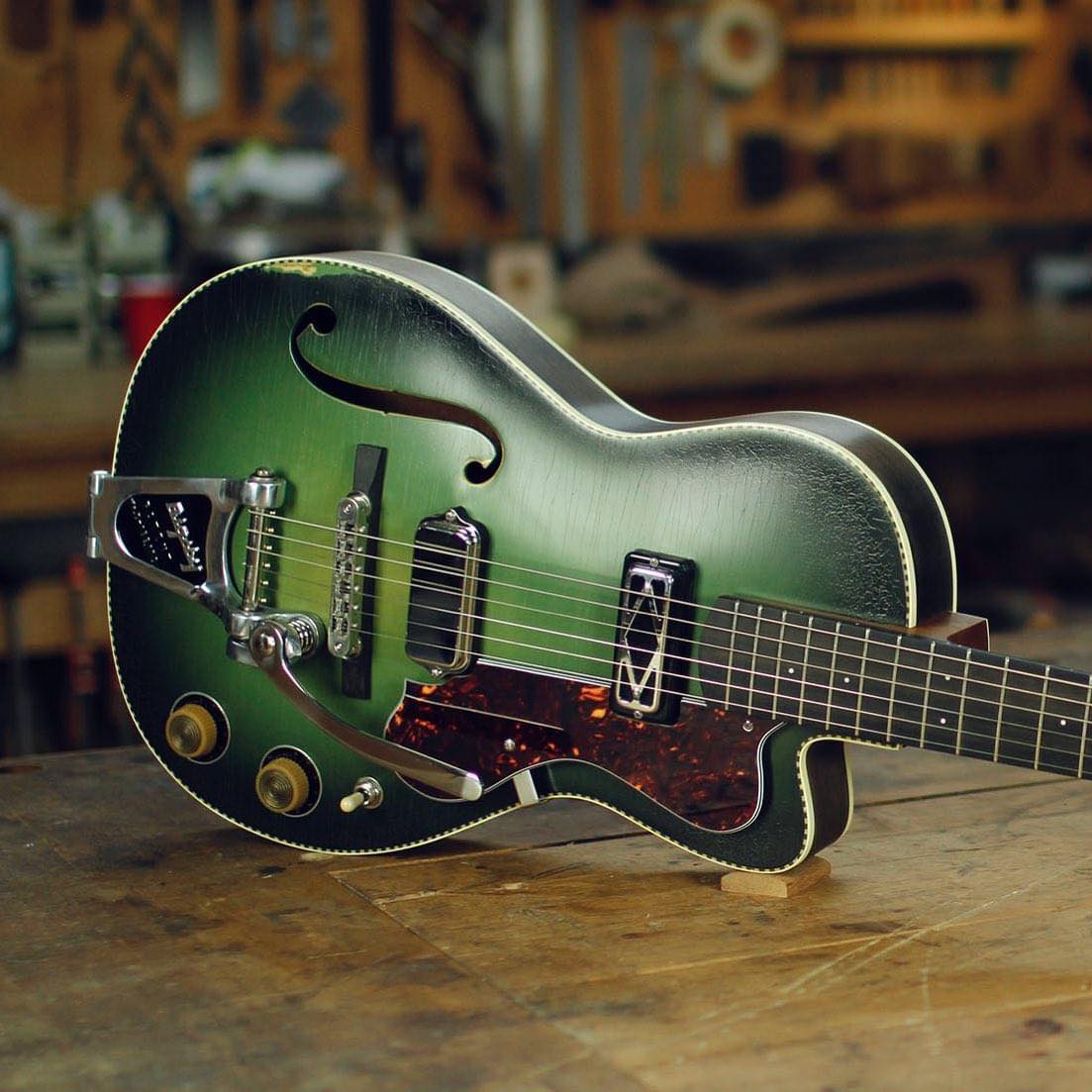 If it weren't for the power that this musical nostalgia phenomenon can exert, Lenny P. Robert, by education a painter from Montreal, Canada, would probably be still creating his paintings. In them, he often refers to an America long gone, when roads were crisscrossed by six-meter semis, a burger cost a quarter, and if a man had hair over his ears, he was automatically a suspect, a rover or a hippie. But his fancy for Delta Blues led him to create cigar boxes and eventually other instruments associated with Southern music.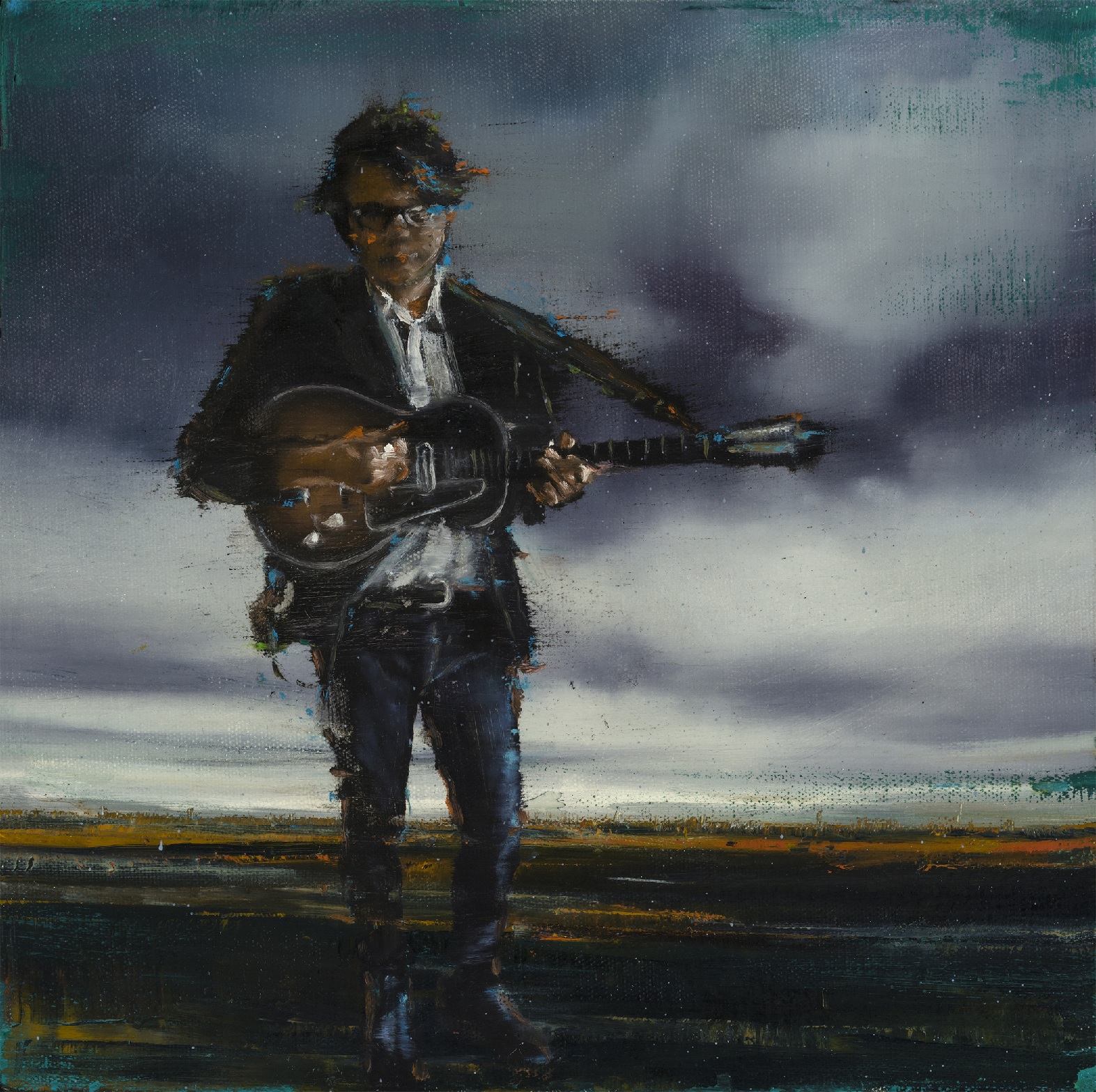 A journey through the Delta – from cigar boxes to Rosetta
It's been a long journey for the painter who filled his studio with box-like instruments in 2006 and sold them via eBay to the Daddy Mojo Stringed Instruments of today. The first custom line of electric guitars was named Rosetta, a reference to the parlour guitars of the 1920s and '30s. "Initially released as a carved top, with a construction akin to that of a Les Paul or a Duo Jet but parlour sized," says Lenny. "I took some time earlier this year to redesign the model as a full-fledged, acoustic archtop. Lots of spruce was bent," he laughs. The Rosetta is now available in three sizes: as the original chambered body construction, as a semi-hollow and as a resophonic guitar.
Variability even within the same line
"All of our instruments are unique works and built to order," says Lenny, and for once it's not just another American tradition – a pompous chest-thumping to sell everyone the same piece of uniqueness. Indeed, his instruments offer unprecedented variability even within the model line. We've already talked about Rosetta's ability to transform from a massive electric into a semi-hollow or even a resophonic guitar, but this formability is inherent in most of Lenny's instruments.
"I think the nature of my pluralistic interests partly comes from being open to a lot of my customer's ideas. For instance, I remember receiving a phone call from a client who'd lost mobility in his left hand due to a devastating table saw accident. After multiple operations and physiotherapy sessions, he re-negotiated his relationship with the guitar by resting the instrument on his knees while sounding notes with the help of a small bottle of whiskey (used as a slide). He was looking to have a double neck, lap steel resonator guitar built which incorporated his now preferred open tunings and told me that most of the guitar makers he pitched the idea to had very little interest in developing it. I, of course, jumped onto the occasion," laughs Lenny.
The BeeKay line sticks to variability more on the level of appearance. With the ability to cover the carefully chambered body with a maple or spruce top and a wide range of finishes, the guitar can look like a big band star with an unmistakable Art Deco feel, as well as a student guitar that's been a pawn shop staple for the last three decades.
"I've always been drawn to quirkier guitar manufacturers like Kay, Supro, Danelectro etc. This is where the BeeKay mostly finds its roots," Lenny says. After all, the name BeeKay probably refers to the strongest inspiration, jazz guitarist Barney Kessel's signature model from Kay, specifically the K1700.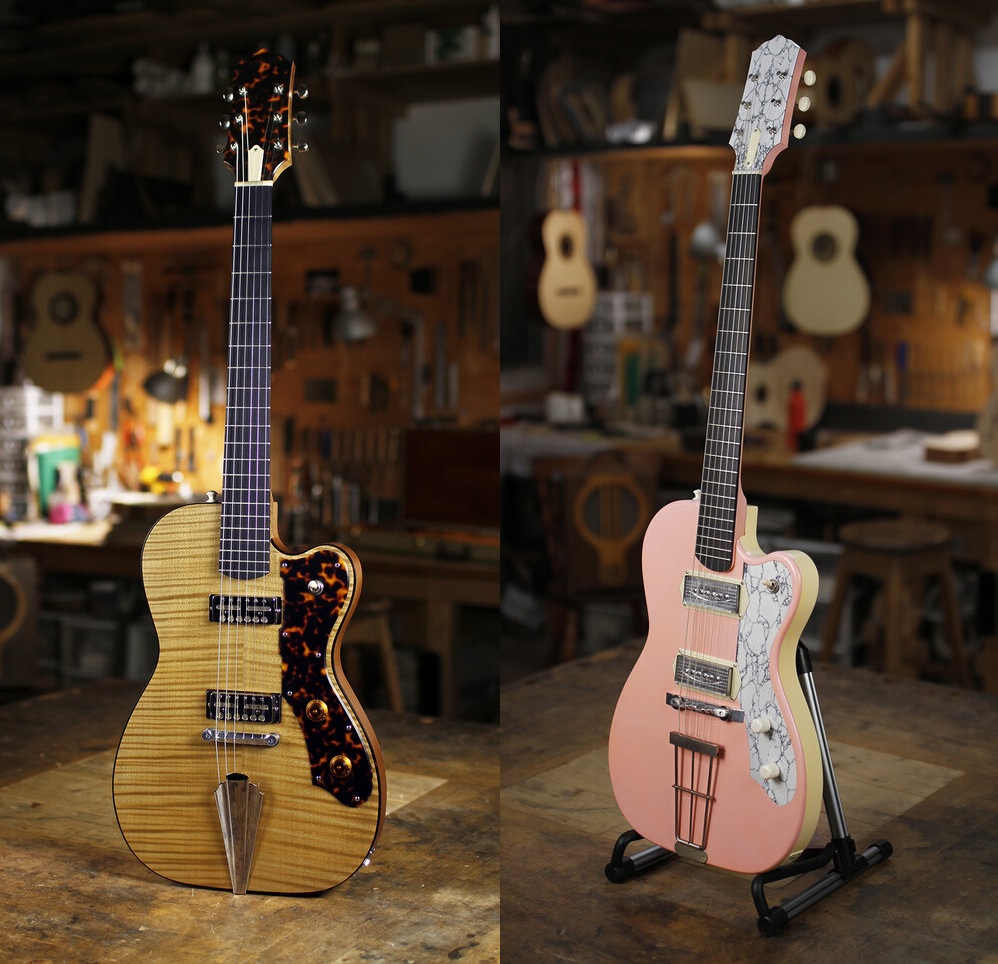 A nostalgic knockout called Ozark
The Ozarks are mountains and lakes, Ozark is a city in Alabama, a city in Arkansas, a city in Illinois, a city in Kansas, and a city in Missouri. In 1974 the Ozark Music Festival was a "bluegrass and pop rock music event for no more than fifty thousand people". At least that's what the organizers claimed. In reality, it was a wild bacchanalian party featuring Bachman-Turner Overdrive, Blue Öyster Cult, Joe Walsh, the Eagles, Jeff Beck, and a young Aerosmith just before their greatest fame. Reportedly, up to 350,000 people attended the festival. They found solutions to their hunger in the surrounding cornfields and pig farms.
For several days after the festival, attendees camped along the exit roads from Sedalia, catching up on sleep. They no longer satisfied their hunger by barbecuing other people's pigs but in typically American dining rooms. Diners – lining the endless American highways like parked wagons, with leatherette seats on chrome legs, typical Formica bars and tables lined with thick aluminium belts – are more American than apple pie and have appeared in more movies than Clint Eastwood. And it's this part of Americana that has lent its identity to the Ozark model line.
"The inspiration for this guitar came from the 1950s-era kitchen in my present apartment. The very first Ozark I made from materials almost exclusively salvaged from it. The aluminium moulding I have been using lately comes from a Jukebox manufacturer in Texas. I rather like the idea that these parts are sourced within and stay connected to the music industry,"  says Lenny, adding that aluminium is often the reason for swear words. "Truthfully, assembling an Ozark mostly has me swearing almost every time (laughs). Although I used to bend the aluminium siding for these by hand (with varying degrees of success), I eventually made a few simple jigs and moulds to facilitate the process. I will sometimes solicit the help of a blowtorch to anneal the material before bending it. I do feel like the final product is absolutely worth the effort though."
The financial stress being replaced by the deadline stress
Building your guitar brand is drudgery. You need to create a fan base in competition with established brands, which takes a good deal of luck, originality and, of course, work. If someone manages to do that, it also means that they've either hit the current trend or stumbled upon a phenomenon that society responds favourably to.
In the case of Daddy Mojo, it is undoubtedly nostalgia. Memories of his grandparents' and parents' Formica tables, romantic notions of life as true bluesmen in the Mississippi Delta. A time when America was truly the land of unlimited possibilities – for better or worse.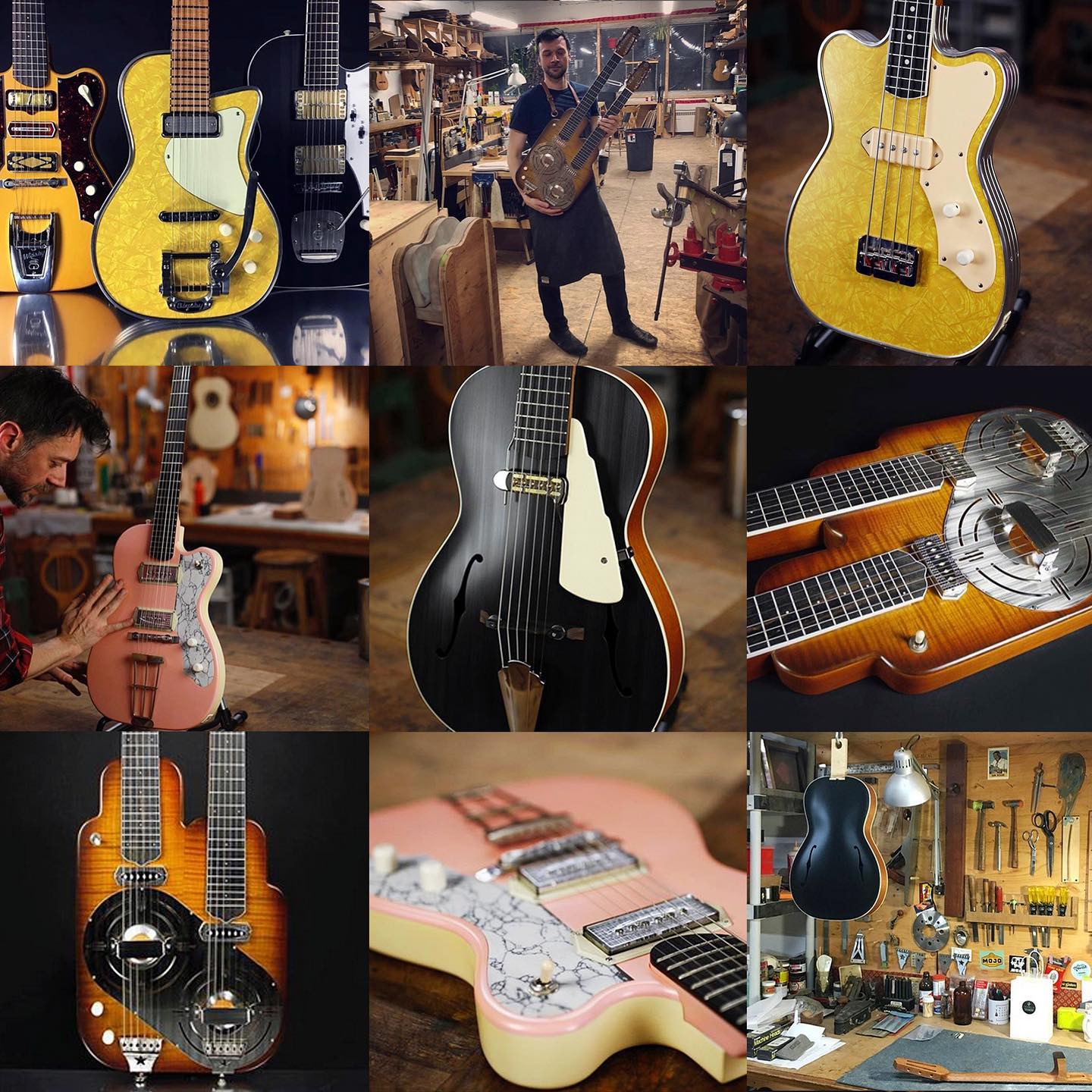 "It truly is a privilege to be able to come into the shop these days and have my order books filled with such varied and challenging instrument requests. This has not always been the case and so I truly feel grateful for it – it also puts into perspective the countless hours poured into the refinement of my work," concludes Lenny. "People underestimate the constant effort that is required from small, single business owners and makers to carve a niche for themselves in such a specialized market. It's indeed been a long road, but fifteen years into this and I finally find myself striking a pretty ideal balance."
If you have found an error or typo in the article, please let us know by e-mail info@insounder.org.