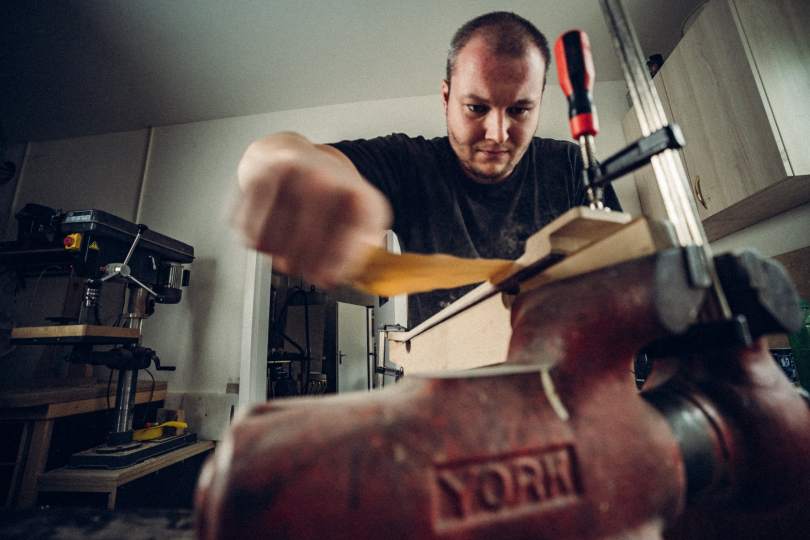 Neck sanding| Photo: Wolf Guitars archive
Dreamstruments #18: Wolf Guitars
Ondřej Vlk, who has aptly named his company Wolf Guitars, is another rising star in the Czech guitar-making sky. The growing list of increasingly famous customers satisfied with his work is a perfect example of the power of references and spontaneous word-of-mouth reputation. So how did it happen that a boy from Kolín is fulfilling his dreams (by fulfilling the dreams of guitarists)?
Ondřej Vlk likes to say that he came to guitar making by sheer chance – a friend brought him an old violin for repair. But since his youth, he has enjoyed exploring the insides of those mysterious stringed instruments more than playing. He laughingly recalls figuring out what the four screws on the Telecaster were actually holding – with the strings tight, of course, so the obvious accident didn't take long to happen. Later, when Ondřej found out that there were lutherie schools and that it could even be a way to make money, his life path was decided.
Seven thousand guitars
Ondřej Vlk considers his internship with Roman Zajíček (Rozawood) to be a major milestone in his career, as he welcomed him into his workshop of top-quality acoustic guitars and introduced him to the general principles, equipment, tools, methods and, most importantly, the properties of woods. Their collaboration continues to this day, although Ondra has focused on electric guitars. He gradually gained experience both at school (as a student and then as a teacher) and through patient service work – more than seven thousand instruments have passed through his hands.
At the same time, he has worked tirelessly to develop his own design details and processes, which he now offers in his own guitars. Because he seeks sonic balance throughout the entire fretboard and is "hooked" on sustain (when there is none, you can't replace it, but if there is, you can always switch it off), and he tries to support it in every way he can – from longer scale lengths to specially chambered bodies to necks with hidden slats. He says he doesn't want to reinvent the wheel, but its form and construction can take many different forms. When I asked, following my habit, which three guitars from his portfolio he would single out, Ondřej didn't hesitate for a second and immediately let the Sparrows on the roof out of his hand.
Wolf Sparrow
The Sparrow was born out of feedback from a market that demanded a quality, simple and somewhat more economical guitar (speaking of a custom). This wolf variation of the Les Paul junior is currently Wolf Guitar's most popular model, which was proven at the Festiwall, where after the Wolf presentation one pink piece even ended up in the legendary Kumšt!
The Wolf Sparrow is a working instrument on which you just change the strings and play – indeed, often a guitarist's dream. Long scale length, bolt-on neck, Mojotone P90 Quiet Coil pickups, proven Schaller Grand Tune tuning pegs with a ten-year warranty, Schaller Signum simple wraparound bridge, the tailpiece of which won't fall off thanks to the locking mechanism, and its tuning will last even if you change all the strings at once.
And of course, there's the characteristic Wolf ghostwood, or special body chambering – not only to reduce the weight of the guitar but mainly to promote the balance of tone and of sustain. Ondra has been experimenting with this hole system for a long time (of course, he also started with just taking away material) and today it's a standard Wolf feature. We've discussed at length that bass frequencies, for example, are harder to "tunnel" through solid material, whereas treble needs something to "lean on", what mass of wood the string should be vibrating, and how Ondřej's specially shaped "organ" under the bridge helps resonance, balanced tone and sustain.
Of course, Ondra has other interesting birdie plans, and anyone who wants a first-class concert working instrument (I joked that it was actually a Tele-shaped like junior), just give Wolf Guitars a call.
Now that we've taken a bite out of the guitar world's biggest worker (yes, a Telecaster), of course), the next interesting piece is Wolf's variation on the Tele. We had a nice debate about twang, manufacturing efficiency, engineering approaches to musical instrument design and Leo Fender's bolt-on neck. It is little known that it was not so much created because of ease of manufacture as ease of subsequent replacement due to the lack of durability of the fret materials of the time.
Amusingly, the first T-Plank, which eventually ended up in the clutches of the well-known Adam Krofián (The Atavists), was created as a test piece to calculate production costs. Ondřej makes them from heavy European ash, which takes full advantage of the Wolf ghostwood (or possibly hollow thinline with soundholes) described above. For a softer sound, he's not afraid of conifers like Canadian hemlock – similar to Douglas fir, which is, after all, what the very first Telecasters were made from.
Adam helps Ondra with testing and development, and from their endless discussions another Wolf thing was born – a neck with hidden slats. They both thought vintage necks sounded the best. This may be because instead of today's bulky two-way bracing, only thin wire had been used and not as much material was taken away. But a guitar neck needs some form of bracing, and so Ondra gradually came up with his unique slat neck, which is supported by thin slats of the same wood as the neck, glued together and shaped into a wedge set into the neck. While this limits the internal tension of the material (present in all wood), the neck is not completely dead and, at the same time, retains some flexibility along with static resistance. Which Ondra demonstrates in his shocking "ballet" video.
Moreover, the neck is screwed with a special system so that it can be tightened repeatedly and firmly without damaging the wood with classic screws, which Ondra also tuned at the instigation of Adam, who used to take his guitar disassembled on the plane with him during his foreign trips, folding and unfolding it over and over again. The neck bend is adjustable very easily via a recessed nut on the last fret, where it doesn't interfere with anything.
Wolf Velvet
Previous guitars have been a response to customer feedback but this Wolf velvet is the materialization of Ondra's retro dreams. It has all of the aforementioned gadgets but with many more details, such as three P90 Tůma pickups with a plethora of combinations including a direct switch (a bridge pickup directly to the output), a Les Trem and an overall glossy-luxe look in the style of Duesenberg or Eastwood guitars.
A colourful instrument that works well in a wide range of musical styles, including folk (with Anděl award winner  Epydemye), it also appealed again to Kumšt and Pan Lynx. In the future, Ondřej will upgrade the Velvet even further due to the required uncompromising quality. Already in the pipeline is a collaboration with the Greek company Halon Guitarparts and their titanium-saddled bridge and a modified control with varitone wiring instead of a tone shield and certainly much more.
Conclusion
To conclude this episode of Dreamstruments, which is a condensed version of an intense, almost four-hour interview, I will add my typical call to courage – just as the once courageous Ondra wrote directly to the legendary Paul Reed Smith (PRS guitars), who gave the young boy from the Czech city of Kolín some valuable advice and inspiration for his guitar making life and added a signed card. Let's not be afraid to pursue our dreams, for example with Wolf Guitars.
If you have found an error or typo in the article, please let us know by e-mail info@insounder.org.