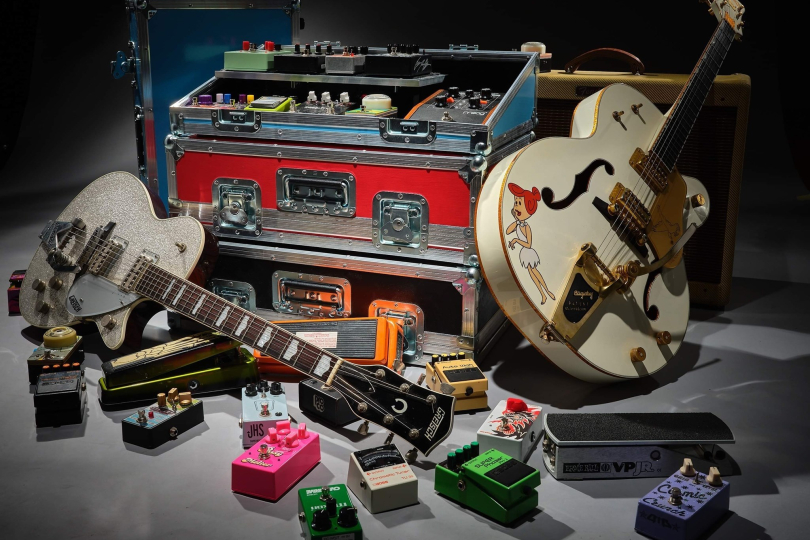 A fundamental technical element of Kosmi Boards is the so-called level. It allows you to raise your multi-effects pedals "to a higher level". | Photo: Richard Nowak
Dreamstruments #5: Kosmi Boards
Musicians cannot live by instruments, amplifiers or effects alone. They can also make their nomadic life much more enjoyable with tweaks and accessories. For example, with a dreamt-of colourful custom pedalboard by Kosmi Boards.
Petr Kosmi is not only an active rockabilly guitarist, a big fan of Gretsch guitars and effects pedals but also an increasingly renowned manufacturer of custom pedalboards. In the past, he didn't have much space where to put his guitar effects, and the constant plugging and unplugging didn't do them good. Having tried various makeshifts such as simple carpeted boards or a modified trumpet case, Kosmi finally decided to make proper stuff. After the necessary initial exploration of manufacturing processes, his private attempts at making pedalboards with lids were so successful that other guitarists began to demand them.
Every colour of the rainbow
From the beginning, Kosmi has been offering them in unusually varied colours that definitely attract attention when on stage. As a long-time fan of bold orange, I can confirm that your gear ​​would really shine and attract attention on the typically drab black stages.
You can also completely colour-coordinate your gear to suitably accentuate your artistic message (think of the red and white style of The White Stripes). Kosmi will make any colour dream come true for you and is definitely waiting for someone brave to order an "Ibuprofen" pink pedalboard. For durability, it's up to five coats of paint, which of course takes time to dry perfectly. For the impatient, foils with different designs can also be used.
See a presentation of his colourful offer in the slideshow below.
Solid body is a must
However, the colours are just the icing on the cake. What about a solid body? Based on personal experience, Kosmi manufactures them with an emphasis on a combination of strength and weight. Each board is screwed, glued and even riveted together so that you can rely on it in every situation and your effects are perfectly protected.
Nowadays, most people know what they want to order, but still—some people tour more than others, some people carry their own stuff, while others have someone else carry it for them. So the specific dimensions and weight are based on that.
How to plan the Tetris effect
In order to make the filling of the imaginary cake delicious, too, Kosmi asks you a lot of questions not only about the number and placement of effects but also about the height of the source used. It's often forgotten that jumpers take up an unexpected amount of space, so it's a good idea first to practice assembling your desired set of effects on, i.e. cardboard of appropriate dimensions and see if your idea is even realistic.
It's also good to remember the jumpers of frequently used effect switchers (broken ones get in the way and straight ones take up more space) and of course the power supply. Place any power extension socket as far away from the wah-wah pedal as possible to avoid humming. Also, being experienced, Kosmi will strongly advise leaving room for one extra effect. I'm sure you'll soon make the most of it.
One level up
A fundamental technical element of Kosmi Boards is the so-called level. It allows you to raise your multi-effects pedals "to a higher level" so that the pedalboard is not only more compact and easier to handle with your foot, but underneath the level, there is space for fixed boxes, power supplies, cabling or patchbay connections.
The levels are, of course, hinged to allow good access underneath and may also have entries (for easier passage of the jumpers through). An example of a Kosmi Board modified to suit the customer's specifications and equipment is shown in another slideshow of the making and fitting of a pedalboard owned by Dan Friml (Mean Messiah, the Barn studio).
Individualized approach
Kosmi's uncompromisingly individualized approach reached as far as transport wheels or more complex skew parts, which allow all items to be safely stowed inside and inputs to be built into the raised edges. Another satisfied customer, Michal Beneš (The Cell), comments on this by saying that on the stage he can easily get ready by clicking the pedalboard and then just lifting the lid before the gig—and he's able to play immediately without any more wiring.
However, the highlight of the creativity is a special pedalboard for Tomáš Vartecký (Anna K, Kurtizány z 25. Avenue, Wanastovi Vjecy). It is an ultimate masterpiece full of innovative details fulfilling an extremely demanding assignment from a renowned professional. The red-black case colour-coordinated with the content of the pedalboard was the least of it.
Less common is the bottom service door for easy access to the wiring hidden under the bottom or the side opening for the phase switch. And Kosmi struggled for two days with the so-called "guillotine" (pull-out door for the patchbay) to make all the switching systems, grooves and stops fit together.
He placed the inputs conveniently in the middle because Tomáš stands on the left side of the stage when performing with Kurtizány and on the right side in Wanastovi Vjecy, so he doesn't have to deal with awkward re-cabling in either case. The creation of this unique work of art and craftsmanship is documented in the following slideshow.
For Kosmi, however, every customer is a star, and he tries to help them fulfil even their most secret desires. During our interesting technical discussions, we found out that he could help me crack my endless search for the perfect stage preamp.
So I have already ordered a special orange Kosmi case (with some unusual details, of course), which will allow me to use the full potential of my existing modular gear on stage. So don't hesitate to contact Kosmi Boards with your wild dreams, too.
If you have found an error or typo in the article, please let us know by e-mail info@insounder.org.