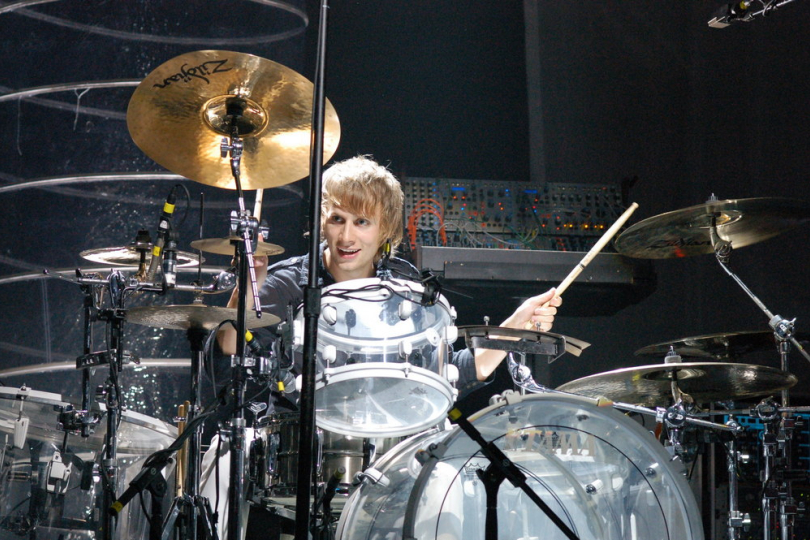 "Hysteria" by Muse is a favourite cover version of not only bassists but also footballers. | Photo: flickr
Footballers with Musical Talents
There's no escaping the World Cup, which is currently underway. Whether you're an avid fan and watch all the matches or are irritated by the fact that it's being held in Qatar, a country with a poor record on human rights and public morals, you can't escape football these days. How about looking at footballers who can play a musical instrument, sing or even produce music, in addition to playing the ball?
Petr Čech and his refined drumming taste
Let's start with one of the most famous football players and a very skilled rock drummer. Yes, we are talking about Petr Čech, the goalkeeping legend of Chelsea, Arsenal and the Czech national team. Eight years ago, the first video emerged of Čech drumming the "Walk" by his favourite Foo Fighters in an absolutely convincing way.
Over the next few years, his YouTube channel featured other cover versions by Nirvana, Coldplay and System of a Down. His latest release is the iconic "Hysteria" by Muse. We must commend Petr not only for his skills with drumsticks and limb coordination but also for his refined musical taste.
Which team does Alisson Becker play and sing for?
Speaking of goalkeepers, Alisson Becker, the No. 1 goalkeeper for Liverpool and the Brazilian national team, is a very talented guitarist and singer. Becker is another footballer and fan of rock music at the same time, performing for the first time with a cover version of Oasis' "Don't Look Back In Anger" on his arrival at Liverpool.
Well, rather an odd choice of a song associated with their biggest rival, Manchester (Noel Gallagher, the songwriter, is a passionate Manchester City fan). Nevertheless, it's a catchy song, and Becker made an impression. Later, he also collaborated with Liverpool musician Jamie Webster. This makes more sense not only musically, but given Becker's prominent position at a club belonging to the most prestigious football competition in the world, the Premier League.
Messi and co. hear the call of the piano 
A very popular instrument among football players is the piano. Do they want to make an impression with a grand piano in the living room? Or dazzle their female fans with romantic songs? Or are they fans of Elton John or Mozart? Whether they play with one finger only, imitate overused hits or master classical pieces, their skills are often at a very respectable level. Football stars such as Neymar, Alexis Sanchez, Paolo Dybala, David Alaba and Firmino cannot resist the temptation of the black-and-white keys. After all, see for yourself in the video compilation below.
Extra mention should be made of the piano version of the Champions League tune, played by arguably the most famous footballer of all time, Lionel Messi. This is a unique phenomenon, where Messi is one of the few in the world (maybe even the only one) who can claim to be playing in the Champions League while also playing the Champions League.
Note the refined fingering, the dynamics of the play and the complex execution of the tune that introduces the Millionaire League. It is not some amateurish, drilled étude. This is the expression of a music lover and a refined pianist! Bravo, Master Messi!
Christmas Football Mix
Well, and as we're fast approaching Christmas, too, let's finish with a look at the Arsenal players' Christmas improvisation from 2015. The band is made up of Petr Čech (drums), "Santr" (electric guitar and Santa's beard), Alexis Sanchez (keyboards) and Nacho Monreal (jingle bells).
Aren't the football gods suddenly more human and handsome when they play musical instruments? I wish you a wonderful time not only with football and the championship but also with guitar, bass, keyboard or drumsticks in hand.
Blue is the guitar, bass is the game
We're all together, and grooving is our aim
So cheer us on through the sun and rain
'Cause Christmas SoundCech is our name!
If you have found an error or typo in the article, please let us know by e-mail info@insounder.org.