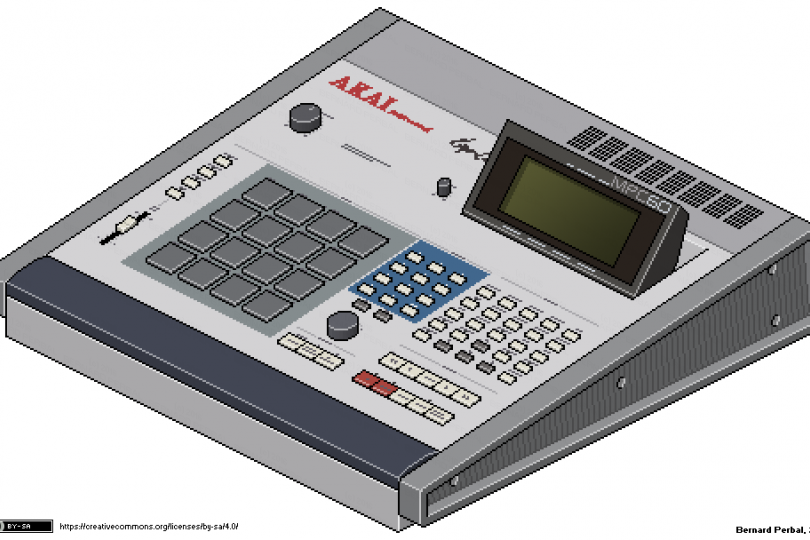 The Akai MPC60 in cartoon form | Photo: Creative Commons
The Gear That Made Us #10: The Akai MPC60
Soon becoming a staple of the Rap and R&B genres after it was launched in late 1988, the Akai MPC60 helped to create a generation of hybrid producer-musicians and is said to have been the next step in hip hop's evolution following the introduction of the TR-808, TR-909 and DMX. Discover why it was and still is such a well-regarded piece of gear in this final instalment of "The Gear That Made Us."
 Collaboration and creativity
After creating the world's first drum machine to use samples (LM-1) in 1979, it wouldn't be too long before American designer Roger Linn would release its successor (LinnDrum) in 1982. The latter machine's higher flexibility and lower price, plus its additional features made it more attractive to users and thus sold well. Some of the tracks it can be heard on include Norwegian synth-pop group A-ha's "Take On Me" and Frankie Goes to Hollywood's "Relax" amongst other international hits. Towards the latter part of the '80s, after drum machines had become more popular for music creation, an opportunity came about for Linn to collaborate with the Japanese company Akai on a new machine after his company Linn electronics closed following unsuccessful sales of the Linn 9000.
The MPC part of the name stands for "MIDI Production Centre" and as Linn explains in the video above, is the meeting of a drum sampler and MIDI sequencer in one portable console. Alongside additional functions, the user is able to compose and create complex songs with multiple tracks of drum and synthesizer parts. Notably, in the case of the Akai MPC60, it didn't necessarily require extensive knowledge of music production, unlike other more expensive options such as devices from E-mu Systems. In a sense, the MPC was an attempt to 'properly re-engineer' the Linn 9000 and Roger aimed to create an intuitive interface that simplified the music production process.
Sampling as an artform 
Although it was the Linn LM-1 that was the first drum machine to use samples of acoustic drums, it would be the Akai MPC60 that would democratise the process of sampling. Eventually, it would lead to a generation of hybrid producer-musicians like J Dilla and Dr. Dre and there are lots of aspects as to why it is such a great machine when it comes to the process of using samples for production. The 16 pressure-sensitive pads, centre stage in the middle of the device, help to offer a lot of versatility whilst offering total creative control for the user. Unlike previous drum machines, now there was a simpler, more intuitive process that artists could work with and real-time editing eliminated the step-by-step process that could sometimes make music production so time-consuming.
One of the breakthrough artists that was able to use the Akai MPC60 to great effect is DJ Shadow from California. His first full-length piece of work, 'Endtroducing….' which can be heard in the video above was produced just with a pair of Technics and an Akai MPC60. Perhaps it was this limitation of equipment in itself that helped to create such a well-regarded piece of work—though it is also clear that if needed, the user has plenty of options available to him or her if required. In the case of the above piece from Shadow, the work was composed almost entirely of samples from vinyl records over two years. Interestingly, he had a rule where he only sampled the obscure parts of tracks, being careful to stay away from popular material, stating; "If I use something obvious, it's usually only to break my own rules."
A human feel
One particular producer and rapper who is noted for using the MPC to create signature rhythms is J Dilla—originally from Detroit. Thanks to an approach of using 'off-kilter' rhythms in his work alongside loops peppered with breakbeats and vocal samples, he is said to have been able to take hip hop towards more musically complex realms. Some of the features included that help to make using the box more straightforward include editing of samples, but also looping and transforming. Patterns, sequences and tracks can be edited and stored in the MPC60 without any fuss and once a user has an understanding of the basics, it shouldn't be too long before they figure out the rest.
What was also interesting about the MPC was that producers using it could sample smaller portions of audio, assign these to individual pads and then trigger them independently as if they were playing a drum kit or keyboard. It is this somewhat 'musical' approach to production that may be why the Akai MPC is known as a classic when it comes to samplers. Of course today there are many more options available along with more features however, the basic design with chunky pressure-sensitive rubber pads remains the same. Moreover, rhythms could be created from any recorded sound (for example horns and synthesizers) helping to give producers more creative options for their work.
A human feel
Although by today's standards a 12-bit (lo-fi) sampling rate is by no means enough, it is perhaps what the Akai MPC60 stands for that has helped to cement its place in musical history. From the get-go, it challenged the notion of what a band could look like or what was needed to become a successful musician by offering musicians the tools to get the job done simply but effectively. For the musical minds that didn't necessarily have the means to study music in school or the working musicians who didn't have years of studio experience, through the Akai MPC60 suddenly they had a whole new world of creation right at their fingertips.

So what do you think of the AKAI MPC60? Does it deserve to be noted as the most important drum sampler of all time?
If you have found an error or typo in the article, please let us know by e-mail info@insounder.org.