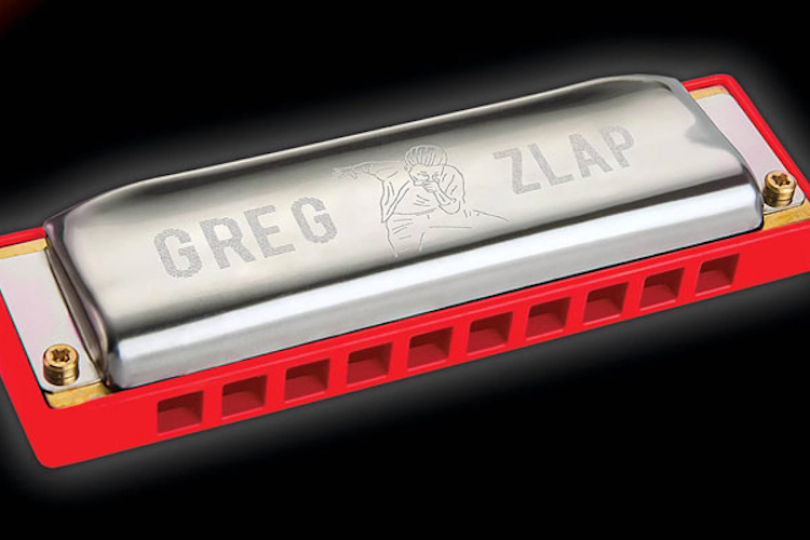 Hohner Greg Zlap Signature Harmonica
The German company Hohner has introduced a signature model of the Greg Zlap Signature Edition mouth organ, designed for one of the finest players of our time. Greg Zlap (Greg Szlapczynski) was born in Warsaw, Poland, but started his professional music career in the late 1980s in Paris, France, where he originally came to study computer science. This talented musician has so far released five solo albums, organized workshops, and also popularized his instrument through a specialized school he helped found in France.
The wide range of styles of this harmonica player, singer, composer, and producer extends from blues to jazz, chanson, pop, rock, electronica, and fusion—which has allowed him to collaborate not only with French stars Johnny Hallyday, Francis Cabrel, and Charles Aznavour, but also with film directors and performers dedicated mainly to instrumental music.
"I play exclusively Hohner harmonicas. The Golden Melody is my favorite model for its precision and its round jazzy tone. The Marine Band gives the best authentic blues sound and an outstanding chord response, while my signature model combines the qualities of both previous versions," Zlap comments on his relationship with the German manufacturer's instruments.
The Greg Zlap diatonic harmonica, nicknamed "Red," is tuned in the key of A major and designed to meet Greg's three most important requirements: the sides of the body have air holes optimized for very strong blowing, the comb is shaped to facilitate pressure and the resulting accuracy and articulation of tone, and last but not least, the harmonica has been given a bright red base color, making the instrument clearly visible on stage.
The red plastic moulded segment is complemented by chrome-plated sheet metal covers decorated with the musician's name, the brand logo, and other motifs. The main structural components are connected by cross-bolts, so that the harmonica can be disassembled relatively easily if necessary. The price of the Hohner Greg Zlap model on the European market is around €55, including the black plastic carrying case.
Hohner Musikinstrumente was founded in 1857 by Matthias Hohner (1833 - 1902). The roots of Hohner go back to Trossingen in Baden-Württemberg. Although Hohner is mainly known for its harmonicas, the company also produced and still produces instruments such as kazoos, accordions, recorders, banjos, electric, acoustic, resonator and classical guitars, bass guitars, mandolins, and ukuleles (under the brand name Lanikai).
From the 1940s to the 1990s, the company also produced various electric/electronic keyboard instruments, which were considered innovative in their day for their electromechanical keyboards. In addition, several Casio synthesizers were sold under the Hohner brand in the 1980s, such as the Casio HT-3000/Hohner KS61midi and VZ-1/HS-2.
If you have found an error or typo in the article, please let us know by e-mail info@insounder.org.