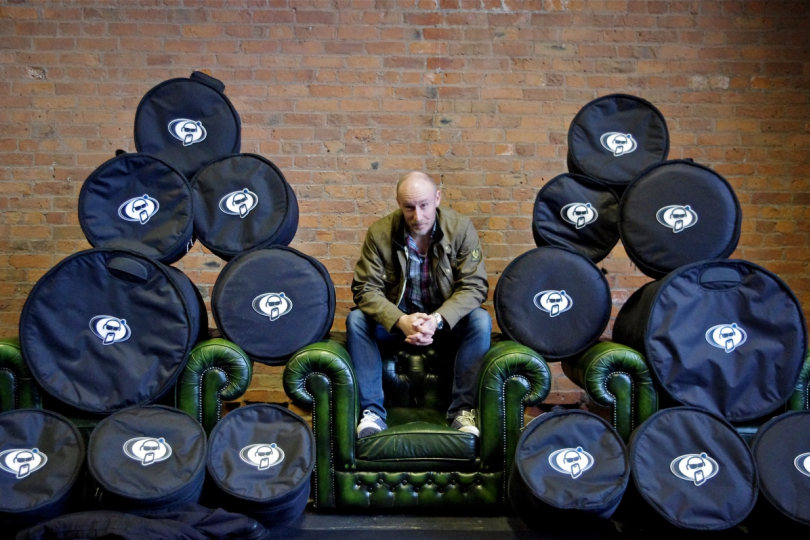 Protection Racket belongs to luxury brands
How To Choose Drum Covers
It's not just guitarists or bassists who need to transport their instruments safely to rehearsals and gigs. Drummers have the same need—and it's even more complicated for them due to the size and number of drums, not to mention the considerable amount of hardware involved. So what are the options?
There are probably a few professional drummers having an army of technicians around them who not only assemble and disassemble their kit but also store it safely and drive it wherever needed. Most drummers have to rely on themselves and take care of their "trap set" from A to Z. Safe transport should be a priority, as drum kits are usually not a cheap affair, and you don't want to put them at risk of damage.
There are many ways to protect your drums and hardware and it depends not only on the frequency of your performances—and thus the need for transport—but also on the contents of your wallet. Packing the whole kit into luxury hard cases can cost a huge chunk of money. But it's worth it...
Nevertheless, if you're looking for a cheaper yet still safe option, you can reach for soft but usually richly padded cases that won't take up 90% of your van's cargo space and can still protect your drums decently. A traditional reliable manufacturer of such soft bags and covers is e.g. Bespeco, which offers either individual pieces of your choice or complete sets of covers. Cymbal bags, hardware covers, and even drumsticks cases are available from this brand, too.
Another reputable manufacturer that won't break the bank is Rockbag. It offers roughly the same range of products as Bespeco, of comparably equal quality. A slightly more expensive (but also more luxury) brand is Protection Racket that offers soft cases which, as for their safety, can very well compete with hard cases and, in comparison, take up slightly less space.
But if you are a drummer who moves their precious kit very often and you own a big enough van or even a small truck, feel free to get hard cases. They will give your drums really luxurious protection and usually last much longer than soft cases, which—although made of durable materials and fabrics—will suffer some damage sooner or later. One of the largest manufacturers of hard cases for drums, cymbals, and hardware is Hardcase with its product portfolio in several durability classes. The best quality (and, of course, the most expensive) ones will serve you reliably even during air transport of your kit. Here, however, you need to take into account not only the high price mentioned above but also the difficulty of handling (you probably can't do without roadies), and especially the need for more space not only during transport but also when storing the cases themselves.
Drum cases and related hardware are often offered by drum and cymbal manufacturers themselves. Their quality varies, usually adequate to the quality of the kits themselves, but you certainly won't go wrong with Pearl, Mapex, or Zildjian. Of course, you can also contact one of your local manufacturers or small producers (their products do not necessarily lag behind the well-known brands). This option may be the most suitable if you have some specific requirements for covers or if you own a set of atypical shapes or sizes.
Whichever of the above options you choose, always give preference to verified manufacturers and brands since you may pay dearly for the few pennies saved on various "no-name" covers—if something happens and you need to repair the set or even buy a new one. The worst option is to transport the drum kit in paper boxes, "reinforced" with tons of tape. Not only does this not look very professional, but if your drum rolls out of the box just before the gig and becomes unplayable, you're out of luck and in trouble.
Therefore, protect not only your kit but also your nerves (and your wallet), and even if you are not a professional drummer, take good care of your drums. As I mentioned in the introduction—it pays off.
.
If you have found an error or typo in the article, please let us know by e-mail info@insounder.org.