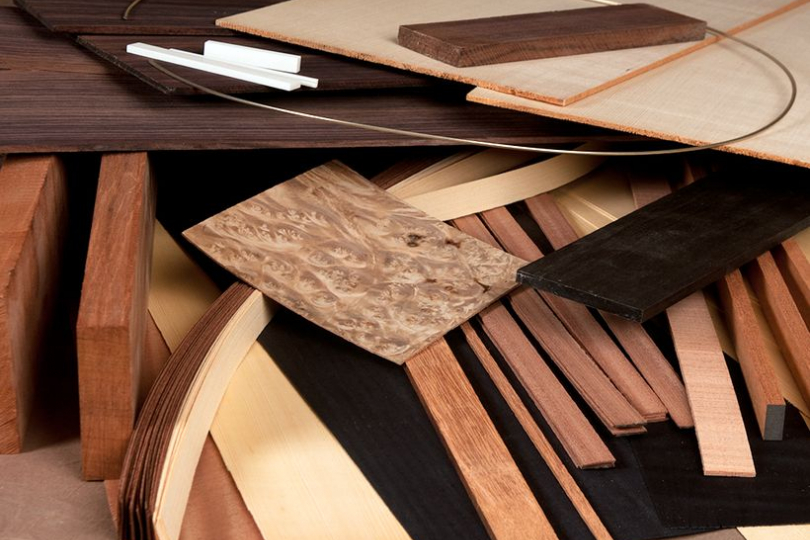 How Wood Type Affects the Sound of an Acoustic Guitar
Proper wood selection is the alpha and omega of the sound of most wooden instruments—including acoustic guitars. Today's market offers a huge variety of models, ranging from budget options using cheap laminated material to masterpieces made from select and exotic woods. The following text attempts to give a clear overview of the basic sound properties of materials most often used for (not just) acoustic instruments.
Mahogany
The most frequently used varieties are African (Khaya Ivorensis) and Honduran (Swietenia Macrophylla) mahogany. The African variety is used for the back of the body as well as the sides and neck, while the Honduran variety (genuine mahogany) is also a good choice for the front soundboard. These densely textured materials provide a pleasing sound with rounder highs, tight bass, and stronger mids.
Sitka spruce (Picea Sitchensis)
Sitka spruce, which grows mainly in North America and Canada, is one of the most commonly used woods for the front soundboard. Sitka with its regular growth rings possesses sufficient stiffness and offers an optimal combination of transparency, purity of tone and its dynamic range. In Europe, this type of wood competes mainly with Alpine spruce (Picea Abies) and the Engelmann variety. The former is predominately used in classical guitars (nylons) and the lightweight Englemann with its rich harmonics is a suitable alternative to Sitka.
Adirondack spruce (Picea rubens)
A highly prized wood, again native to North America and Canada, used to build the tops of luxury instruments. This variety, also known as Red Spruce, has wider growth rings and is characterized by a balanced frequency response with a musical low end and excellent dynamic properties.
Maple (Acer)
A traditional material with many varieties, it is characterized by mechanical durability and a solid, clear tone with detailed highs, higher mids, and punchy bass. In acoustic guitars, it is mainly found in the back and sides of the body. Selected pieces have a distinctive flame or quilt pattern.
Red cedar (Thuja plicata)
This species, which grows in Canada, is darker in color than other varieties and is generally softer than classic spruce, which usually results in a higher dynamic sensitivity that players with more subtle finger technique will appreciate. Part of the trade-off to this important characteristic is a greater degree of compression with a stronger right hand stroke. Its regular, dense growth rings make it a prime candidate for tops.
Rosewood
As Brazilian rosewood is protected under the CITES treaty on endangered species, an Indian variety (Dalbergia Latifolia) is starting to take its place. With its distinctive contrasting figure and a balanced sound, it is used for fingerboards, backs, sides, bridges, and other structural components.
Madagascar Rosewood (Dalbergia Baronii) is a more exclusive and mechanically harder variant, whose texture adds more high end to the sound compared to Indian Rosewood. The South American Cocobolo (Dalbergia Retusa), which has the most pronounced mids of the varieties described, also belongs to the rosewood family. Compared to mahogany, rosewood has warmer midrange frequencies and slightly brighter treble.
African ebony (Diospyros mespiliformis)
Compared to rosewood, ebony has a darker color and more percussive treble response, is mechanically stable and relatively hard, so its processing requires some experience. Ebony is suitable for making fingerboards, bridges, string anchor pegs, and various smaller guitar components.
Hawaiian koa (Acacia Koa)
Luxurious-looking exotic wood, mainly used for more expensive instruments that also enhance the wood figure with a suitable finish. Koa ranges in sound between mahogany and maple and is mainly used for the back and sides of acoustic guitars.
Laminated wood and HPL
Laminated timber, i.e. plywood, and HPL (High Pressure Laminate) have found their application mainly in low-cost instruments. Plywood can be found in the cheapest range, where it may be the entire body, as well as in semi-solid series, where laminate is used in combination with solid wood. In addition to its low price, the advantage of plywood is its durability and low maintenance, so acoustic guitars made from this material can be a good choice for beginners or casual players.
High pressure laminate HPL is a laminate resin-based material produced under high temperature and pressure, which gives it exceptional dimensional stability, water resistance, increased resistance to mechanical damage, and the top layers are sometimes quite difficult to distinguish from solid wood. If you are considering a guitar made of this material, the HPL guitars of e.g. Martin or Taylor—who leave nothing to chance and use special laminates of their own production—have very decent sound properties.
What type of wood is your guitar made of? Tell us all about it in the comments below.
If you have found an error or typo in the article, please let us know by e-mail info@insounder.org.