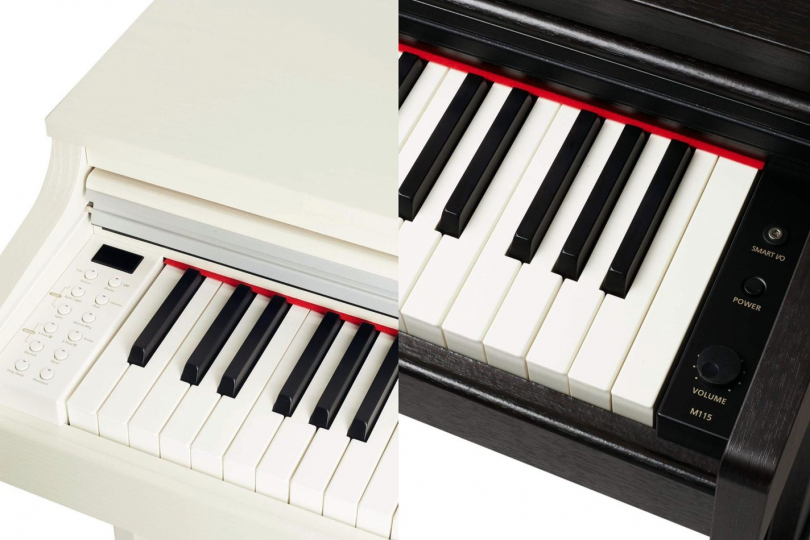 Kurzweil M115 Digital Piano
The M115 digital pianos from Kurzweil, one of the world's leading piano manufacturers, boast a high-quality keyboard with 88 plastic keys, fully balanced action mechanism and ten levels of response sensitivity. There are thirty factory presets covering acoustic and electric pianos, organs and orchestral instruments, an equal number of rhythm accompaniments, and last but not least a set of 128 sounds in General MIDI standard.
Two sounds can be used together simultaneously, either in a layered combination (Layer) or in a split keyboard (Split) with relative volume adjustment, and a Duo mode is included to facilitate four-handed duet playing. An integrated MIDI recorder can record up to four thousand notes, 50 demo songs are stored in memory, and Performance Mode allows students to learn the piano through a collection of pieces (Beyer, Czerny, Hanon, Burgmuller, sonatinas, etc.).
The M115 with 189-voice polyphony supports both MIDI and audio formats via USB port, and the effects section features five different reverbs plus three types of chorus controlled by the volume parameter. A seven-segment LED display, metronome, transposition to any key (+- 1 octave) and tuning in the range of +-50 cents are installed. The stereo RCA line inputs connect an external audio source, the piano signal can be connected to an amplifier via the RCA outputs, and a stereo headphone jack provides quiet practice.
Available in rosewood (SR) or classic white (WH) finishes, the 84 x 139 x 43.3 cm, 52 kg spinet-style cabinet features a 25 W stereo sound system, a music stand, a pull-out panel and soft, sostenuto and sustain pedals. A 15V/1.5A DC adapter provides the power supply, and a practical feature is the auto shut-off mode, which is activated after two hours of inactivity.
The official price of the Kurzweil M115-WH and M115-SR digital pianos, which do not take up too much space in the apartment, is slightly above 1000 euros. Until the end of April, these models can be purchased for a discounted price of just under 900 euros. The instruments made by the Korean branch of the brand are delivered together with a stool and an adapter.
If you have found an error or typo in the article, please let us know by e-mail info@insounder.org.