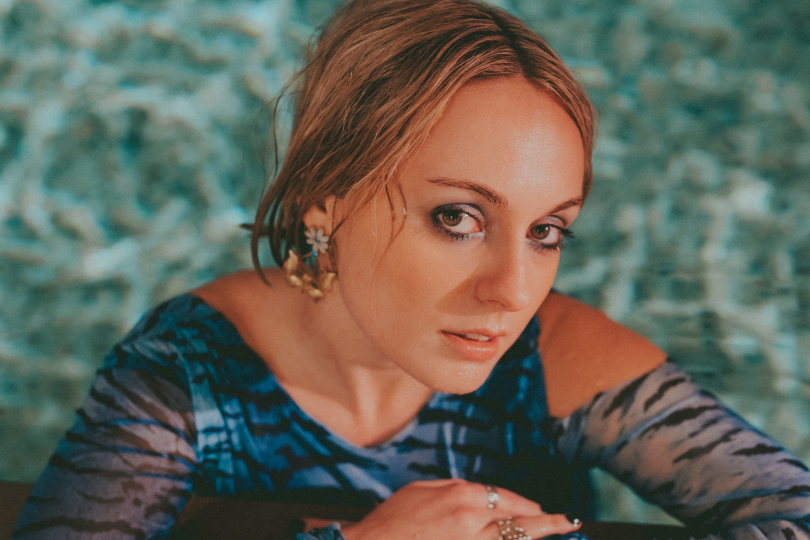 "I'm an extremely sensitive person. The only way to deal with this emotional baggage is to vent it somehow," says Maella. | Photo: Beata Mathe
Maella: I'm Learning to Work with Both Versions of Myself
Michaela Charvátová, aka Maella, seems to be constantly balancing between two poles. Her music is based on the contrast of bright pop joy and dark introspection. She was born in the Czech Republic, but she has been living in England for several years. She studied songwriting at the BIMM School of Music in London and recently made herself known by competing in the Czech Eurovision final. What is Maella planning now and how does she work with her creative bipolarity?
How do you asses your experience in the Czech part of the Eurovision Song Contest several weeks later?
I'm definitely relieved, but I think of it as a great experience. It was an intense three weeks. Thanks to the contest, I was pushed to release a song, make a video and perform on live TV. So it was quite productive and fun.
Did you dream of taking part in similar international or Czech TV competitions as a child ?
No, it has never been a dream of mine. And to be completely honest, I realised it wasn't what I wanted.
What were some of the first impulses behind your decision to move to the UK all those years ago?
The music scene in London has always inspired me. I suspected that living and studying abroad, or in England, would be a great experience and I enjoyed the idea of the challenge.
Has living in London fundamentally changed your approach to your creative work? I imagine that the club scene there has influenced your taste and style.
Absolutely! London brought out the best in me. What's most valued here is being yourself and doing what you want to do. The underground music scene here is very popular, as we can see with bands like Wet Leg or Sorry. When I was growing up in the Czech Republic, I felt like you had to be either really pop or rock to succeed. But living in London has shown me that it's all about your "unique sound" and it doesn't matter what genre you play. Because of that, I've started to be more open-minded in my work, I've made myself experiment more and care less about what other people think.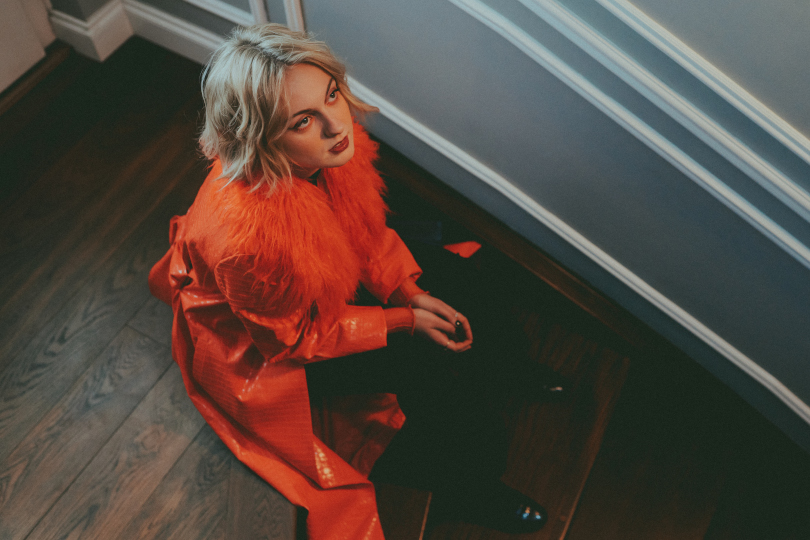 I first noticed you in the song "Conformity" by Thom Artway, who spoke highly of you at the time. Do you work with him or with other Czech musicians today?
I have worked with Thom many times. We even wrote a song together during Covid. I had the opportunity to do a few songs with Czech artists during the Czech songwriting camp. I think we wrote a great track with Rodan and Matěj Belko, for example! Or with Augustin from The Silver Spoons and Slovak producer FVLCRVM. We have a lot of talented people in the Czech Republic and I'm very happy about that.
You are currently working with the talented director Ruy Okamura, among others. How did you come across each other and what do you appreciate about him from an artistic point of view?
I've known Ruy since we were young because we went to school together. He is a very nice person and he is very talented! I greatly value his hard work and imagination. I believe in his creativity and trust him – just because we've known each other for so long. He is a major influence on my aesthetic and visual expression.
Your new single is called "Flood". I hear you wrote it during a rather dark period. Is it hard to write about negative experiences, or does music work as therapy for you?
I'm an artist and that means I'm an extremely sensitive person. The only way to deal with this emotional baggage is to vent it somehow. As an artist, I've taken the path of music. So for me, composing and songwriting are tools to put away difficult or intense feelings. I definitely consider creating as therapy.
Do these floods of emotions manifest also in a positive way?
I have a lot of euphoric positive emotions, but when I feel them I usually don't want to write. I experience most of the distinctly positive emotions on stage during live performances, so for example on the ADONXS tour, there were a lot of them.
Do you consider yourself a good girl or a bad girl? It seems to me that this contrast is quite important in your work.
Both, that's the point! It's such a bipolar thing. I think I feel more comfortable in my dark side, while I feel more vulnerable in my lighter side. I'm learning to work with both versions of myself. Listeners can clearly recognise this dilemma in my music. I have dark sexy songs like "Cabin Fever" and "Tudu Tudu Tu," but then I release songs like "Slow Burn" and "Flood". I used to be ashamed of that and thought that such a contrast might be confusing. Now I take it as a positive thing because I think we all have two sides, which brings a huge strength!
Since your 2019 EP Spells, you've been releasing mostly singles. Is a full-length debut album on the way, or do you have other plans?
For the first time, I'm actually thinking about writing an album. When I was studying songwriting at university, we always had to write an album at the end of the year. I kind of miss it. I like that the album captures one stage of life and relates to a theme. I might even have some songs ready to be recorded.
If you have found an error or typo in the article, please let us know by e-mail info@insounder.org.