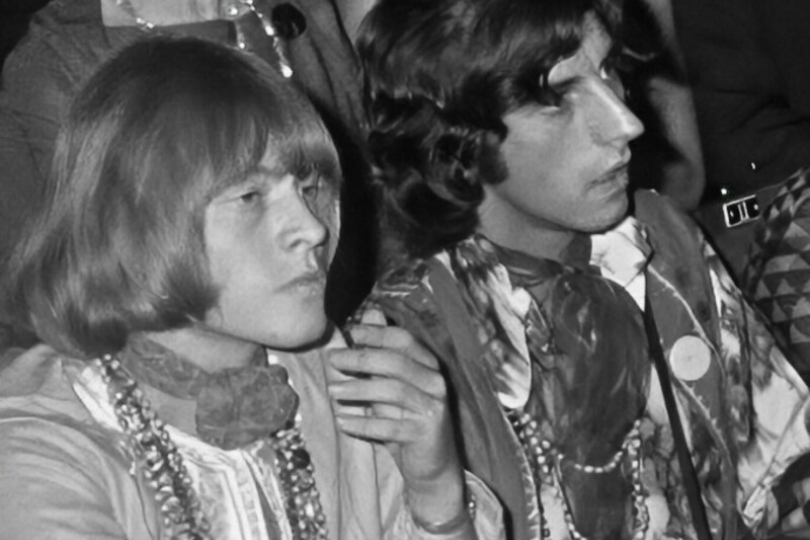 Brian Jones and Michael Cooper in 1967 | Photo: Ben Merk CC BY-SA 3.0
Milestones in Music History #12: The Rise and Fall of Brian Jones
Noise Music; Barret; Suicide; Velvet Underground; Desert Rock; the history of music is a perilous and yet appeasing path to walk. It has been, since the very beginning of times, this powerful gift, and music is possibly the most evolving and sophisticated form of art, which has affected culture, lifestyle, society, and history itself. The purpose of the Insounder series "Milestones in Music History" is to delight you with some of the pivotal moments in music, some acts, facts, and records that delineated and shaped music for years to come (actually as far as this series could go on). I have selected a few, based on my personal path through music culture, and based on the fact that I firmly believe these moments radically changed everything. The Rolling Stones has been, like it or not, one of the biggest acts in music history, due to their different approach toward blues music, their experimentation and bravery in crossing the musical boundaries of the '60s, their boldness in presenting their persona and addressing various issues in their lyrics, as well as the refined use of psychedelic sounds in their compositions. It is certainly a band that has left its mark and that has influenced many generations to come (and still does so, being very active and preparing to start a European tour in a couple of months to celebrate their sixtieth anniversary). But would they have been the same, the Stones, without the presence of the late Brian Jones? We don't need to look for answers elsewhere, because we already know the answer, and it is no.
I do not like The Rolling Stones. In the famous eternal dilemma of who to choose, The Beatles or The Rolling Stones—a purely commercial, media-pushed and non-existent antagonism between the two bands—I have always chosen The Beatles. To be more precise, I recognise the Stones' historical value and their impact and they also do, as their official website describes them as "the greatest Rock and Roll band of all time." However, looking at their whole monumental career, I am much more drawn towards their early days when one particular member of the band put their music through interesting and revolutionary changes—the almighty Brian Jones.
Lewis Brian Hopkin Jones was born in Cheltenham, Gloucestershire, on the 28th of February 1942. He had the fortune of having both parents involved in music: his father was a free-time piano teacher, and his mother played piano and organ and she also led the church choir. At home, Brian used to listen to classical music, but he also approached blues for the first time, in particular Elmore James and Robert Johnson, and also jazz, which he discovered through the music of Cannonball Adderley. Because of this initial passion for jazz, he asked his parents to buy him a saxophone. No sooner said than done, they bought him a sax (he was 15), and two years later, he also received an acoustic guitar, as a present for his 17th birthday.
In the late summer of that year, his first child was born. In disgrace, Brian left home, quit school and started busking and playing the guitar in the street. During a gig in November, he met a married woman named Angeline and from their one-night stand his second child, Belinda, was born. However, Angeline and her husband decided to raise the child and he never knew about her. Two years later, Pat Andrews gave birth to his third child, who he recognised and stayed with until The Rolling Stones acquired a manager, who persuaded Brian to keep his new family away for some time. After that, he left them and in 1963 he began a relationship with Linda Lawrence, which resulted in a fourth child in 1964, raised afterwards by her and her new companion, Scottish folk/pop singer Donovan. One year later, Brian started a relationship with Italian/German model and actress Anita Pallenberg, probably the most significant but at the same time stormiest relationship of his life. Because of Brian's abusiveness, she left him for Keith Richards. At the end of his life, he had six children with six different women.
Brian Jones started his music career as a blues musician, getting involved in the rhythm & blues scene in London, and at the same time nourishing a certain appeal for jazz. On the 2nd of May 1962, Brian posted an ad on the Soho club sheet "Jazz News," looking for members to form a band. Ian Stewart was the first to respond, followed by Mick Jagger and eventually Keith Richards, who was a dear friend of Jagger. Brian Jones also chose the name of the band, "Rollin' Stones" (without the "g"), in reference to Muddy Waters' song "Rollin' Stone Blues." They played their first gig two months after, on the 12th of July 1962, at the Marquee Club in London.
Brian immediately emerged as a leader and a creative member of the band. Apart from playing several instruments, he introduced the slide guitar into rock music (he also taught Jagger how to play harmonica, while they were living for a year in a house in Chelsea together with Keith Richards). His contribution to the Stones was huge: their first records, Aftermath (1966), Their Satanic Majesties Request (1967), Beggars Banquet (1968) and Let It Bleed (1969) all carry his heritage, and in my opinion are the most important and worthy of mentioning among all the Stones' discography. He played the Vox Mark, the famous teardrop-shaped guitar used nowadays by the band which partially carries his name, The Brian Jonestown Massacre (which also uses his image very often and refers to him in many songs and albums), but he experimented with other types of guitars too. As mentioned, he was a multi-instrumentalist: he played sitar, organ, marimba, recorder, saxophone, kazoo, Appalachian dulcimer, mellotron, autoharp and oboe. In the very first years, he also sang as a backing vocalist.
Apart from the Stones, Jones also contributed to a recording of the Master Musicians of Joujouka/Jajouka (the album called Brian Jones Presents the Pipes of Pan at Jajouka was released in 1971), and he also played the vibraslap in Jimi Hendrix's "All Along the Watchtower," and the saxophone in the Beatles song "You Know My Name" released in 1970.
His style and personality grew more and more: he was definitely the most noticeable one on stage, the best-dressed and the most extravagant. In the pictures of the band, for obvious reasons, he was always put in front of the others. From the outside, he also appeared as the most daring and enthusiastic member of the band, and his versatility in playing basically any type of instrument made his aura even bigger and more fascinating. Unfortunately, with the success, his excess rose as well: Jones was found on more than one occasion in possession of marijuana but also other heavy drugs, like methamphetamine and LSD.
This caused not only problems with being an active member of the group, but also other issues concerning the Stones touring and their first huge tour in the US. Things quite rapidly turned bad for his role in the band. Mick Jagger and Keith Richards started alienating themselves from Jones and imposing themselves over him, trying to take over the leadership. Probably due to these conflicts within the band, his mood and behaviour changed dramatically and it all became worse with drug abuse. Before leaving for the US tour and following Jones' inability to receive a work permit due to his drug convictions, Brian was contacted by the other members of the band, who he met on the 8th of June 1969. The meeting resulted in him officially leaving the band. He didn't quit music though, right after his dismissal he reportedly worked on new demos, "Has Anybody Seen My Baby?" and "Chow Time."
Inexplicably, and for causes still unclear today, Brian was found drowned in his swimming pool on the night of the 2nd of July 1969. This was analysed and discussed in a biographical film about Brian Jones from 2005, Stoned (also known as The Wild and Wycked World of Brian Jones in the United Kingdom), directed by Stephen Woolley. The coroner reportedly stated his passing as "death by misadventure."
Jones was clearly the soul of the band, the one who founded the act but also the one who held the reins of the group. He was an incredibly fertile and versatile mind who saw how to expand the paths of rock and blues. His interest and ability to play many different instruments inspired a whole new generation of musicians, and it also gave way to the psychedelic sounds of garage rock. Apart from The Brian Jonestown Massacre, profoundly influenced by his music and his style, many other artists tributed him with songs and albums, creating an eternal legacy, as he honestly and justly deserved. It is not too bold to state that without Brian Jones, The Rolling Stones would never have existed.
In the same era, we can find a similar experimental approach on the other side of the planet, in South-East Asia, where psychedelia, surf and rock combined in a new exciting way, as you will read in the next Milestones article.
In which way did the use of new and unusual instruments contribute to the development of rock and blues music? Was Brian Jones a lonely star, or was he a product of his times? Are extravagance and eccentricity only a part of the scene, or do they make the music? Could The Rolling Stones exist without Brian Jones?
Leave us your opinion below in the comments!
If you have found an error or typo in the article, please let us know by e-mail info@insounder.org.