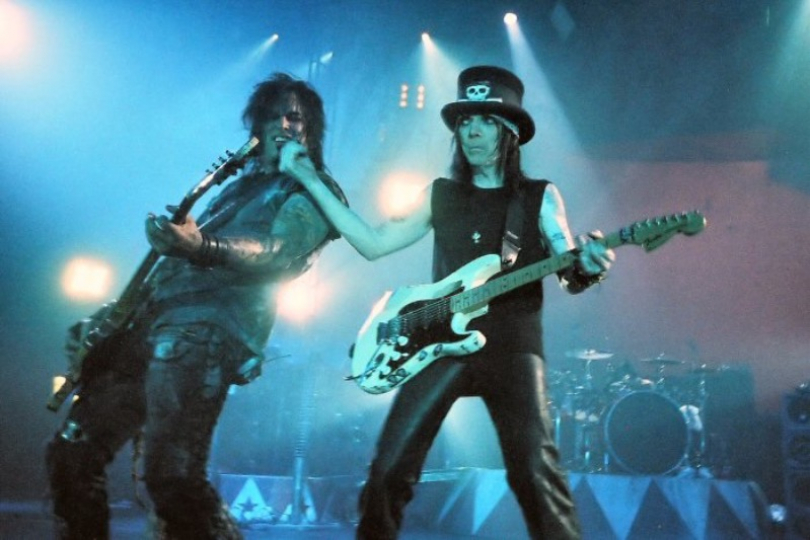 Nikki Sixx and Mick Mars of Mötley Crüe in Glasgow Scotland, June 14th 2005 | Photo: Alec MacKellaig (CC BY 2.0)
Milestones in Music History #18: Mötley Crüe: Too Fast for Everything
Noise Music; Barret; Suicide; Velvet Underground; Desert Rock; the history of music is a perilous and yet appeasing path to walk. It has been, since the very beginning of times, this powerful gift, and music is possibly the most evolving and sophisticated form of art, which has affected culture, lifestyle, society, and history itself. The purpose of the Insounder series "Milestones in Music History" is to delight you with some of the pivotal moments in music, some acts, facts, and records that delineated and shaped music for years to come (actually as far as this series could go on). I have selected a few, based on my personal path through music culture and based on the fact that I firmly believe these moments radically changed everything.
Punk and hardcore, as we have seen in our previous episode, contributed to the musical revolution of the 70s: once psychedelia was abandoned, focus diverted to more social and economic issues. Punk rock became more attached to reality, and appealed to outcasts and misfits. However, hard rock, which had survived and evolved from the 60s, began to suffer in the early 80s. And after the rise of the punk and hardcore wave, it seemed that glam rock would be destined to disappear completely... or maybe not. Why not combine the heaviness of hard rock with the glittering costumes and the androgynous attitude of its glam cousin? Maybe at the time, many people thought this was silly or even absurd. Mötley Crüe took care of that.
Frank Carlton Serafino Feranna Jr. was largely raised by his mother and his grandparents and grew up listening to the classics of rock, in particular, hard rock and glam rock: Deep Purple and Black Sabbath on one hand, and on the other, bands like T. Rex, Slade and David Bowie. At the age of 17, he moved to Los Angeles, where he joined the band Sister, but he was soon kicked out of it, together with his bandmate Lizzie Grey. They went on to form the band London in 1978 and in that year Frank legally changed his name to Nikki Sixx. London would be a furnace of hard rock, as the band featured at various stages members who would go on to play in famous bands like W.A.S.P., Hollywood Rose, Guns'n'Roses and Cinderella. It was in these early years in L.A. that Nikki met Tommy Lee, who was nicknamed T-Bone due to his height and lean body shape.
They started rehearsing together and playing with the singer Vince Neil, who at the time had a band called Rock Candy (he joined the Crüe in 1981). Robert Alan Deal was playing in some bands (sometimes under the nickname Zorky Charlemagne), including a band called Whitehorse, whose singer was named Micki Marz—Robert later adopted the name and became Mick Mars—but he had enough and wanted something more. In 1980 Mick put an ad on The Recycler, looking to find other members to form a new band. In the ad, he described himself as loud, aggressive and rude.
Mötley Crüe was born. The name was chosen by Mick Mars, who said that somebody had described one of his old bands as a "motley looking crew." From the beginning, anybody could see how their theatrics and appearance on stage were important, as the band started putting on incredible shows. Their very first gig was at the Starwood nightclub on the 24th of April 1981 and by the end of the same year, they released their first album Too Fast for Love (self-produced, the album was later re-mixed and re-released after signing with Elektra Records in 1982). On this album, you can already taste the band's spirit and intentions: the opening track, the fast and irreverent "Live Wire," sets up the mood for a trip into madness, fun and chaos. The album was positively received, with one reviewer saying they came "across as a bash-'em-out bar band, making up in enthusiasm what they lack in technical skill."
While having a typical rock formation, Mötley Crüe went beyond that, putting on flashy and flirtatious outfits, and being cheeky on stage. And on top of that, trouble with the police and various incidents that occurred on their first album promotion tour, the "Crüesing Through Canada Tour '82," contributed to their popularity. And it was at this time that their first problems with addictions started.
Their second album, Shout at the Devil (1983), is in my opinion the best representation of the band. Songs like "Looks That Kill", "Shout at the Devil", "Red Hot", and "Too Young to Fall in Love" (not to mention the beautiful Beatles' "Helter Skelter" cover) describe well the band's style and pleasures. At the time the album title attracted many critics, as it was an incitement to satanism, but this only made them more popular in the metal circuit—the band toured the year after the release with Ozzy Osbourne, during his 1984 tour for Bark at the Moon.
There were many acts like Mötley Crüe in L.A. at the time, but what made them stand out was their way of presenting themselves and entertaining the audience. The combination of glam and hard rock was victorious and innovative. Their third album, Theatre of Pain, released in 1985, underlines these two elements. It is a glittering work, less harsh than Shout at the Devil, with more attention to musical technique, but the spirit has not changed. We can see a visible evolution from their beginning with a now unmistakable style.
The band took another change of perspective in their fourth studio album, Girls, Girls, Girls when they took on a biker appearance (as you can clearly see in the video clip of the single). The album was well received, and it confirmed that Nikki, Tommy, Vince and Mick were not just passing meteors, but a solid and entertaining act.
But their problems with addiction also grew, and Nikki Sixx overdosed on heroin in December 1987—he was declared clinically dead for two minutes. This inspired the song "Kickstart My Heart," which was included on their upcoming album. In order to continue, all members of the band were forced to enter a rehab program and each of their parts on the new album were recorded separately to avoid a relapse. In 1989 they gave birth to Dr Feelgood, which was well acclaimed and positively received. One could consider it as their last will, as it encompasses all that the band represented. It's fast, it's direct and it's entertaining. It's their most constructed and coherent work, and it confirmed their presence in the rock Olympus.
In the years immediately following the album, the band underwent several vicissitudes, which saw them together for a moment, then separated and then together again. They released another four records, the last one in 2008 (Saints of Los Angeles), but history had already been written. The band has been touring consistently, since June this year on the "Stadium Tour," co-headed by Def Leppard. Their legend lives on, so you might still be able to catch them, and get a taste of their style.
Mötley Crüe has been influential for many other acts, not only in hard rock and heavy metal circles. Their combination of rock and glam, their outstanding and defiant outfits (and souls), and their conception of music as theatrical entertainment—all these factors grant them a place of honour in our Milestones series. Their impudence and independent spirit also gave inspiration to a new movement, led by the almighty Julian Casablancas and The Strokes, as we will see in our next episode of Milestones.
Metal and glam: what's the deal? Were Mötley Crüe an isolated case? How do you think a band can cope with its members' issues and personalities? 
Leave us your opinion below in the comments!
If you have found an error or typo in the article, please let us know by e-mail info@insounder.org.