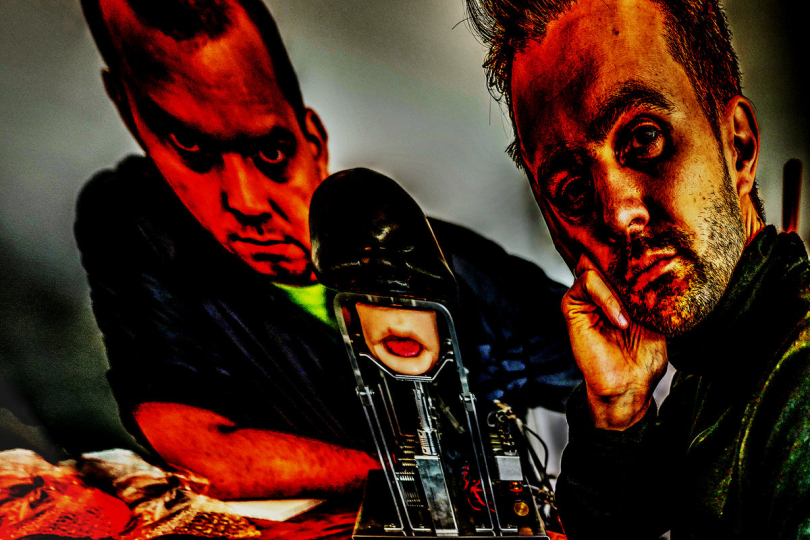 Ville Haimala and Martti Kalliala, a.k.a. Amnesia Scanner | Photo: Officical Bandcamp website (https://amnesiascanner.bandcamp.com/music)
Milestones in Music History #30: Amnesia Scanner and Deconstruction in Music
What is music today? It seems like a trivial question, perhaps obvious to some. Aphex Twin charted a new path, by which modern electronic music came to represent a versatile and fascinating way of composing, and at the same time the medium that most faithfully reflected the world in which we live today. In particular, the way that electronic music dealt with the depersonalisation of the individual. The development of cyberculture and the total lack of compositional rules gave way to a process of deconstructing electronic music. And Amnesia Scanner were the anti-architects of this design, able to decipher the cryptic codes of our contemporary electronic music universe.
Wondering what music means in our times – especially electronic and experimental – is the first and necessary step for understanding the direction we are heading and what our destiny will be. And it also means getting to know more about who we are. It is not easy to draw joint lines between contemporary musical genres or even artists. The universe we live in is too disparate and varied to follow a reference line, to cling to a handhold.
It seems that musical genres, which were once well-defined and distinct, are now co-present in a chaotic and unclear mix. To comprehend how all this began, how the breaking of norms and absolute freedom in the field of composition took hold, it is necessary to leap in time – but not that far back.
Social communities, already at the dawn of the 2000s but with an increasingly rapid and evident spread in the last 10-15 years, turned into groups of individuals connected and communicating via the Net. This was a radical change in interpersonal relationships, in frequented places, and in the lifestyle and habits of people all over the planet.
In an environment that became aseptic, and in which the human being assumed a different identity – an avatar, more or less resembling the original – it became easier to hide, deceive, or even just change. And what is now called cyberculture developed. Reality became dystopian, and futuristic apocalyptic visions were joined by half-human, half-robot cyborgs, and the so-called Cyberpunk culture was born.
However, cyberpunk had its roots in the New Wave sci-fi literature movement of the 60s and 70s, represented by eloquent writers such as J.G. Ballard, Philip K. Dick or Harlan Ellison, who, in contrast with their other sci-fi peers, had a more "sex, drugs and technology" style. Eventually, this phenomenon reached the music environment too. And as one would expect, the results were extraordinary. 
And what about music? The cyberpunk culture could not fail to creep into the music field, having interesting repercussions in the production and creation of electronic music. In particular, two electronic music microgenres were generated from this process, vaporwave and synthwave. Vaporwave appeared first in the 2010s, as an ironic variant of chillwave, and it consisted of sampling and manipulating jazz, R&B, and soul music compositions. The result was a nostalgic view of the early 90s, seen through the eyes of a half-human/half-cyborg creature.
It also incorporated visual elements, taken from glitch art, 3D rendering and pixelated graphics. Apart from being polemical against capitalism and pop culture, and expressing dissatisfaction with the present times, it also contributed to creating new dance and techno scenes, and subgenres such as signalwave, vaportrap, VHS pop, mallsoft and hardvapour. Notable vaporwave artists worth mentioning include Daniel Lopatin, a.k.a. Oneohtrix Point Never, James Ferraro, and Ramona Andra Xavier, a.k.a. Vektroid.
As mentioned above, synthwave music was also around at the same time but it started spreading already in the early 2000s. Its birth coincided with the release of Grand Theft Auto: Vice City, the video game which inspired the artists of the synthwave. Differently from vaporwave, synthwave music, was inspired rather by video games and sci-fi/horror movies. It is mostly an instrumental genre, which combines clichéd sounds, such as drum machines, analogue synths, and more vintage compositions with glitches, computer sounds, and cyber aesthetics, recalling the colours and the motives of the old VHS tapes.
Eventually, as in the case of vaporwave, interesting subgenres were born from the synthwave phenomenon. On one hand, some genres recalled psychedelia and sci-fi tropes, like dreamwave and scifiwave; on the other, some subgenres pushed the musical discourse forward – some possibly too much.
Darksynth, which combined industrial, post-punk, and electronic; fashwave, a bizarre and subversive musical genre ("fash" stands for "fascist"), which originated on YouTube in 2015 and fused together vaporwave and synthwave, with the addition of Nazi symbols and nazist themes. The latest, and probably the most disturbing, the trumpwave, a supposedly far-right subgenre focused on the political figure of Donald Trump.
In this chaos of impressive and varied musical styles, the evolution of electronic music, especially in recent years, has been exponential. Considering the mixture of music, the internet and video games, but also the presence of totally diversified visual art – pixels, 3D, vintage graphics, VHS and drones – the result is pure experimentation, but not completely out of control.
And when channelled in the right direction, with due caution but at the same time taking enormous risks, musical composition asserts itself as a historic moment – could we even say a milestone? – and establishes a continuum for the musical development of genres and generations in the years to follow. Enter Amnesia Scanner, who fully succeeded in his intent, bringing a breath of incredible maturity to the experimental composition.
However, Ville Haimala and Martti Kalliala did not start their career with the name that made them famous. Originally they were known under the name of Renaissance Man, an abstract playful techno act, and they debuted in 2009 on Institubes and Dubesided, before signing in 2011 under Tiga's label called Turbo Recordings, for their first full-length work, The Renaissance Man Project. Eventually, however, their act became more and more extreme, dark, and possibly even more experimental.
So, in 2013 Ville and Martti founded their own label, Black Ocean, and became closer to the Berlin avant-garde and experimental scene, in particular with the club collective Janus. That's the moment Amnesia Scanner was born. After settling in Berlin permanently, Amnesia Scanner (often abbreviated as AS) started producing material independently and right during the wave of the aforementioned genres in 2015, they released the mixtape Cyber Monday and their first EP, Angels Rig Hook - the latter being a 14 minutes radio play-like mix, featuring Jaakko Pallasvuo as narrator.
But the following year the band came into contact with the label Young, associated with XL Recordings and which has produced large-caliber contemporary electronic music artists such as FKA twigs, Jamie xx, SBTRKT, Sampha and The xx. In collaboration with the visual artist, musician, and designer Bill Kouligas, Amnesia Scanner released the mixtape LEXACHAST, and also in the same year, their debut official EP, AS, was released via Young.
After two years in the works, and after much experimenting with samples, loops, tribal tunes and techno rhythms, the band released its first full-length album, Another Life, via the label PAN. The album was preceded by the EP AS Truth, released one year before and containing elements which would anticipate Another Life's themes and tunes. When hearing AS Truth, one has the impression of being sucked into a vortex of despair and perdition, where boundaries dissolve and the music – in its canonical sense – loses any meaning.
Another Life, on the other hand, represented a sincere look, with all the bad and good implications sincerity might bring to our modernity. Continuous variations of tempo and musical texture, swaying synths on glitchy sounds like broken glass, music that recalls ancient tribal songs flanked by shrill modulated voices. It's techno, but also pop, ambient but at the same time industrial, noise and even gaze. Something impossible to define, but which strikes strongly, in the right place, at the right moment.
The following year the band released LEXACHAST as an album, after the live experience with the composition and after having presented it at many experimental and avant-garde music festivals. In the same year, in 2019, Amnesia Scanner released the single AS Acá, featuring the Peruvian singer Lalita. Meanwhile, the band kept working on what would become their second full-length album, Tearless, released in 2020.
The brand was always the same (fortunately), but in the second work, there was perhaps a greater awareness of compositional themes and mechanics. It appeared as an organic and well-constructed album, with the usual sonic deviations and experiments, but all in one beautiful primordial confusion. One feels lost, yet down to earth. Nothing is known about AS's future projects, and their website, like their music and style, is very cryptic (my advice, visit it).
Their forward-looking approach opened up a myriad of new musical universes, some of them still totally unexplored. It would be impossible to define Amnesia Scanner in a genre or inscribe them in a musical category. It is, and we hope it always will be a stunning and talented musical act and we wish they will continue to be so.
Their musical contribution, albeit with only two active albums, has so far been fundamental for the mutation of the experimental process into music, and it has greatly participated in the transformation of today's musical genres. But to tell the truth, it all started a long time ago, in Italy, by a magnificent composer considered one of the greatest pioneers of avant-garde electronic music, Luciano Berio, the protagonist of our next episode of Milestones.
Do musical genres exist today? What are the frontiers of electronic music? Are there any boundaries, in terms of social themes and politics? Is Amnesia Scanner the non-plus ultra of experimentation? And what will come after it? 
Leave us your opinion in the comments below!
If you have found an error or typo in the article, please let us know by e-mail info@insounder.org.