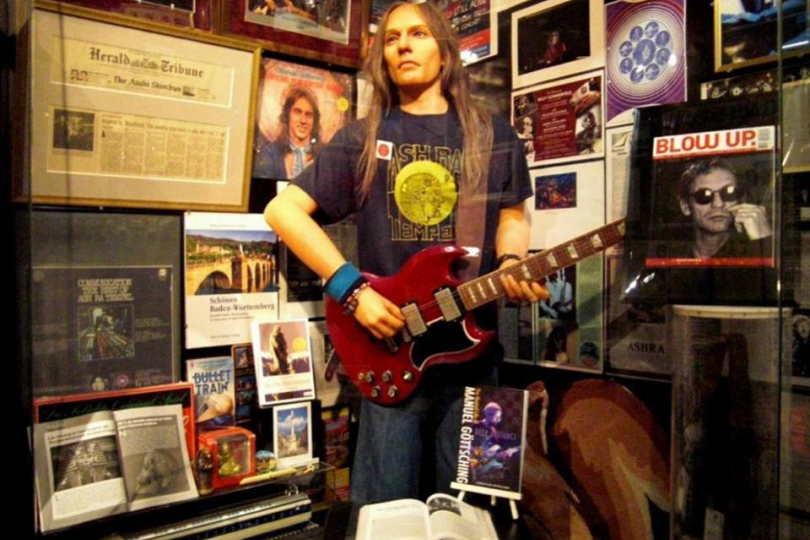 Göttsching and his Ash Ra Tempel coined the genre krautrock. | Photo by (c) MG.ART www.manuelgoettsching.com
Milestones in Music History #34: Manuel Göttsching – When Ambient Meets Krautrock
Let's abandon for a moment the relaxing and dreamy atmosphere that accompanied our last Milestones episode where we talked about The Challengers. Let's move much further east, to the heart of Europe, where in the 60s, rock and blues imported from the United States gave way to the development of an innovative and experimental musical approach. Today, we will talk about the man who was able to put together different genres and create the basis of the new German musical scene. The one who is considered the father of the krautrock. The legendary Manuel Göttsching.
The breath of new music that came from overseas right at the end of the 50s was welcomed with curiosity and even excitement on the old continent. In addition, blues mixed with garage and psychedelic music started spreading from the UK. From a musical point of view, it was an exciting historical moment.
But in old Europe, a lot of families still listened to classical music. At one household in West Berlin, friends used to gather to enjoy opera and composers such as Puccini and Verdi.
This was the musical environment Manuel Göttsching grew up in. His mother's passion was opera, but he had the opportunity to listen to the radio operated by the American and British allied military forces and access music that came from very far away. And that's how he got to Motown music.
It was a genre close to soul music, characterized by the use of tambourine and an emphasis on the melodic bass line. The guitar riffs were very simple and effective and the vocals used the call and response technique, a component borrowed from gospel music.
But the radio also played the early Rolling Stones (particularly from the era of Brian Jones) and English pop-rock-blues music, such as The Who and the Beatles. And it is precisely at that moment that Göttsching decided to abandon the classical guitar and to take up the electric one. He formed a group that played songs from the aforementioned bands, but the real inspiration came when he listened to "Summertime Blues", a song by the psychedelic acid rock blues band Blue Cheer.
Apart from that, he was influenced by free jazz. It was an experimental and avant-garde jazz style born in the late 50s and early 60s aiming to deconstruct the canons of jazz music and find a more improvised and free approach to composition. And freedom of composition meant wide, immense space for pure improvisation.
And improvisation is the key to understanding Göttsching's compositions. From one of his numerous sessions of pure improvisation his first real musical project was born in 1970 – the band called Ash Ra Tempel.
The group was formed by Göttsching himself, who brought in the pioneer of German electronic music Klaus Schulze as a drummer and bassist Hartmut Enke. However, all three had previously been members of the experimental supergroup Eruption, founded by Conrad Schnitzler.
Schnitzler, apart from being co-founder of West Berlin's Zodiak Free Arts Lab, was the founder of the krautrock group Kluster, and before Eruption, he and Schulze had played in the famous electronic and ambient group Tangerine Dream.
Ash Ra Tempel was an attempt to carry on the experimental discourse in the field of electronic and ambient music, with influences from jazz and psychedelic rock. Through improvisation, they tried to create avant-garde compositions with kraut elements. And the result was exceptional and astonishing.
Their first self-titled album, released in 1971, could rightfully be considered a classic of the krautrock genre. Krautrock took its name from the German kosmische musik, meaning "cosmic music". It was a genre that fused rock, jazz, psychedelia, ambient, electronics, musique concrète and elements of experimental music.
It was based on dreamy and almost hypnotic melodies, allowing room for extended improvisation. It was revolutionary, as it managed to convey the more progressive elements of other already widely established musical genres, such as rock and jazz, bringing their more unconventional elements to fruition.
Allmusic characterized Ash Ra Tempel's debut as "both astonishingly prescient and just flat-out good, a logical extension of the space-jam-freakout ethos into rarefied realms." Listening to it feels like navigating through interstellar spaces that change color and size; the universe disappears and we get lost in it.
Schulze left soon after the band's debut, but Ash Ra Tempel released their second studio album, Schwingungen, the following year. In my opinion, this album strongly represents the concept of immersing yourself in music. It can be characterized by dreamlike atmosphere, driving guitar riffs and psychedelic background layers with references to blues and even funk.
A great album, which established the sound of Ash Ra Tempel and embodied the musical poetics of Göttsching. The following year, in 1973, Manuel and the band worked on various projects, releasing three studio albums in one year: Seven Up, Join Inn and Starring Rosi. The most interesting and incisive was probably the album Seven Up.
Besides the fact that it shows the evolution of Göttsching's experimentation and his sonic maturity, it is the result of an interesting collaboration with Timothy Leary, a rather famous American psychologist and author known mainly for his speeches on psychedelic drug use. He was defined by Allen Ginsberg as "a hero of American consciousness".
Indeed, Seven Up sounds like a long, interminable, dreamlike acid trip. The album title itself came from the fact that the band was dosed with a bottle of Seven Up containing LSD. The three albums were Göttsching's legacy. However, after the release of Starring Rosi, he continued his solo career and his experimentation work, especially focused on examining and expanding the possibilities offered by the electric guitar.
In 1975, his debut solo album Inventions for Electric Guitar was released, an album entirely conceived and played on the electric guitar. It shows progress in his compositional style, as he abandoned the dreamy sound to give way to dark contexts closer to industrial music.
Eventually, he also progressed instrumentally and began to be interested in synths and drum sequencing. In my opinion his most important later album, E2-E4, represents the musical paradigm and the experimental parable initiated, developed and perfected by Göttsching. And the rest is history.
The musical contribution of Göttsching and his Ash Ra Tempel was impressive, because he was able to coin a genre, krautrock, and brought it to the highest level of maturity, fusing elements of electronics and rock and blues. Not only that, his concept of improvisation and randomness of music was pivotal to the development of psychedelic and electronic music from the 70s onwards.
With good reason, we can consider him a milestone. Göttsching's compositional arrogance, if we can define it that way, inspired new musical groups that were gaining ground in the UK and America, and could be mostly characterized as ugly, dirty, out of tune and deviated. We will talk about one of them, the Germs, in our next episode.
Can experimentation become part of a canon? Is there a limit to improvisation? How does psychedelia affect music? Is music there just to lift us, or is it also a reflection of consciousness? What is the relationship between drugs and music today?
Leave your opinion in the comments below!
If you have found an error or typo in the article, please let us know by e-mail info@insounder.org.