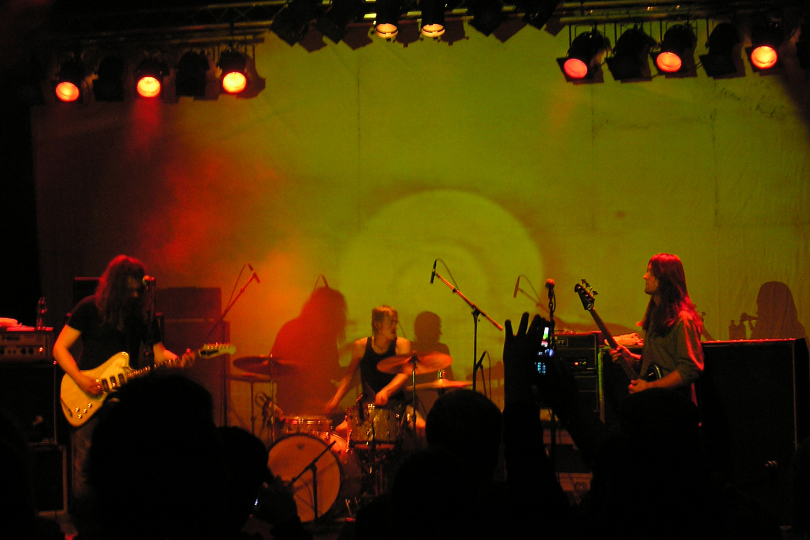 Motorpsycho live at Steinkjer in 2008 | Photo: Jan Frode Haugseth, CC BY-SA 4.0 via Wikimedia Commons
Milestones in Music History #39: Motorpsycho, Let Them Eat Cake
The dreamy atmospheres of Air, which accompanied us during our last episode, revived a more intimate and introspective side of electronic music. But musical composition can also be an expression of other parts of our souls, the more jaunty and irrepressible ones. To do this, music must adapt, abandoning the limits of genre and sound. And indeed, there has been one band that perhaps more than others has expressed in notes the versatility and unpredictability of our unconsciousness. The time has come to talk about the genre-defying Norwegian band Motorpsycho.
What starts in one way can eventually evolve and be completely turned upside down – this is nothing new. Yet, if we consider how we go about our daily lives, it is not easy to change routines and upset our plans all the time. It seems that every little change to our routine – work or otherwise – requires a lot of effort. But our existence has become so accustomed to our habits that changes become something bizarre, abnormal or unusual.
And in music? Our involvement in musical composition leads us, very often, to pigeonhole the results into a specific genre. We become attached to a particular musical instrument and never leave it, or form a band with mates and then stay together (almost) forever. We are sure that this is how our spirit and instincts work. Well, it's not, and it was a couple of teenage metalheads who made this clear to us.
Hans Magnus 'Snah' Ryan and Bent Sæther met in the mid-1980s, in Norway. Their understanding arose from the fact that they both considered Rainbow Rising, the second album by the British-American band Rainbow, to be the best thing ever recorded. They attended the same high school and started playing in bands in the town of Steinkjer.
Although they split up after school, they met again a couple of years later, in the Norwegian city Trondheim, Hans' hometown, where Bent was studying English and Social anthropology at the university. There, Bent had formed a band called 'Aural Blow-job' with Kjell Runar 'Killerkjell' Jensen and other DJs with whom he worked at the local college radio station. They were looking for a new guitarist, so they got 'Snah' to join, and the band became a trio.
The name of the group was chosen after seeing the film of the same name in a triple feature by director Russ Meyer, who, having seen the success of his Motorpsycho had made another film immediately afterwards, Faster, Pussycat! Kill! Kill! The name of the first film of the triple feature, Mudhoney, had already been used by another band, the famous Seattle grunge band, and Faster Pussycat had already been taken by the Los Angeles hard rock/glam metal band of the same name. So, they went for the last one left. Motorpsycho.
The band started their musical project in a metal and heavy grunge direction, with influences of indie rock. But it also had the electronic noise component, thanks to the collaboration with Helge Sten, better known as Deathprod, an associate member of the band and well-known Norwegian composer of ambient music.
The thus-formed band began work on their first studio work, which was then released in 1991. Lobotomizer was a heavy metal album with grunge influences, which came to be considered one of the band's weakest records. There was an aggressive instinct, but it wasn't felt. It would come, but it wasn't time yet. But their experimental tastes and a certain harmony of composition were clear.
However, there was a live version of "Hogwash" on the album, which will become one of the favourite songs of the audience during their live performances. After the release of a mini album, Soothe, the following year, the band released their third studio album in 1993, Demon Box, which better revealed the group's sonic characteristics and more markedly outlined their musical approach.
The band was very prolific, as their fourth studio album was released the following year. Timothy's Monster was their first album produced for a major label, EMI, which followed in the wake of the previous one, consolidating more and more their sound characteristics. After a year of silence, they reappeared in 1996 with the release of their fifth album. Blissard already revealed a variety of compositions, smoother and more versatile and not related to a specific music genre.
It was also born from a different approach to recording, no longer based on experimentation and studio brainstorming, but rather on more structured pieces in the form of songs and compositions already studied and transcribed. To date, it is regarded as one of their best works, and of which the album track "Drug Thing" embodies the most shining example of their musical evolution.
Their production of the following two years, with the release of Angels and Daemons at Play and Trust Us, their sixth and seventh studio albums, things began to get more complex. Also, thanks to the external collaboration of other musicians and the important contribution of Deathprod with oscillators, echoplex and ring modulators, their sound became more powerful and significant.
In addition, the track "Vortex Surfer", from Trust Us, was selected by the radio station NRK P3 as the song of the millennium and was played on the 31st of December for 24 consecutive hours. The cover of Trust Us was also notable, produced by Kim Hiorthøy, Trondheim musician and graphic designer of the band.
The real breakthrough, however, came with their next work. Let Them Eat Cake, their eighth full-length album released in 2000, represented one of the defining moments of their career – and, in my opinion, of music history. Different genres were mixed: there were no longer as many heavy rock and grunge influences, a brand that had distinguished them in their first albums, but instead jazz and psychedelia.
Electronics were used in minimal terms and the presence of wind or string orchestral instruments was predominant. It was a sophisticated work, with multiple levels of understanding, where irony mixed with seriousness, and no song was predictable. Tracks such as the beautiful opening "The Other Fool", the disenchanted "Big Surprise", the psychedelic "Stained Glass" or the irony of "Walkin With J." (my personal favourite), made this album immortal.
The band continued to release albums almost year after year, evolving in genre and use of instrumentation, and with different lineups, where different members succeeded each other – apart from Hans and Bent. Their latest work, Yay, will be released next month, and it is already anticipated by the single "Patterns". Motorpsycho contributed enormously to the development of today's music, especially in terms of maturity of composition and consistency of approach, despite the band's continuous stylistic evolution. 
Their sound and freedom of expression have inspired and will inspire generations to come. Motorpsycho will still be able to amaze us – I'm sure of it. Another musical act that took Motorpsycho's experimentation to shocking extremes was Godspeed You! Black Emperor, stars of our next episode of Milestones.
How can a band stay true to their ideas and at the same time change? Is there evolution in a genre or are new genres simply being born? Is it conceivable that all members of a group evolve in the same way over the years or is it just pure utopia? 
Leave your opinion in the comments below!
If you have found an error or typo in the article, please let us know by e-mail info@insounder.org.