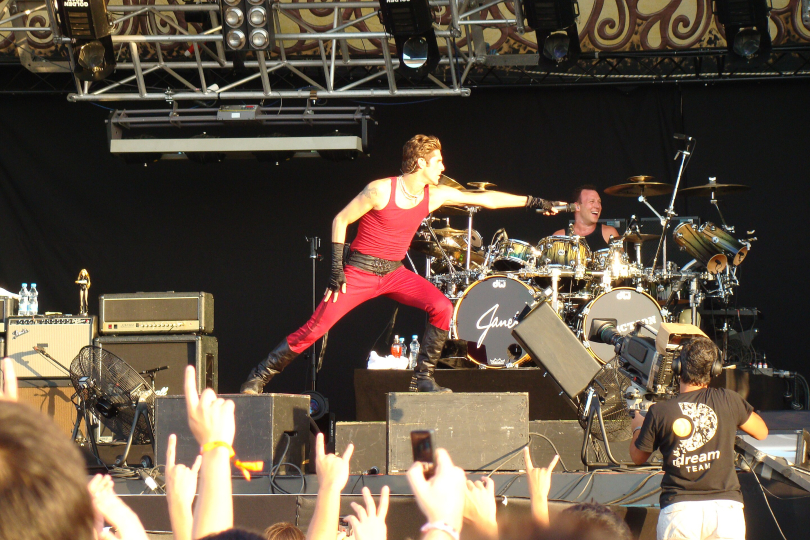 Jane's Addiction at Rock'n Coke 2009, Istanbul | Photo: Wikimedia (CC BY-SA 3.0)
Milestones in Music History #45: Jane's Addiction, Nothing's Shocking
The Wipers made their way into music with vehemence and audacity that ushered in a whole new genre, as we saw in our previous episode. However, rock music needed a shot of life, a resounding whiplash that would awaken minds and open the entrance to the alternative panorama of the 90s. If we wanted to find the most striking example of this explosion, no one else can be mentioned except Jane's Addiction.
To make history, it doesn't take much. A certain attitude, a good groove, a lot of energy. Is that all, you ask? Well, this, and something else too. When a well-nourished spirit moves along unknown paths, a certain intuition can arise, a new interpretation which foreshadows that some change will happen and it will be a transformation with irreparable consequences.
And indeed, this is what happened in the early 80s, when the band Psi Com was founded in 1981. A group of post-punk and gothic-rock style, which began to make its way into the underground environment of Los Angeles and in 1983 it was looking for a singer to complete the lineup. Perry Farrell answered the call.
He was born across the continent in Queens, NY, albeit in infancy, and following the death of his mother, an artist who committed suicide when Perry was three, the family moved to North Miami Beach, Florida. After spending most of his youth there, he moved to Los Angeles, where he made his first contact with the local music scene.
Psi Com represented Perry's first approach to a band, and in particular, this group acquired enough popularity in the underground, although ultimately they only managed to release an EP in 1985, which had been preceded by the release of a cassette the previous year. But the EP turned out to be a disaster: the band ordered 1500 copies and were shocked when they received the order, as more than half of them were damaged.
This event sparked disillusionment on the part of the group members, and following this affair Psi Com disbanded and each of them went their ways. Sherer and Duran, respectively drummer and guitarist of Psi, became Hare Krishnas, and Perry continued to live for a few years with Kelly Wheeler, bassist of Psi Com with whom he shared the apartment, at least until 1985. A year in which something happened.
Perry was looking for a replacement for Wheeler and Carla Bozulich introduced him to bassist Eric Avery, with whom they immediately realised their musical passions in common, among many, Joy Division and The Velvet Underground. So they started rehearsing together. The group's name was suggested by Perry's girlfriend and inspired by Perry's roommate and her heroin addiction.
The first name chosen by his fiancée was Jane's Heroin Experience, but for Farrell, it was too directly related to addiction and it was not vague enough. The group was later joined on drums by Avery's younger sister's boyfriend, Stephen Perkins. After he was hired, Avery promised to include his friend, Dave Navarro, whose audition worked immediately, and he became part of the group.
Jane's Addiction began to move into the LA scene attracting the attention of the public and becoming the interest of many record companies. They ended up signed with Warner Bros, who however guaranteed them to come out with a debut album released through an independent record company, Triple X Records.
However, before their release, the band performed as the opening act for English band Love and Rockets, for two months in late 1987; it was while they opened at Fender's Ballroom in Long Beach (which is now demolished) for Peter Murphy, the historic lead singer of Bauhaus.
The self-titled debut album which was recorded in January of the same year during Jane's concert at the Roxy Theatre was released in the same year. A truly rare and singular case, that of releasing a live album as a debut album, which had certainly been done before in the musical world but quite rare at the end of the 80s. But this paid off, given that the result was surprising and achieved immediate success.
The album included songs that were to reshape rock forever, such as the ballad and one of their favourites "Jane Says", the rambunctious "Pigs in Zen", and the mellow "1%", as well as the haunting "Whores". The album also included two covers, The Velvet Underground's "Rock & Roll" (they chose perhaps the group's most upbeat and energetic song) and Rolling Stones' "Sympathy for the Devil" (here referred to simply as "Sympathy").
The album marked Jane's Addiction's entrance into the musical culture of LA, and consistently represented the band's sound, in all its facets. But the band immediately started working on what would become, in my opinion, the most significant success of their career. And indeed, the following year, in January 1988, Nothing's Shocking saw the light. At the time of its release, it was incredibly successful and placed well in both American and overseas charts.
The title was probably chosen as a provocation since everything about the album was, in fact, shocking. The cover had been designed by Farrell, who had borrowed two mannequins from Warner, seated and glued together like conjoined Siamese twins, whose heads he had later set on fire.
Nine of the top ten record distribution chains refused to display the album, which was sold covered in a brown paper sleeve. According to him, the idea had come to Farrell from a dream he had some time ago: "These two women were swinging back and forth. They were joined at the hip and shoulder, and their hair was on fire".
The process of composing music was very diverse, as every single member of the band actively collaborated in the creation of the songs. Someone started with an idea, and the others then followed and added magic to the whole. Farrell chose to produce David Jerden, whose work he had particularly appreciated on the album My Life in the Bush of Ghosts by David Byrne and Brian Eno.
The disc opened with "Up to the Beach", one of the most beautiful intros in the history of contemporary rock – calm, however, in the sense of "calm before the storm". After the bombastic "Ocean Size" arrives, Farrell's voice explodes and extends indefinitely, in a natural way, scaling notes with unique vocal strength and precision. Navarro's guitar is a perfect juxtaposition to the ensemble.
We also find more intimate songs and ballads such as, apart from the already known "Jane Says" and "Pigs in Zen" which reappear here in a more elaborate and more mystical key, "Had a Dad" (whose text was written by Avery after discovering he had another biological father), and the sweet "Thank you Boys". Avery had also written "Summertime Rolls" and "Mountain Song", a pure rock pearl with a wink to Led Zeppelin.
"Mountain Song" was chosen as the album's single. However, MTV refused to air the video of the song, for some graphic nudity parts. Farrell later released it himself, in composition with other material for the creation of the Soul Kiss home video. MTV's refusal was useless: the album was a huge success.
So much so that the band toured opening for Iggy Pop and the Ramones immediately upon release; by the end of the tour, Jane's Addiction was a name already known to all lovers of modern and alternative rock. But something went wrong. Everything started to fall apart when Farrell demanded more royalties (much more, 62.5%) than the other members of the group (12.5% each).
At the same time, Avery began to reveal problems with alcohol and Navarro with heroin. With all this, they respected the lineup and in 1990 their third work (second studio album), Ritual de lo Habitual, was released. The provocative cover was created by Farrell (in connection with the piece "Three Days") and depicted male and female nudity with a background of religious or mystical references in perverse postures.
The album contained five classic pieces of Jane's sound – fast, scratchy, melodic – while the other four are more intense and moving, written by Farrell in memory of his deceased girlfriend Xiola Blue. Perhaps it can be defined as softer than the powerful Nothing's Shocking, also due to the influences of funk here, but it is still and rightfully considered one of the most important albums in rock history.
And so it was that Jane's Addiction wrote a good piece of rock music of our times. They are still around and if you can go see them live, they will amaze you. They inspired the likes of Tool, The Smashing Pumpkins, Incubus, and seminal albums like Nevermind wouldn't exist without them. As well as the legendary musical phenomenal act Nine Inch Nails, the industrial pioneer of post-metal, star of our next episode of Milestones.
What are the dynamics in a rock band? Is it necessary to have a leader, or is there democracy? What are the new frontiers of modern and alternative rock? How can Jane's Addiction be so current and fashionable even today? What is the secret of rock music's eternal youth? 
Leave your opinioin in the comments below!
If you have found an error or typo in the article, please let us know by e-mail info@insounder.org.