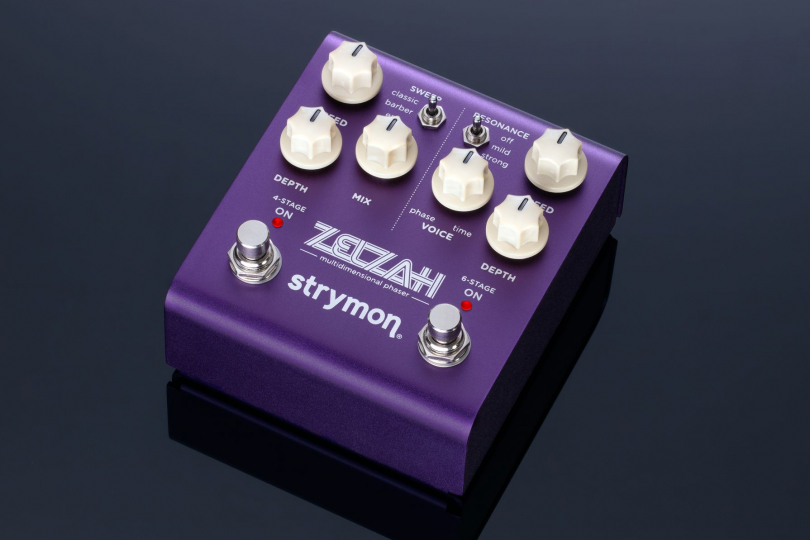 Modulation Strymon Zelzah Multidimensional Phaser
Strymon has expanded its product catalogue with the Zelzah Multidimensional Phaser modulation effect, which allows two independent modulation units to be activated in either serial, parallel, or split mode. The pedal, in a flashy purple lacquer finish, features a six-stage plus four-stage phaser, each section has its own set of controls, and of course there's a pair of footswitches, USB, MIDI, and other connectivity.
A six-stage circuit allows you to achieve phaser, flanger, and even chorus registers, while flexibility is enhanced by adjustable resonance—a small lever switch lets you choose between Strong, Mild, or Off modes. In addition to the familiar Rate and Depth controls, a Voice function is installed, changing a total of 30 different parameters with mutual interaction, so that a truly wide variety of sounds can be achieved.
For the four-stage phaser we again find potentiometers determining the speed and depth of the modulation wave, but the Voice knob has been replaced by a Mix control determining the ratio between the clean and the effect signal. The three-position Sweep switch offers the following modes: 
Classic—vintage phaser with standard LFO algorithm
Barber—smoothly rising or falling modulation wave achieved through frequency converters and synchronized phasing
Envelope—similar to the envelope filter/auto-wah, the phaser responds to the dynamics of the pick stroke.
The pedal has a switchable instrument/line input, thanks to TRS input and two outputs it can handle both mono and stereo or so-called true stereo connection, a MIDI jack is implemented as an input for an external expression pedal and USB-C port provides connection to a computer. Power supply is handled by a 9V 300 mA adapter. The Zelzah is also compatible with the Strymon MiniSwitch, which allows access to three presets, and the Strymon Conduit or Strymon MIDI EXP cable can be used to access up to 300 presets.
The effect also features a high-impedance, discrete Class-A JFET preamp with very low noise, and you can choose between buffered or true bypass. At the heart of the pedal is a 480MHz ARM Superscalar processor with 32-bit floating-point processing and 24-bit 96kHz A/D and D/A converters.
As expected, the analogue path of the pure signal never passes through the digital circuit, thus ensuring zero latency of this signal channel. The Strymon Zelzah Multidimensional Phaser programmable modulation with an aluminum chassis measuring 11.4 x 10.2 x 4.4 cm is available on the European market for a price around the €380.00 mark including the voltage supply.
If you have found an error or typo in the article, please let us know by e-mail info@insounder.org.