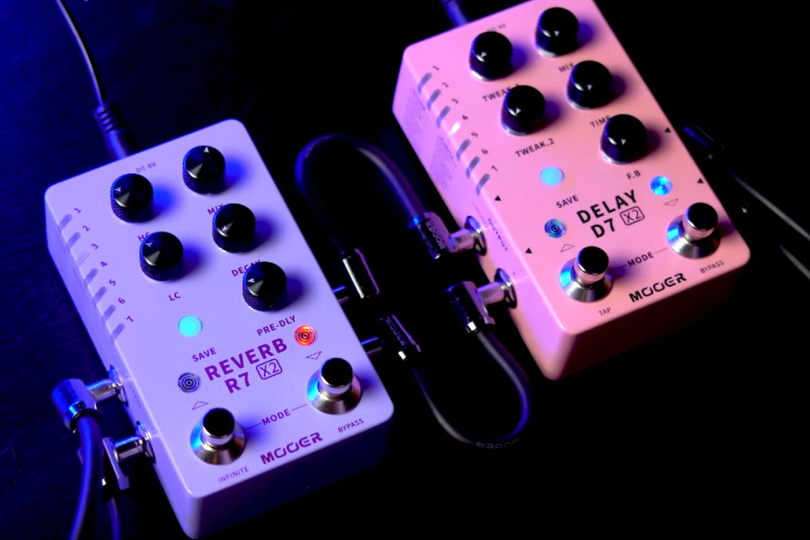 Mooer D7 X2 Delay and R7 X2 Reverb Pedals
The Chinese brand Mooer Audio is launching a new effect series called X2. The product edition, represented so far by the D7 X2 Delay and R7 X2 Reverb, is partly inspired by the popular Micro series, from which it takes some sound presets and, in no small part, a strip of LEDs informing about the activated register. Unlike the Micro collection, both programmable X2 models get a pair of footswitches, which corresponds to the larger chassis, and users can also take advantage of the stereo wiring this time around.
Compared to their miniature predecessors, these new effect pedals boast double the number of factory presets, which have grown to 14, divided into Yellow and Purple banks, indicated by the aforementioned two-colour diodes set into the upper left edge of the casting, measuring 75 x 115 x 33 mm and weighing 334 g.
In addition to the stereo outputs allowing the classic mono or stereo operation, there are also two inputs. This enables the use of the so-called true stereo mod, which will be welcomed especially by keyboardists or musicians working with various grooveboxes, production stations, etc. The main Bypass footswitch is followed in the case of reverb by the Infinite footswitch, which offers an endless ambience after a longer press, while the delay has a tap tempo switch.
Pressing both footswitches simultaneously switches the circuit to Select mode, in which the switches are used to move between programs. Bypass also offers a Trail On mode option, leaving the effect to reverberate naturally even after it is turned off. The effect boxes, with an average current draw of 300 mA, are powered by a standard 9V adapter. The official European price of the Mooer D7 X2 Delay pedal has been set at around 130 euros, while the R7 X2 Reverb can be had for around 150 euros.
Types of presets and control functions
Mooer R7 X2 Reverb:
Yellow  mode: 1. Room, 2. Hall, 3. Church, 4. Cave, 5. Plate, 6. Spring, 7. Mod.
Purple mode: 1. Studio, 2. Reverse, 3. Warp, 4. Shake, 5. Crush, 6. Shimmer, 7. Dream.
Controls - Mix, High-cut, Low-cut, Decay, Pre-Dly, Save button (save program plus preset selection)
Mooer D7 X2 Delay:
Yellow  mode: 1. Digital, 2. Analog, 3. Tape, 4. Dynamic, 5. Liquid, 6. Mod, 7. Mod-verse.
Purple mode: - 1. Galaxy, 2. Dual, 3. Ping-pong, 4. Crystal, 5. Rainbow, 6. Low-bit, 7. Fuzz.
Controls - Mix, Time, Feedback, Tweak 1, Tweak 2 (parameters tied to a specific preset), Save button (save program plus preset selection)
If you have found an error or typo in the article, please let us know by e-mail info@insounder.org.