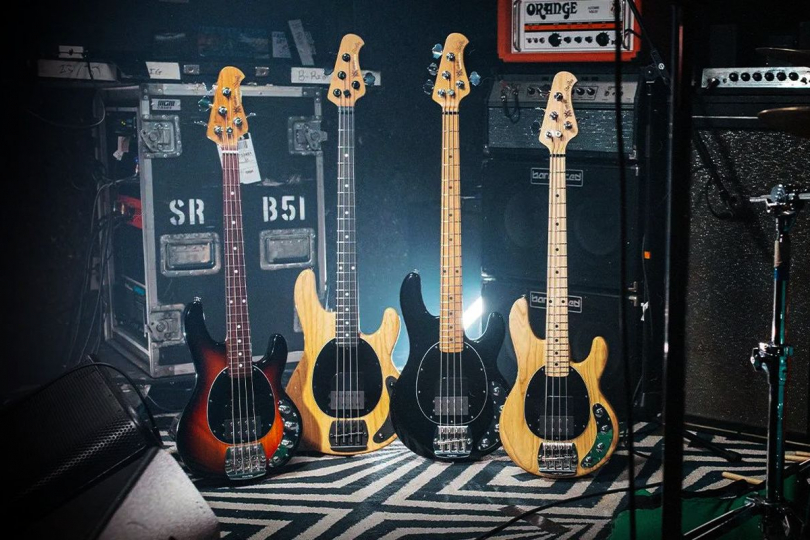 Music Man StingRay Tim Commerford Signature Basses
Ernie Ball Music Man has included in their Artist Series a special edition Music Man StingRay Tim Commerford bass built to the specifications of the bassist of Rage Against The Machine, Audioslave, and Prophets of Rage. The product line consists of four four-string models with both classic and shortened scale length, each with passive or active electronics.
The common features of the versions with the classic 34-inch scale length and the more compact 30-inch versions are ash bodies; necks made of select "baked maple" attached to the body with five screws' fingerboards made of rosewood, maple, or ebony (depending on the specific model and its color) with a radius of 11 inches; 22 jumbo stainless steel frets; and a nut compensated by 38.1 or 42.9 mm respectively.
Also identical is the company's proprietary headstock with a steel base, string anchoring through the body, nickel-plated saddles and adjustable damping pads. Tuning is provided by lightweight Music Man tuning machines with large three-blade tuning keys plus height-calibrated shafts, and there's a round AD string tree. The typically oval three-ply pickguard houses a vertically adjustable finger rest in addition to a humbucker with neodymium magnets.
In the case of passive versions, the pickup is controlled by a volume potentiometer (500 kOhm), a tone pot (100 kOhm / 0.1uf), and a rotary switch selecting between series and parallel coils or single coil mode. The volume control also features a push-pull switch to turn on the gain boost. Instruments with active electronics, powered by a pair of 9V batteries, offer a volume control complemented by three-band EQ.
Signature Music Man StingRay Tim Commerford basses are produced in a limited edition of 50 of each model, the body is covered in a durable polyester lacquer, while the necks carry a satin finish achieved by oiling and subsequent waxing. The official European price has been set consistently around the €2,650 mark, including the hard case.
MM StingRay Tim Commerford Passive Short Scale: Vintage Sunburst, rosewood fingerboard
MM StingRay Tim Commerford Active Short Scale: Natural Gloss, maple fingerboard
MM StingRay Tim Commerford Passive Full Scale: Natural Gloss, ebony fingerboard
MM StingRay Tim Commerford Active Full Scale: Black, maple fingerboard