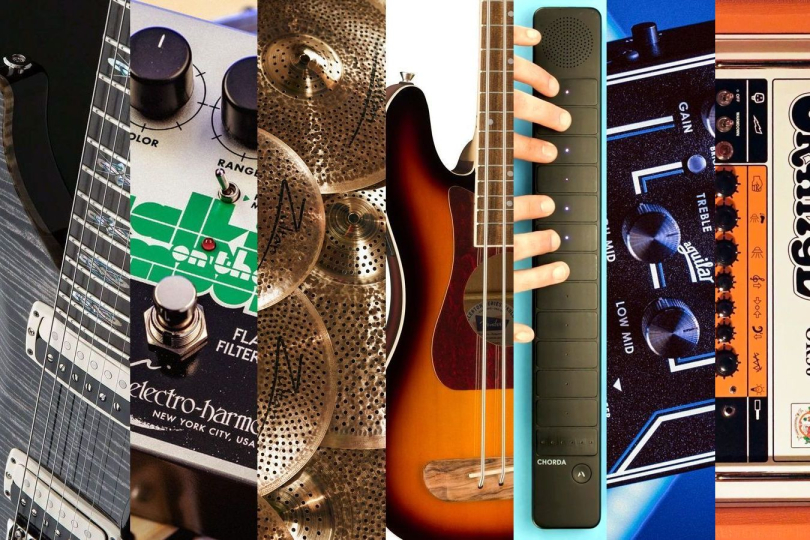 NEW GEAR 32/23: Luxurious John McLaughlin PRS, First Fender Bass Ukulele, John Petrucci's Software and Quiet Cymbals Zultan
Those who are ready are not caught off guard. Welcome to our next weekly roundup of new gear and trivia from the music world, where we try to sum up everything essential that's currently hitting the market that we should know about. John Petrucci has set up his own guitar software company, Electro Harmonix has introduced a flanger based on the sound of the guitarist from the Police, bassists might be interested in a pedal preamp from Aguilar, musical geeks might appreciate Artiphon Chord's unusual synth and for wealthy fans of John McLaughlin, there's a lavish signature from PRS. We also have a tip for a reissue of a signature Fender, a Zultan cymbal collection, an Orange all-tube amp and an acoustic bass.
Nearly twenty years ago, Fender removed the signature Stratocaster of the guitarist from the pop-punk Blink 182 from its product catalogue, and now the manufacturer has announced the return of this popular model in the form of a limited edition manufactured in Ensenada, Mexico. The Strat, designed in the style of instruments from the '70s when the company was owned by CBS, has received the era's typical large headstock and hardtail bridge, and instead of the classic trio of single-coils, there's a single Seymour Duncan SH-8 Invader humbucker with a very powerful output. The guitar, with an alder body covered in Daphne Blue, Graffiti Yellow, Seafoam Green or Black lacquer, could appeal not only to DeLonge's die-hard fans but also to players who prefer structural minimalism and an aggressive distorted sound.
Only 200 pieces of this year's special edition of an instrument built to the specifications of guitar legend John McLaughlin are going to be available for the astronomical sum of around 15,000 dollars. The materials used match the price, including an African blackwood fingerboard with inlays of abalone or crushed opal, a neck made from a single piece of hormigo wood (Amazonian rosewood) and a body made from select mahogany combined with a carved figured maple top. The model in Charcoal Phoenix finish with Smoked Black Back is equipped with PRS TCI humbuckers, Phase III locking tuners and a Gen III tremolo.
Offering the classic, shimmering character of Andy Summers' flanger, this pedal is a tribute to the sound Andy used in his early days with the Police, which is also reflected in the title of the effect, referring to the hit from his second album Reggatta de Blanc (1979). A fluid, soft-sounding modulation with a hint of chorus with extra depth and subtle nuances make Summers' then-sound one of the most sought-after guitar sounds in history. In addition to the flanger mode, you can also use the Filter Matrix mode, which disconnects the LFO section from the main circuit and adds ringing metallic undertones to the signal without the movement of a traditional modulation pedal.
Tube head Orange OR30: surprisingly powerful and flexible
Despite its 30W power output, the all-tube amplifier is one of the loudest amps from the brand, thanks to a generously designed Class A power amp (4x EL84) that delivers similar sound pressure readings to 100W models, meaning you get both the quantity and quality of classic Orange sound in a relatively compact format. For the first time in the company's history, the single-channel preamp gets a Bright function with three modes and a foot-switchable volume control. The tube rectifier adds a nice attack, the effect loop is also equipped with a tube, and there's a cross-line presence control that works at any volume. The OR30 offers a wide range of gain starting with completely clean registers, through subtle crunch, more massive drive to a fully saturated sound with long sustain.
Fender Kingman: acoustic bass with Fishman electronics
Fender has included another version of the Kingman four-string bass in the Acoustic Edition, featuring a more compact Newporter Auditorium-style body made from sapele wood, complemented by a X-braced solid spruce top, which together deliver a voluminous, punchy and articulate tone, backed by a wide-range active preamp and Fishman Presys pickup. The neck received a subtler Jazz-Bass C-profile, the nut and the bridge saddle are made of Graph Tech NuBone material and playing is facilitated by a shorter 30.3-inch scale. The instrument in a transparent burst finish, bearing a price tag of about 600 dollars, comes with a high-quality gig bag. The video below shows a related version of the Kingman V2.
Aguilar AG Preamp: professional sound in a pedal format
Aguilar's analogue preamp inherited the dense and fast response, clean transparent expression and wide tonal flexibility of the popular AG series bass amps, making it an important component for players of all genres. With a four-band equaliser, the AG Preamp allows you to subtly shape the tone and its character – from warm and piercing to bright and articulate. In addition, there's a Deep/Bright footswitch to add depth or upper mids to the resulting sound, an integrated Aux In, a headphone output with custom volume, and an XLR output with Pre/Post options and ground lift controls. It features a higher power supply of 18V.
The Fullerton Precision Bass Uke is Fender's first bass ukulele, and as the name suggests, players will get a design equivalent of the now iconic bass guitar whose history began in the early 1950s. Compact proportions supported by a short 20.25" (514.4 mm) scale make this model a very comfortable instrument that can be plugged into an amplifier thanks to the integrated Fender FE-BU01 preamp (tuner, volume, tone). The body is a combination of solid okoume with a laminated spruce top, the fingerboard and bridge base are made of walnut and the ukulele is fitted with Nickel Wrapped Nylon Core hybrid strings (.045 - .110). You can choose between 3-Color Sunburst or Olympic White.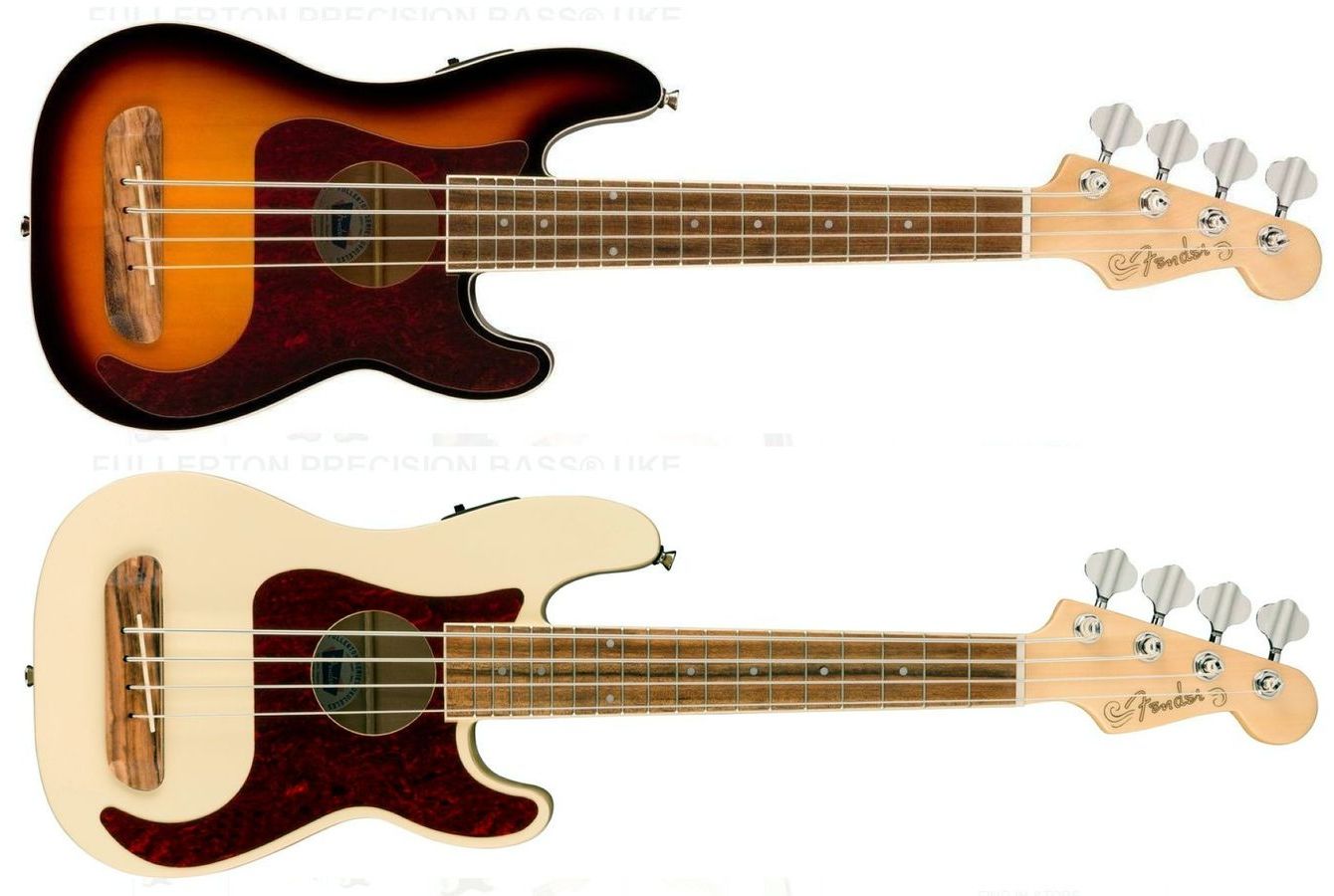 Zultan Mellow: cymbals with reduced volume
With the Mellow Cymbals series, Zultan responds to the demand of many drummers for quieter cymbals. The B20 bronze alloy models are handmade in Turkish workshops, with a natural finish and numerous small holes distributed over the entire surface, including the central bell, thus reducing the resulting volume by approximately 30 per cent while fully preserving the natural sound. The warm, well-defined expression of these cymbals can prove useful for example in electronic-acoustic hybrid sets as well as in small clubs and rehearsal rooms. A total of 12 different cymbal types and two sets (Professional and Jazz Club) are available.
Unconventional synth, looper and MIDI controller Artiphon Chorda
If you're an experimenter who likes to play with new sounds but doesn't need large workstations, advanced groove boxes, professional samplers or processor-intensive applications, Artiphon's unconventional but flexible Chorda is for you. The plastic model resembling a guitar neck can be played like a keyboard or drum machine or picked up and strummed like a guitar or ukulele. It features a synthesiser, looper (Drum, Bass, Chord and Lead layers), sampler, speaker, MIDI, Bluetooth, USB etc. Chorda with 12 capacitive sense pads responds to touch, has a haptic feedback, parameters can be changed with an accelerometer or gyroscope and of course, there is a mobile app.
Tonemission: John Petrucci started his own guitar software company
Petrucci's newly established Tonemission brand makes its debut with the software package John Petrucci IR Collection: 1, which features impulse responses that replicate the guitarist's signal chain, more specifically his sound from his albums Terminal Velocity (solo project), Liquid Tension Experiment 3 and A View From The Top Of The World (Dream Theater). A total of 34 IR samples are available, divided into categories Blends (Petrucci's studio sounds) and Assets (individual microphones) in six different resolutions. "I'm a tone freak," says Petrucci. "I've always been obsessed with guitar and amplifier tone. This is my tone mission, and that's the name of the new company."
If you have found an error or typo in the article, please let us know by e-mail info@insounder.org.