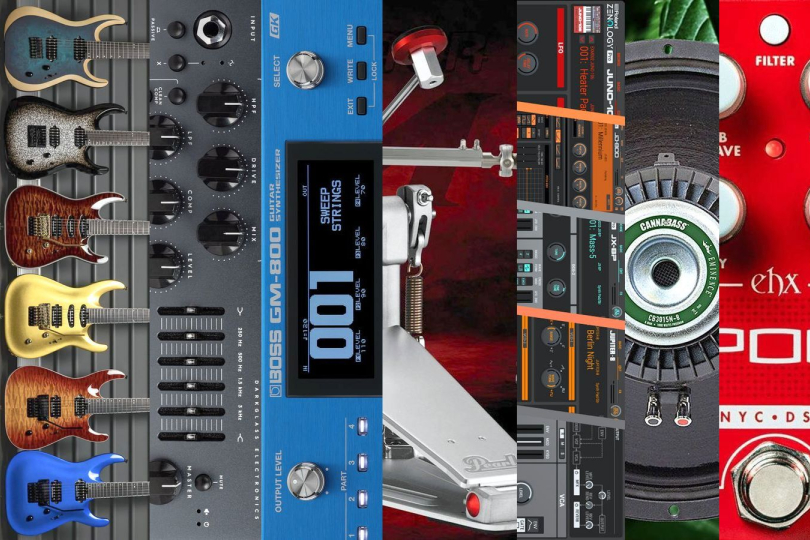 NEW GEAR 33/23: EHX has downsized the POG octave pedal, Boss offers the GM-800 synthesiser, Jackson launches a premium guitar edition, Finland's Darkglass introduces a new amp and Blackstar unveils its first plugin
Those who are ready are not caught off guard. Welcome to our next weekly roundup of new gear and trivia from the world of music, where we try to sum up everything essential that's currently hitting the market that we should know about. Electro Harmonix continues to downsize its popular POG pedal, Boss has decided to expand its guitar synth selection with a new version of the GM-800 after more than a decade, Pearl has come out with the Demon XR 3500 series pedals, and home studio owners might be interested in the price-friendly headphones from Behringer Alpha and Omega. We also recommend the Jackson Pro Plus guitar collection, Sire Marcus Miller basses and plug-ins from Roland and Blackstar.
A total of ten models of Dinky and Soloist superstrats make up the new Jackson Pro Plus series, offering a modern concept, including multi-layered bolt-on or neck-through-body, luminescent dots on ebony and maple fingerboards with variable radius, high-quality frets (EVO, stainless cryo-steel) and premium body materials with domed tops. The models are equipped with Seymour Duncan, Bare Knuckle and Fishman Fluence pickups, Floyd Rose 1000 locking tremolos, hardtail bridges and EverTune system, and there are also seven-string variants. The premium Jackson Pro Plus series emphasises a wide sound palette and ergonomic design, providing rock guitarists with the ultimate playing experience.
Plugin Blackstar with amplifiers St. James
UK-based Blackstar enters the field of complex modelling with a plugin that includes a CabRig emulation unit with 9 corporate cabinets, 6 microphones and a configurable environment, in addition to two virtual amps from the St. James series (EL34 and 6L6 versions). There is an effects section with 8 pedals and an equaliser with four semi-parametric bands and high/low cut filtering. The development team, who are also behind the classic Blackstar Artisan, St. James, Series One and ID:Series, say the new product should give players the "tone and feel of real valve amplifiers […] that will set new standards in the studio/recording world". The innovative approach is matched by the slogan "Designed, not modelled" under which the manufacturer promotes the software.
Guitar/bass synthesiser Boss GM-800 and new interface Serial GK
The GM-800 floor synth brings a new era of guitar and bass synthesis with almost unlimited creative range, supported by the possibility to combine or edit registers, a huge selection of effects and, last but not least, content on the Roland Cloud. The advanced ZEN-Core sound engine, complemented by a newly developed Serial GK interface made up of pickups and converters, unlocks every sound imaginable – from a wide variety of acoustic instruments to classic and modern synths (e.g. Roland Jupiter-8 or Juno-106) – while the powerful DSP unit ensures tracking stability and expressiveness never before possible in the effects category. The GM-800 is available for about 800 euros.
EHX Pico POG: polyphonic octave pedal with three filter modes
After the classic POG followed by the Micro and Nano versions, the New York-based brand came up with the smallest version of this polyphonic octave generator, the Pico POG. The small pedal is capable of adding a lower and upper octave to the original note or chord, and the Tone control is connected to a Filter switch that allows this parameter to use high-pass or low-pass filter modes in addition to the tilt equaliser. The design thus greatly increases the flexibility of the miniature digital effect, which, like its predecessors, boasts lightning-fast and precise tracking. A voltage supply is also included in the price of about 240 dollars.
The new models from the erudite bassist are again based on the Jazz Bass concept in both four- and five-string versions, but this time they feature a two-octave rosewood or maple fingerboard with rounded edges, fitted with 24 medium jumbo frets. The 1970s-style instruments feature a North American alder body, a roasted maple neck and passive electronics with a pair of Marcus Vintage-J Revolution single coils complemented by 2x Volume + Tone controls. The prices are relatively friendly, around 600 (4ST) or 700 dollars in the case of the 5ST version. Left-handed versions are also available. Colours (depending on the model): Mild Green, Natural, Vintage White, Tobacco Sunburst, Dakota Red. In the video below, Miller demonstrates a previous V5 model.
A special series of bass amplifiers combining a 900 W Class-D power amp and an analogue preamp equipped with a section containing a compressor and a distortion engine based on the company's popular X series pedals. The compact model also received a quiet six-band graphic equaliser that can shape the sound from a crystal clear tone to an overdriven aggressive sound. In addition, the X circuit allows you to choose exactly which frequencies are compressed and saturated. With MIDI for channel switching and muting, IR cabinet impulses with the ability to store three presets, Aux-In input, headphone output and more, the Microtubes X 900 offers unmatched versatility and control, according to the manufacturer. The limited edition is expected to be available in 500 units.
Following the 10-inch CB3010N-8, the American manufacturer adds a new speaker to the CannaBass edition, the CB3015N-8, with a 15-inch diameter, 8-ohm impedance and a massive 1000 watts rated power (500 watts EIA). Designed with the modern player in mind, the driver features clean, precise projection achieved through a paper cone with a patented CBD coating that enhances smooth frequency response (40 Hz - 3.7 kHz) with low distortion. The installed neodymium magnet offers a stable flux field ensuring consistent tone, and the three-inch coil also provides lower compression.
Pearl Demon XR 3500: single and double pedals for bass drum
The P-3500D and P-3502D single and double pedals from the Demon XR 3500 (X-treme Response) edition are, in the words of the manufacturer, a direct path to rapid-fire bass drum performance. Their austere, lightweight direct-drive design was developed in collaboration with George Kollias from Death Metal Nile to deliver faster, smoother strikes and better rebounds in extreme genres. Both models are ready for technical playing at high tempos where accuracy as well as endurance are crucial. The machined aluminium pedal surfaces are complemented by B-350XR type beaters, pivoting hoop clamp, NiNja bearings and a strong replaceable spring with detailed tension adjustment. The dual version of the P-3502D boasts zero latency, thanks to the universal drive shaft Z-Link.
A software collection in the form of the flagship Zen-Core plug-in with its own oscillator, filtering, Amp section, LFO and effects unit, enriched with legendary Roland-produced instruments that helped define many musical genres. The Model Expansions package reconstructs the sound of Roland Juno-106, Jupiter-8, SH-201, JD-800 and JX-8P synths, giving the player a wealth of registers and sound-shaping options. The comprehensive package in VST, VST3, AU and AAX formats is priced by the manufacturer at around 600 dollars.
If you're looking for headphones suitable for your home studio and you are on a tight budget, you might be interested in a pair of new models from Behringer called Alpha and Omega. Both wired versions have an open design, comfortable Ultra-Soft ear cushions, an elegant retro look and a friendly price tag of around 50 euros. The frequency range is also identical, ranging from 10 Hz to 28 kHz, and the accessories consist of a carrying case, a three-metre cable and a jack adapter. The versions differ mainly in the type of headband and the size of the neodymium drivers, with the Alpha getting 50 mm drivers, while the Omega variant has 53 mm drivers.
If you have found an error or typo in the article, please let us know by e-mail info@insounder.org.