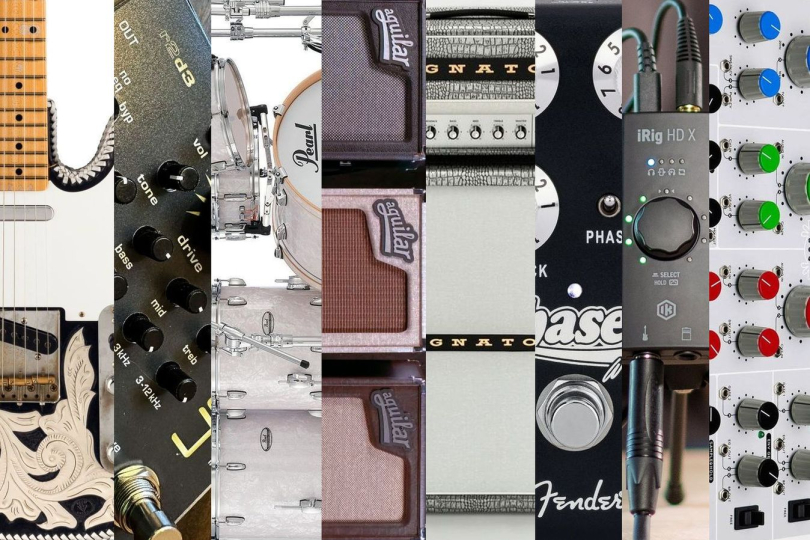 NEW GEAR 38/23: Mojotone Effect Kits, Fender Waylon Jennings, Aguilar Cabinet and Bullfrog Synth
Those who are ready are not caught off guard. Welcome to our next weekly roundup of new gear and trivia from the world of music, where we try to sum up everything essential that's currently hitting the market that we should know about. Native Instruments have launched the sixth generation of their Suite software package, Aguilar has expanded their portfolio with a 1x10 small bass cabinet, Fender has launched a collectable replica of Waylon Jennings' Telecaster and added his signature phaser, Mojotone has released four modular drives and Erica Synths have introduced the Bullfrog synth with interchangeable voicing cards. We can also recommend Sunnaudio's bass preamp, Pearl PMX maple drum kits and IKM's iRig HD X audio interface.
Telecaster that belonged to the American country music icon. Masterbuilder Dave Brown was in charge of the construction, and he gave the two-piece ash body a period-correct Butterscotch Blonde paint job, then covered it in hand-tooled black leather with white edge decorations and traditional patterns. Equally characteristic of this guitar are the Schaller M6 tuning machines, with a low E banjo tuner allowing quick down tuning to the D note. The one-piece radial-cut maple neck has a 10/56 "V" profile and the sound is carried by single-coil CS Hand-Wound '50/'51 Blackguard pickups. The price of the collector's edition, including deluxe case, strap, etc., has been set at 25,000 dollars.
Alongside the Telecaster, Fender launched a range of Jennings' signature products, including, in addition to the previously mentioned separately sold hard case and premium strap, two pickguards in embossed leather and the Waylon Jennings Phaser, an effect often used by the player. The new model is based on Fender's original 1975 four-stage circuit and features three switchable (2/4 or 6-stage) phase modes. In addition to the Range, Rate and Feedback parameters, the pedal features a Sweet switch that disconnects the Phase switch and adds a more pronounced modulation wave to the signal.
These days, the first pieces of the pedal edition including distortion kits based on the well-known Ibanez Tube Screamer, Marshall Blues Breaker, Pro Co Rat and Electro-Harmonix Big Muff drives are leaving the workshops of the American company Mojotone. The new releases are available as modular kits with pre-assembled circuit boards to minimise soldering, so assembling these effects is relatively quick and easy. Common features of the effects are three controls (Volume, Tone, Gain), a lever switch selecting between a trio of clipping or voicing modes, a 3PDT footswitch wired in true bypass mode, internal DIP switches (except for the BM Fuzz), internal space for four additional diodes and a 70 dollar price tag.
IKM has upgraded its flagship iRig HD 2 guitar card and launched the HD X version with a clearer layout of controls, which have been narrowed down to a single multi-function potentiometer with a built-in button that allows switching between the monitoring, headphones, loopback and a newly integrated tuner with fast-tracking. For the first time, the iRig-type interface features a virtual effects loop and IK Loopback+ technology. The low noise input circuit has also been modified, with a dynamic range of 115 dB. The converters work with 24-bit/96 kHz resolution, and connectivity consists of a USB-C port, instrument input, amplifier output and a headphone mini-jack.
Six Super Fifty-Nine M80 amplifiers covered in silver crocodile leatherette, and an equal number of 4x12 cabinets in identical finishes, fitted with the company's Custom 12" Ceramic speakers, were produced by Magnatone for Billy Gibbons' summer European solo tour, after which the signed halfstacks were sent to European dealers who pre-ordered these design specials. Offering a British-style sound, the all-tube heads feature 45W of power (Push-Pull, Class AB 2x EL34), Lo/Hi gains switchable by hand and footswitch, four-band EQ, Master and tube buffered effects loop. The price of these collectable kits is around 9000 euros.
The pedal preamplifier, whose prototype was first presented by Sunnaudio at this year's NAMM (see video), is now available for distribution. The R2D3 Helion scores with a transparent sound, offering clean registers, decent saturation, more pronounced overdrive and high-gain fuzz/distortion linked to the Rabid boost parameter. The preamp also boasts seamless integration with other pedals, and can be used with other instruments besides bass. Next to the TRS output is a balanced XLR output, the three-band parametric EQ is complemented by a sub-harmonic Focus function, adjustable input impedance, speaker simulator correction, Clean Mix, selectable signal routing, TRS effect loop, internal DIP switches, etc.
Aguilar SL 110: a compact cabinet with sound beyond its size
With dimensions of 34 x 34 x 44 cm and a weight of approx. 10.5 kg, the SL 110 bass cabinet represents the smallest and lightest model in Aguilar's portfolio, and despite these parameters, it produces a superior sound. Equipped with a 10-inch ceramic DB loudspeaker rated at 175 W RMS (8 Ohm), the new product is characterised by clearly articulated bass, balanced mids and smooth highs. The resulting tone and frequency response of 41 Hz – 5 kHz is also due to the hybrid construction, designed for frequent travellers who can choose from Black, Chocolate Brown and Fawn. Its compact format and easy portability make the SL 110 an ideal choice for band rehearsals, small gigs and practice sessions.
Pearl looks back to 1985, when the first Professional MLX series was created, with this year's premium edition of "Modern Vintage" style sets, combining a proven concept with innovative features. The new PMX collection, which the manufacturer says offers multi-genre versatility and is suitable for both studio work and active gigging, features EvenPly-Six (5.4 mm) shells made from 6 layers of North American maple providing a warm tone with wide frequency projection. There are premium RL lugs, an OptiMount tom suspension system, triple-flanged 2.3mm SuperHoop II hoops, and Remo UT Pinstripe/Powerstroke3 heads. The kits are sold in several configurations, with the PMX 14" x 5", 14" x 6.5", and 14" x 8" snare available separately.
In collaboration with musician and DJ Richie Hawtin, the Latvian brand has designed the Bullfrog, a compact desktop mono synthesiser that aims to inspire beginners and professionals alike to create their own sounds. The modular analogue-based model naturally allows for patching, with ready-made equipment in the form of a VCO, low-pass filter, FM modulation input, VCA unit with delay, Sample & Hold circuit, two loopable envelope generators, etc. An interesting extension is a slot for easily replaceable cards (Acid Bassline, Sampler/Looper, Sequencer, Groovebox, etc.) significantly expanding the possibilities of this instrument. It includes three factory and an equal number of blank DIY cards for recording ideas, the necessary cables and a 12V adapter. The range of cards mentioned should be continuously expanded.
Native Instruments now include iZotope and Brainworx, so in the sixth generation of the MP Suite, the user will also get the latest versions of Ozone 11 Advanced, Nectar 4 Advanced, Neutron 4, Native Instruments Guitar Rig 7 Pro, Audiolens, Stratus 3D surround reverbs plus Symphony 3D from Exponential Audio, Brainworx Creative Mixing Set, various effects from NI production, etc. Sound engineers, producers or players can benefit from high-end mastering, vocal mixing software, comprehensive guitar and bass sound solutions and a range of studio plug-ins. Until 11 October, the introductory price is approx. 495 euros, after which the package price will rise to approx. 650 euros.
If you have found an error or typo in the article, please let us know by e-mail info@insounder.org.