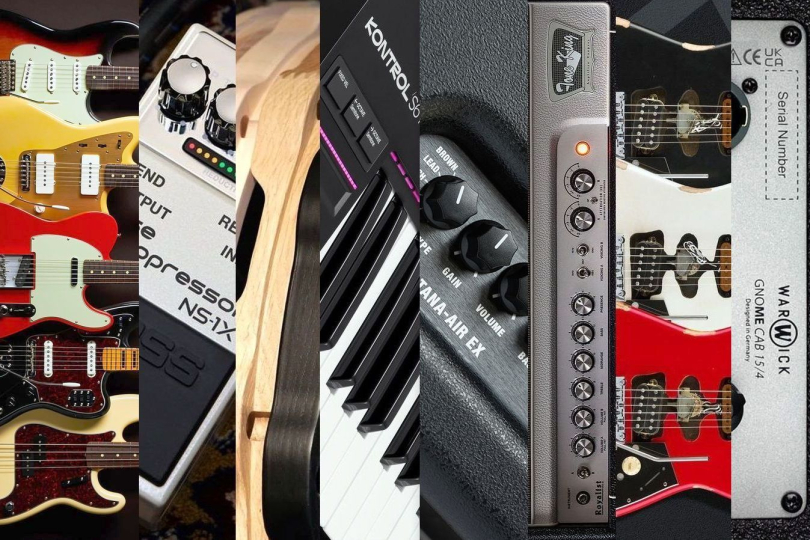 NEW GEAR 40/23: Fender Vintera II, New Boss, NI Controllers, Warwick Boxes etc.
Those who are ready are not caught off guard. Welcome to our next weekly roundup of new gear and trivia from the world of music, where we try to sum up everything essential that's currently hitting the market that we should know about. Boss has expanded its X digital pedal line with the NS-1X noise gate and added another evolution of the Katana desktop combo, Tone King offers Royalist tubes with a British vintage sound, and Fender has rolled out a trio of new releases – the Vintera II guitar and bass collection, Mike McCready's signature Mexican-made Relic Strat and Frankenstein superstrats built for the EVH brand. Also coming to market are upgraded Fishman humbuckers, Warwick Gnome Pro CAB 15/4 and 15/8 bass boxes, and NI's third generation of USB controllers.
Following the premium replica of Pearl Jam's guitarist vintage Strat, which the Custom Shop took care of building two years ago, Fender has announced the arrival of a more financially friendly Mexican alternative, which should officially appear on the European market probably in November. Like McCready's 1960 original, the Ensenada version features a Road Worn nitrocellulose relic finish, an alder body, a maple neck with Slim-C profile, a 21-fret Jescar Medium Vintage rosewood fretboard and a bone nut. The electronics consist of a trio of Custom Mike McCready '60s S-C Strat pickups with classic controls and a "Treble Bleed" feature that eliminates treble loss when the Volume potentiometer is pulled down. The Synchronized tremolo and nickel-plated pegs are also period pieces. The price including the Deluxe hard case is about 1,900 dollars.
EVH Frankenstein Relic: the "standard" version of Eddie Van Halen's Frankenstrat
The EVH Frankenstein Relic model, eagerly awaited by many guitarists and inspired by Van Halen's extensively modified superstrats, is finally headed for distribution. Available in white, black and red patinated finishes without the typical "Stripped" design, the guitars feature only a functional bridge humbucker with a volume knob (called Tone). An unplugged five-position switch is installed in place of the middle single, and the neck single-coil is a bit deceptive as it is disconnected from the signal path. A maple neck and fretboard and a lime body are complemented by a locking Floyd Rose tremolo with a D-Tuna switch at the E (Drop-D) string. The price of the instrument, called a "civilian variant of Frankenstrat", is around 1,700 dollars including a gig bag and service keys.
Fender guitars and basses from the Vintera II edition
A total of 16 different models of Stratocaster, Telecaster, Jaguar, Jazzmaster, Mustang, Bass VI, Nocaster and Precision, Jazz Bass, Tele and Mustang basses are featured in this year's Mexican edition of Vintera II, the first highly successful series of which Fender launched four years ago. The instruments are divided into historical categories of the 50s, 60s, and 70s, which the manufacturer has taken into account not only in the corresponding design or colour schemes of the individual variants but also in the design elements including, for example, period neck profiles and vintage-style pickups. In addition, several new models have been added compared to the original collection. European prices start at around 1200 euros, a complete overview of all representatives of the Vintera II edition is presented in the photo gallery below the article.
The NS-1X Noise Suppressor pedal is a significantly upgraded successor to the popular Boss NS-2 noise gate for guitar or bass. The new addition uses the company's MDP technology, which analyzes the input signal in real time at multiple levels and then reduces noise without affecting the natural tone and feel of the playing. In addition to the Damp, Threshold, Decay and diode meter parameters, there is an integrated rotary switch for selecting three modes. Mute – to turn off the signal path during bypass, Reduction – a standard noise gate function, Gate – a mode with a very fast response that ensures percussive high-gain riffs and other distorted parts remain concrete. Similar to the NS-2, the NS-1X is equipped with an input, output and effects loop, offering a variety of ways to connect it.
The next generation of the desktop combo now brings Boss wireless technology with near-zero latency, a built-in receiver and a slot for charging the included instrument transmitter. There are 5 voicing modes to choose from, including the popular Brown mode or neutral mode for acoustic or bass; direct recording is handled by an integrated USB card, presets can be stored in memory (5+1), Bluetooth support and an effects unit divided into 3 sections (60 effect types in the Tone Studio app) are provided, too. The developers bet on stereo operation with a maximum power of 35 W, a pair of 5-inch speakers and a stereo line output with box emulation. The wooden skeleton has a bass-reflex and the power supply is handled by an adapter, 8 AA batteries or a separately sold Roland BTY-NIMH/A cell.
Amplifiers based on the ageless concept of old Marshalls can be found in the offering of a number of manufacturers, but Tone King has conceived its Royalist MKIII edition in a way that honours the original design while providing an unprecedented degree of flexibility. The pair of A/B channels not only feature their own volume controls with Pull Fat function but also independent Iron Man II attenuators with six-position switches (0 to -36dB), an HF (Bright) parameter and, most importantly, separate lever switches selecting 1964/1967/1970 modes. As a result, the sound of the Marshall JTM45, Bluesbreaker, Plexi and Super Lead models can be extracted from these 40-watt tubes, with each voicing mode taking into account the corrections, gain and power stage characteristics of the specific master. Royalist 112 and 212 boxes can also be purchased.
The Fluence Modern humbuckers from Fishman are slowly but surely becoming the new industry standard in active pickups designed not only for metal and related genres. The company has now decided to not only expand this edition with Fluence Open Core Modern versions with open coils (Alnico V or Ceramic VIII magnets) and rails, but across the board they have equipped both passive and active humbuckers with a third voicing mode with a single coil sound. According to the manufacturer's statement, "the new mod delivers fast attack and transparency like you've never heard before in humbuckers." This gives players a wider variety of sounds with the option of brilliant-sounding clean registers. The pickups come in six, seven, eight and nine-string options.
Added to the Gnome cabinet collection are the compact Pro CAB 15 models with 4 or 8-ohm impedance, 300 watts of power and a single 15-inch custom woofer complemented by a piezo tweeter with adjustable volume. The box has a lightweight design like the other representatives of this edition, a pair of main handles recessed into the corners of the cabinet and a bassreflex located on the top of the chassis, which also serves as an additional handle. The boxes, fitted with a metal protective grille, have Speakon input/output connectors, with a frequency response given by a range of 55 Hz to 19 kHz. The Gnome Pro CAB 15/4 and 15/8, providing a transparent and clearly defined sound with smooth treble mixing, are available for around 430 euros. Dimensions: 500 x 500 x 430 mm, weight: 19.5 kg.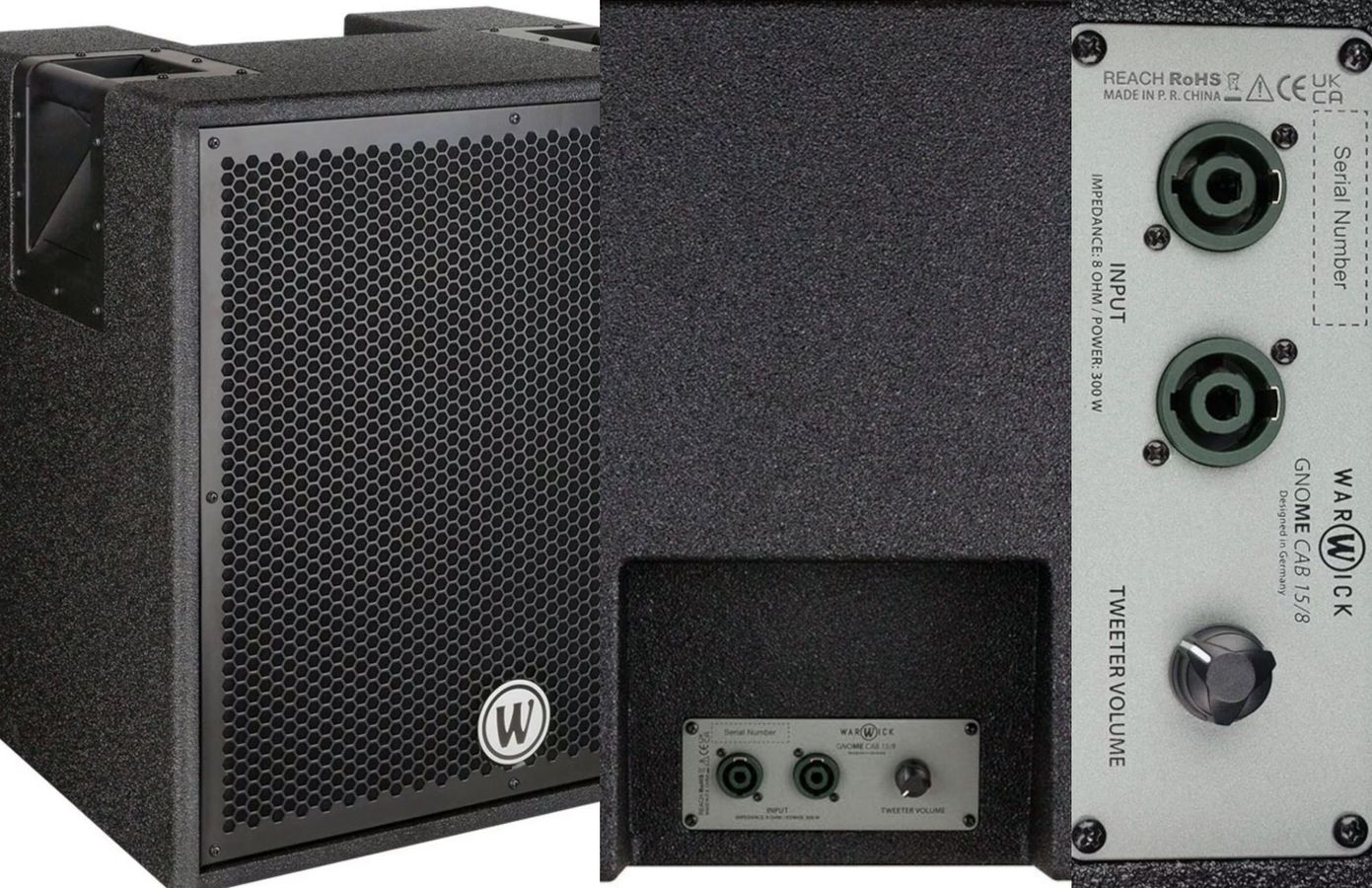 SIGU wooden hoops in seven sizes
The Latvian company known for quality wooden hoops for snare drums has also started offering hoops for toms, in sizes 8, 10, 12, 13, 14, 16 and 18 inches. Unlike most of its competitors, all SIGU models are not glued from ply but milled from several pieces of solid wood, and there are Standard or Resonant variants to choose from in European oak, maple, ash or black ash. Oak is particularly suited to dynamic playing with a large attack, while maple and ash, accentuating subtle nuances of tone, can be an ideal choice for a standard style of playing. Wooden hoops with five to ten holes are distinguished from metal ones by a more immediate response to mallet strike, while the drum also provides a softer projection with a warm timbre. The sound of both types of hoops is documented in the attached video.
The third generation of the Komplete Kontrol series from German-based NI offers advanced MIDI keyboard controllers available in three sizes. The models score with intuitive interfacing to instruments, effects or DAWs and clear navigation thanks to a large, high-resolution colour display. You can choose from the S49 / S61 versions with the corresponding number of semi-weighted keys, developed together with Fatar, or the S88 variant with high-quality hammer mechanics. Integrated are polyphonic aftertouch, an upgraded NKS standard, Performance and Edit modes, a backlit echo controller, solid metal pitch/modulation wheels, two USB-C ports, DIN MIDI In/Out and inputs for four pedals. The package includes Komplete 14 Select software package, iZotope Elements Suite, Ableton Live Lite, Guitar Rig 7 LE, etc.
If you have found an error or typo in the article, please let us know by e-mail info@insounder.org.