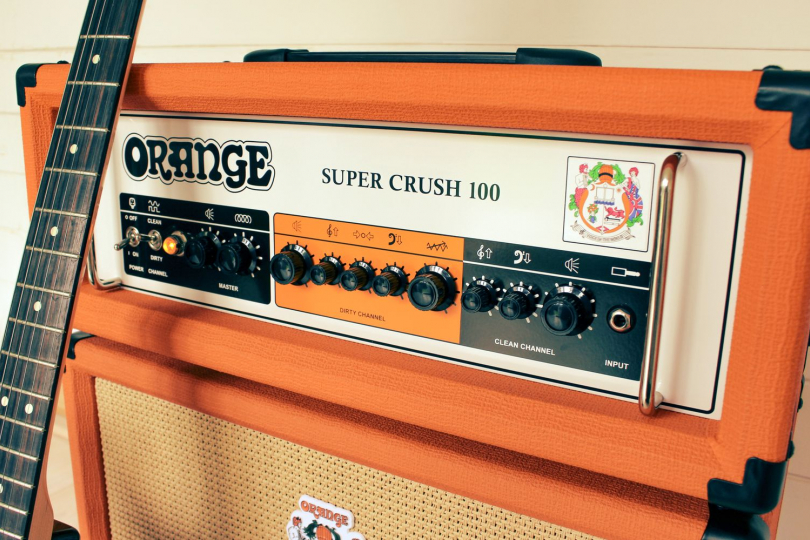 Orange Super Crush 100 Solid-State Head and Combo
Orange Crush series of compact solid-state devices, designed mostly for practice or home recording, has grown to include a pair of flagship units: the Super Crush 100 two-channel "adult" amplifier and the Super Crush 100 1x12 combo, both of which can, with their 100-watt output, power large stages. Both versions combine a JFET preamplifier with a power amplifier connected in Class A/B, taken from the company's Pedal Baby 100 power amp.
A clear channel with volume and dual-band correction controls offers a brilliant sound with a strong projection that builds into a bluesy crunch at the more extreme positions of the Volume potentiometer. The distorted Dirty channel, equipped with gain, volume, and three-band EQ controls, has a wide range of sounds from light distortion to massive high gain. Both channels also respond and function well with the guitar's Volume potentiometer.
The Master overall level control is assigned to the power amplifier (100 W/8 Ohm, 70 W/16 Ohm), and a digital reverb is integrated to emulate the sound of classic spring halls. Connectivity consists of a send and return functions of a fully buffered effects loop, a pair of parallelly connected speaker outputs, an equal number of sockets for a footswitch to change between channels and reverb, and a symmetric jack connector cable XLR fitted with a circuit simulating a box with selectable Open/Closed modes.
The combo, with a semi-open design measuring 45 x 55 x 29 cm and weighing 18.1 kg, is equipped with one 12-inch speaker—Celestion G12K-150 with ceramic magnet and high sensitivity. The head and combo are available in typical orange or black vinyl, with a minimum impedance of 8 ohms.
The official European price of the Orange Super Crush 100 combo amplifier is around 500 euros, while the combo costs approximately 700 euros. In the second video attached, Ty Tabor, the guitarist of King's X, demonstrates the features of the combo, evaluating the Super Crush 100 as follows: "It's the best solid-state amp ever made... period. It's my number one—amp for live playing and for the studio, too."