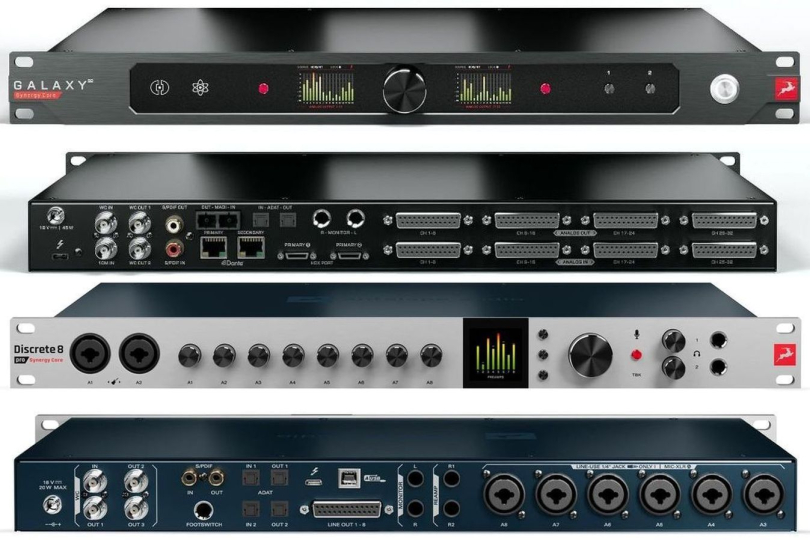 Professional Cards Antelope Galaxy 32 and Discrete 8 Pro from Synergy Core Edition
Antelope Audio, based in Santa Monica, California, has over twenty years of experience in digital audio, analogue circuit and clocking development, and is one of the world's leading manufacturers of studio and audiophile equipment. Among the latest developments by the Antelope team, led by the brand's founder, engineer and visionary Igor Levin, is the second generation of the cutting-edge platform Synergy Core, designed for professional signal processing. The technology earned a nomination at the NAMM TEC Awards, as did the Galaxy 32 Synergy Core and Discrete 8 Pro Synergy Core sound cards that use the technology.
The Synergy Core platform combines great parallel computing capabilities of specially configured FPGAs (see next paragraph) and the standard DSP section performance. As a result, it does not overload the host computer's processor while being able to process your connected effects plug-ins with extremely low latency. These features allow you to use sound cards based on this system even with computers whose hardware is not at the highest performance level.
FPGA (Field Programmable Gate Array) is a type of integrated circuit that is designed and manufactured to be programmable by the customer, usually the equipment producer that uses these circuits. An FPGA contains a series of programmable logic devices (PLDs) that can then be interconnected and configured to meet a specific need. This distinguishes it from ASICs, whose functions are fixed at the time of production.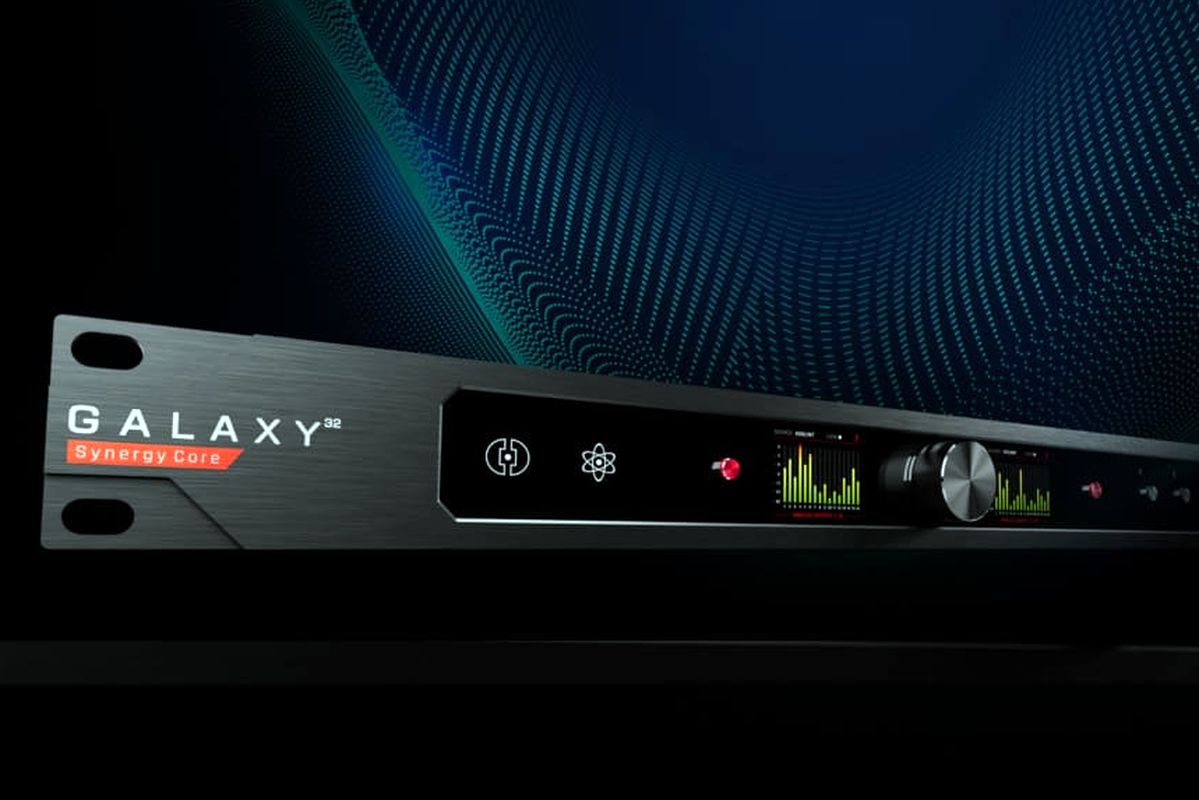 The Antelope Galaxy 32 Synergy Core card, equipped with transparent mastering AD/DA converters with a range of up to 130 dB and technology 64-bit AFC, also found in the renowned Antelope Audio master clocks, offers superior flexibility and full integration with other satellite components, while all routing, monitoring and recording is handled by the audio interface itself.
There are 32 analogue inputs and the same number of outputs, always with four DSub 25 connectors, optical ADAT, 2x S/PDIF, stereo output for monitors, 2x HDX (64x in/out / 192 kHz in Pro Tools), 2x MADI port (optical – 64x in/out), dual world clock inputs and outputs, Dante interface and Thunderbold 3 connector.
For the latter interface, Antelope supplies a stable driver for Windows that reduces latency to below 1 ms. In addition, there is the possibility of expanding connectivity using the previously mentioned Dante technology with a pair of (primary + secondary) RJ-25 connectors (64x in/out) and support for the 24-bit resolution at frequencies from 44.1 to 192 kHz. All inputs and outputs can be used simultaneously without the need to change settings.
The card, based on six DSPs and two FPGAs, can be controlled via both Mac and PC software (starting with Mac OSX 10.12 or Windows 10). A range of plug-ins are provided, and thanks to Synergy Core, up to 128 effect instances available in 32 virtual racks of eight effects can be operated in real time and a single session.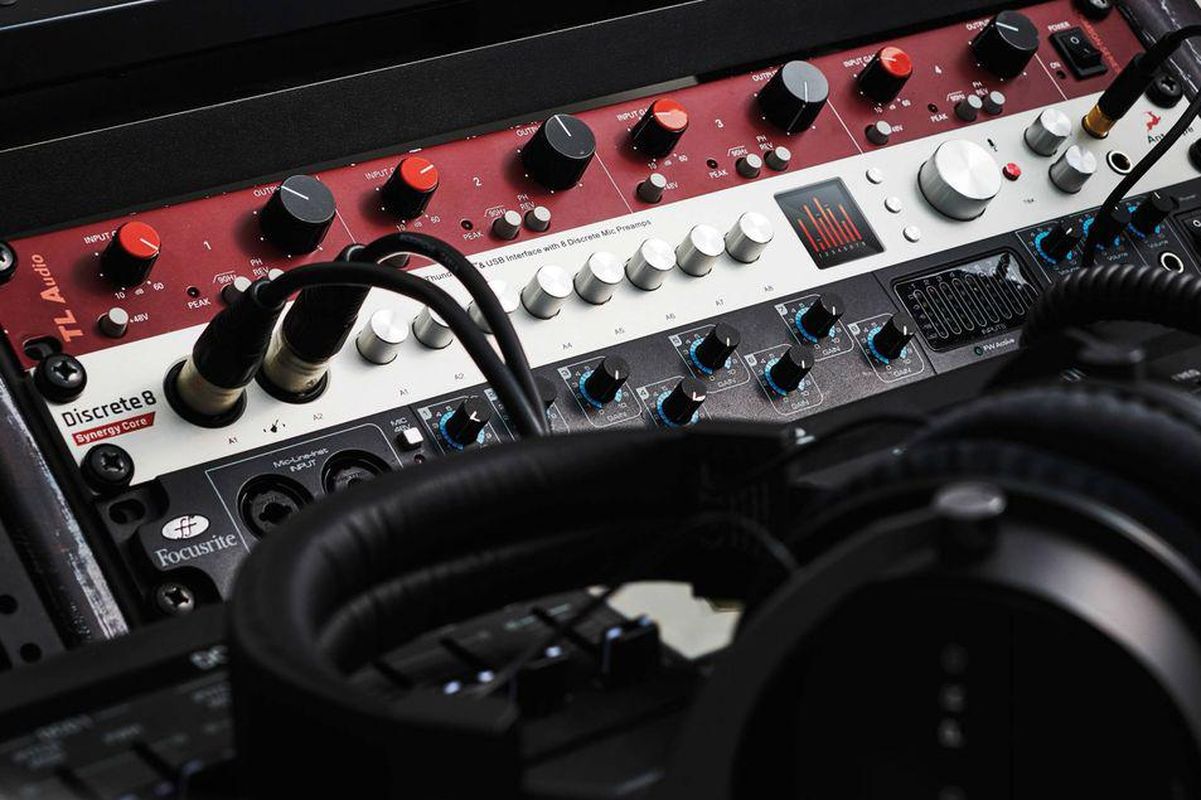 The Antelope Discrete 8 Pro Synergy Core (26 x input / 32 x output) is slightly different from the Galaxy version, although there are several similar features – most notably the fast Thunderbold 3 connection, an architecture based on two DSP units complemented by one FPGA chip, a powerful virtual patch-bay, latest generation converters AD/DA (again 24-bit / 192 kHz, up to 130 dB), 64-bit AFC technology, world block input and three outputs, 2x ADAT (16x in/out) and 2x S/PDIF.
There's a single eight-channel D-sub 25 connector, but Discrete also adds a fully usable USB-B 2.0 port, two jack outputs for reamping, a pair of TRS headphone jacks with separate volume controls, an internal microphone for talkback and a footswitch connector on the back of the rackmount chassis.
The Discrete 8 Pro SC boasts eight high-quality Class-A microphone preamps with ultra-linear performance, low noise, and circuitry built on six transistors with a topology inspired by classic consoles. Each of the eight channels features a combined mic/line input and phantom power. The pair of A1/A2 inputs, located on the front panel, can also handle high-impedance mode for recording guitars, basses, etc. The maximum gain, adjustable per channel, reaches +65 dB and the Synergy Core platform handles up to 90 effect instances across 16 channels.
The price of both models includes 37 plugins, represented by e.g. VEQ-HLF, VEQ-1A, VMEQ-5, 4x VEQ-4K, VEQ-STU 169, VEQ-HA32C, VEQ-STU 900, VEQ-STU 089, NEU-W495/492/PEV, VEQ-55A, microphone preamps BA-31, Gyraf Gyratec IX, dynamic processors Stay-Levin, Power Gate, Power Ex, POWERFFC, X903, VCA-160, FET-A76, ALT-436C, SMT-100A, BAE 10DCF, TUBE 176, Vari-Speed-Tremolo modulation, Marble White Autowah filtering, AuraVerb digital reverb, Master De-Esser, tuner, etc.
Manufacturer's dimensions, weight and official European prices:
Antelope Galaxy 32 Synergy Core: 483 x 280 x 44 mm, 3.4 kg, approx. 6000 euros
Antelope Discrete 8 Pro Synergy Core: 483 x 220 x 44 mm, 3.1 kg, approx. 2000 euros including an 18 V adapter and USB-B 2.0 cable
If you have found an error or typo in the article, please let us know by e-mail info@insounder.org.