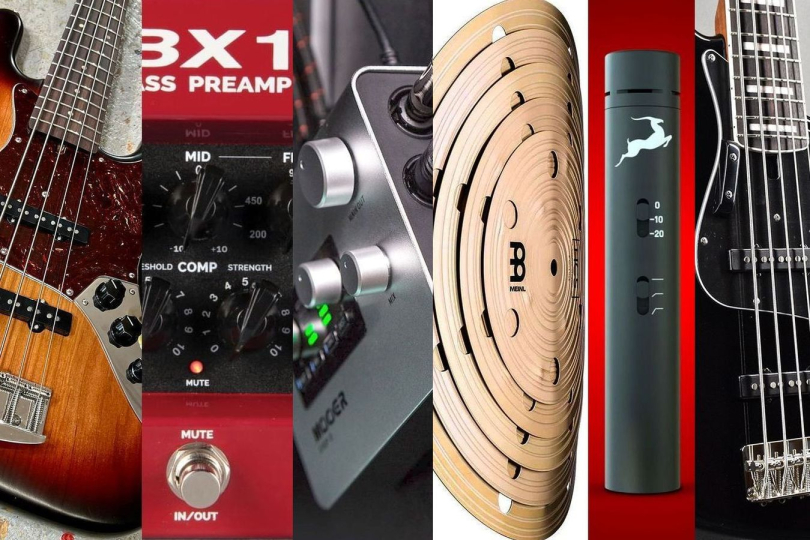 Miscellaneous Gear Alert: September 2022
Do you play bass, drums, or keyboards? Are you DJ, singer, sound engineer, or a studio aficionado? Then every third Monday of the month is "your day" here on Insounder—with a quick overview of gear and new releases that will be on the market in the current or upcoming period and that you shouldn't miss. A similarly conceived article is dedicated to technical equipment for guitarists every first Monday of the month. Some of the products introduced in this overview will be discussed in more detail in later posts here in the News section.
Bass guitar
La Bella Olinto J5 – a five-string bass inspired by the classic Jazz Bass, produced by a well-known American brand producing top-quality strings. The professional model bringing the best of older Fenders (pre-CBS) is made to order and hand-built by New York luthier Mas Hino, who chose two pieces of first-class alder for the body, a maple neck with Slim-C profile, rosewood fretboard with 20 frets, 1.5-inch wide bone walnut fretboard, roller saddle bridge, company vintage tuning pegs and a pair of Mas Hino HW singles. A boutique piece in Smokey Burst lacquer comes to about USD 4,600.
Modern Vintage Guitars MVJ5 – a similar concept to the Olinto J5 model is offered by the MVG "five", equipped with an alder JB body, a "baked" maple neck and a fretboard made of the same wood or Indian rosewood. The neck profile and fretboard radius respect the curves used on Jazz Basses from the 1970s, tuning is handled by Hipshot Cloverleaf Ultralite pegs, the strings are anchored in a vintage steel-saddle bridge and the sound is carried by a pair of passive specially wound single coils. Colours: Olympic White, Black, Three Tone Sunburst, Walnut Brown. Price: approx. USD 2,200.
Carvin BX-1 Bass Preamp – after the X1 guitar preamp, the Californian brand now also offers a bass pedal version equipped with a trio of footswitches for activating the main circuit, Mute function and built-in compressor. In addition to Volume, input gain complemented by a 0/-12 dB sensitivity switch, Threshold and Strenght compression controls or a Blend pot, three-band active correction with semi-parametric mids, XLR DI output with detachable ground, standard I/O, effects loop and Thru/Tuner connector can be used. Power is supplied by a battery or 9V 50 mA adapter. Price: approx. USD 240.
Ashdown LB-30 2.N – all-tube amplifier with a power output of 30 W is equipped with a section with six IR samples of Ashdown bass cabinets with Torpedo technology from Two notes, and circuits are built on preamp tubes 1 x ECC81, 1 x ECC82, 2 x ECC83 and end tubes 4 x EL84. There are two active/passive inputs, an effects loop, five-band EQ, gain, master, 2 x XLR jacks, 1 x XLR Torpedo In, 2 x USB ports, MIDI In/Out, headphone output, etc. Price: approx. GBP 1,400.
Mojo Hand FX Octaverse – a reverse octave delay with traditional Mix, Rate, Feedback controls and a button for selecting the upper or lower octave. Footswitch is connected in true bypass mode, current consumption is 70 mA, and power supply is handled exclusively by 9V adapter without battery connection. The expressive-sounding pedal, with a feature that has so far been mostly only available on some expensive multi-delay pedals, comes to USD159.
Keys
Steiner-Connolly Synthacon – a return to the classic monophonic analogue Synthacon from the 1970s, which at the time was a competitor to the better-known Minimoog or ARP Odyssey models. Like the prototype, the replica will offer three VCO units, a VCA and a two-pole 12 dB filter section with white and pink noise, a modulation LFO or a Sample & Hold circuit. Newly installed MIDI, high-quality FATAR keyboard, etc. The instrument, priced at about USD 3,000, can be pre-ordered by emailing support@steiner-connolly.com.
Roland TR-8S v2.5 and TR-6S v1.5 – new firmware for a pair of grooveboxes, accompanied by updated TR-Editor. Several more drum FM modules with full editing and a Probability function with various options and "humanization" for the sequencer have been added, bringing step and partial probability options. The Master FX effects section has also been strengthened, where the Tone Fattener, Pitch Shifter Delay, Vinyl Simulator or Ha-Dou Reverb algorithms can be used. The update is of course free of charge.
Moog – if you are interested in buying Moog Grandmother, Subsequent 25 or DFAM models, you should hurry up because the manufacturer has announced that it is increasing the prices of these instruments by a considerable amount. Moog cited "ongoing global challenges related to material shortages, supply chain constraints, inflation, as well as rising raw material and shipping costs" as the reason for this unpopular move. Price changes: Moog Grandmother – from approx. 880 euros to 1450 euros (64% increase), Moog Subsequent 25 – from approx. 940 euros to 1450 euros (more than 50% increase), DFAM – from approx. 560 euros to 840 euros (50% increase).
Drums
Meinl HCS Smash Stack and Byzance Vintage Smash Stack – effect cymbals consisting of three stacked bent cymbals 10", 12" and 14", which can be supplemented with additional 8" and 16" cymbals if needed. The more affordable version of the HCS Smash Stack in the Medium Thin weight category is made from MS63 drilled brass, while the higher version of the Byzance Vintage Smash Stack (Medium) uses the proven B20 bronze alloy. Prices: HCS024SM (10/12/14) approx. 150 euros, HCS80246SM (8/10/12/14/16) approx. 250 euros, B024VSM (10/12/14) approx. 300 euros, BV80246VSM (8/10/12/14/16) approx. 450 euros.
Zultan Q Thin Crash 18/19/20  – cymbals with a dual finish and a darker, fuller, lower tone are handmade from high-quality B20 bronze alloy. With diameters of 18, 19 and 20 inches, the Thin Crashes expand the Q edition to include models with fast attack, shorter sustain, frequency-balanced sound and responsive playing style, even at lower strike dynamics. Prices: the Zultan Q Thin Crash 18 approx. 140 euros, the Q Thin Crash 19 approx. 170 euros, the Q Thin Crash 20 approx. 190 euros.
DJ / Singing
sE Electronics V7 Switch – a cost-friendly dynamic vocal microphone that can handle other applications. The model equipped with a DMC7 capsule has a supercardioid directional characteristic that effectively isolates the direct signal from the ambient noise on stage, the frequency response is given by the range of 40 Hz to 19 kHz, the head is made of durable spring steel, the emphasis has been placed on superior resistance to feedback and the clean transmission is supported by a gold-plated XLR connector. This time, the developers have embedded a reed switch into the microphone body for noiseless activation. Price: approx. 120 euros including clip, threaded adapter, case and spare windscreen.
Studio
Mooer Steep I a Steep II – the first sound cards from a company known primarily for guitar pedals and multieffects. The dual-channel USB desktop models are equipped with a combined jack/XLR input, 1/4" jack, stereo line out, headphone jack, a pair of USB-C ports, metering, and gain, volume and monitoring controls. The Steep II version replaces the classic jack channel with a second combo input and adds MIDI In/Out DIN connectors. The signal is processed at 24 bit/192 kHz resolution, and a 48V phantom power supply can be used when connecting condenser microphones. The cards should arrive on the market in November. Pricing: Steep I is approx. 140 euros, Steep II approx. 160 euros.
Toneboosters MBC – plugin offering multi-band compressor, positive and negative saturation and processing adjusting the width of the stereo base. The compressor can use up to 10 bands with adjustable crossover steepness, two compression curves per band or descending or ascending compression. The software features support for up to 16 channels of premium-quality surround sound with very low harmonic distortion, and Undo, Redo, A/B and preset organizer functions are also provided. VST, AAX, Audio Unit, standalone. Price 24 euros.
Antelope Audio Edge Note – a small-diaphragm condenser microphone with a 16.1 mm diameter cardioid capsule, an extremely high SPL limit of 146 dB, a 75/115 Hz high-pass filter, a 0/-10/-20 dB attenuation switch, and compatibility with 13 studio reference emulations usable with any Antelope interface or native DAW plug-ins. Dimensions: 114 x 20 mm, power supply: phantom 48V DC, frequency range: 20 Hz to 20 kHz. Price: approx. 150 EUR per piece including shock mount. Calibrated pair can be purchased, too.
If you have found an error or typo in the article, please let us know by e-mail info@insounder.org.