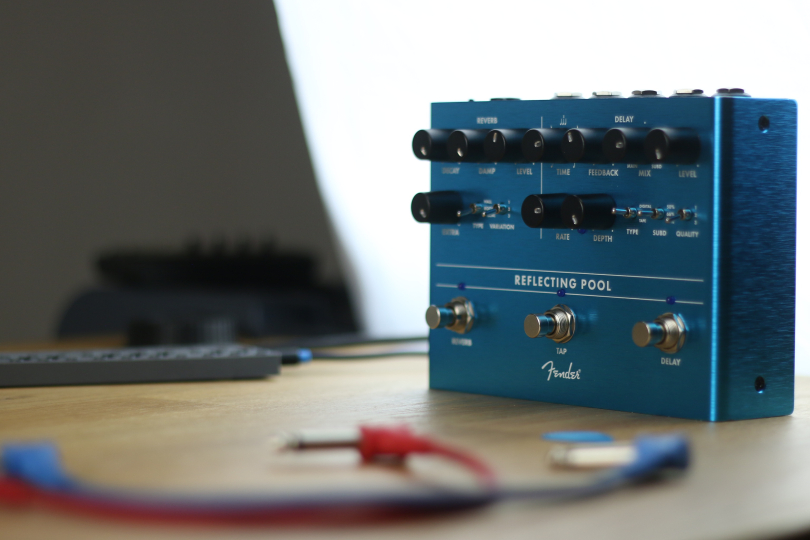 Quick Pedal Review: Fender Reflecting Pool
Looking for a box that will provide delay and reverb at the same time? Then check out the Fender Reflecting Pool guitar effect. In this price range, it offers quite a lot.
As I wrote above, the Reflecting Pool offers a combination of delay and reverb effects in one blue box. Both can be used separately or together, and each effect also hides a few "tricks" that are sure to please any guitar enthusiast.
Delay
The delay section offers three types of delay – digital, analogue and tape. But that's not all. For all three types, you can use a three-position switch to select one of three "qualities", so you end up with a pretty decent range of precise but also properly dirty echoes.
The tempo of the delay can be set by tapping or using the knob and you can choose from basic rhythmic variations (quarter notes, half notes, eighth notes, sixteenth notes, dotted notes, triplets). In addition, you can use the potentiometer mix to add more rhythmic subdivisions (even though the knob's name might not necessarily suggest that) to get a complex and playful echo.
Also, the delay can be modulated. You can set both a slight fluctuation and a pronounced modulation of the pitch.
Reverb
There are three types of reverb. Hall, Room and Special. Again, each reverb has a three-position switch. With the first two reverb types, you can set the room size, and with the Special type, you can set the Shimmer reverb (with the top octave added), the reverse or gated reverb and the modulated reverb.
Hall and Room are mainly used by more traditional players, while the Special algorithm is suitable for ambient music and long dreamy layers. The knobs allow you to adjust the decay time, treble level and ratio to the original signal.
Verdict
In this price category, this surprisingly variable effect with a nice sound will probably cover all the standard reverb and delay needs of most players. It works in stereo and can be connected to an external expression pedal. Don't look for midi here. Also, the USB on the rear panel is only for firmware updates.
If you have found an error or typo in the article, please let us know by e-mail info@insounder.org.