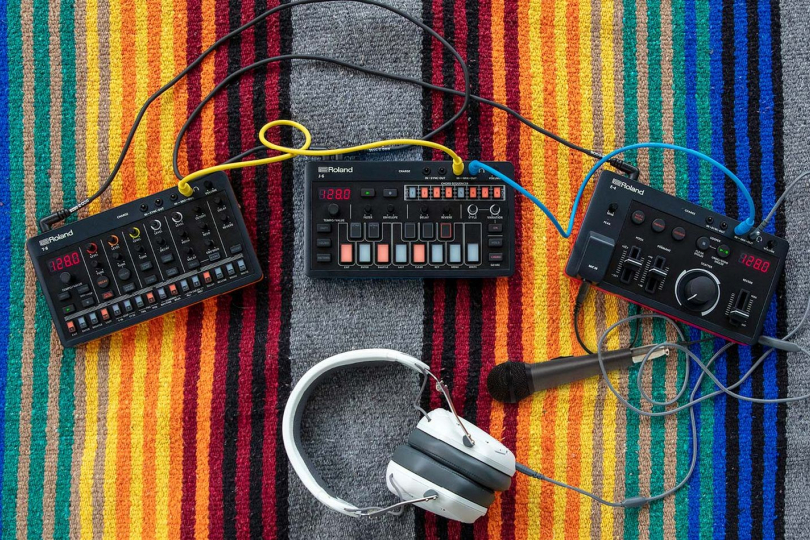 Roland E-4, J-6 and T-8: Three Models From the New AIRA Compact Series
The name of the AIRA Compact edition already suggests that these new products are lightweight, portable models, which also score a favourable price in terms of the brand's financial policy. The AIRA Compact collection is launched in the form of a trio of digital machines, represented by the E-4 Voice Tweaker, J-6 Chord Synthesizer and T-8 Beat Machine, bringing iconic sounds of the company's famous instruments. Common features include an integrated USB-C audio/MIDI interface (class-compliant), extensive connectivity including synchronization or AIRA Link, rugged construction, the ability to connect to other AIRA Compact models or other MIDI devices, and last but not least, a Li-ion battery with up to 4.5 hours of operation on a single charge.
The E-4 Voice Tweaker is capable of automatically editing, looping, harmonizing and variously transforming not only your voice but basically any audio signal. This is done with Pitch and Formant sliders, advanced vocal effects with Auto Pitch, a harmonizer and a vocoder. Rhythmic textures can be created with the Scatter parameter, the effects section includes reverb, echo, tempo delay and chorus, a low-cut filter and a noise gate.
A 24-second looper with unlimited overdubbing, undo/redo function and automatic BPM detection are integrated. The E-4 also supports external MIDI control of pitch, harmony and vocoder functions, gain control is assigned to the external microphone jack input, and the headphone output is tied to the built-in microphone.
The J-6 Chord Synthesizer combines a powerful chord sequencer with the authentic sounds of the famous JUNO-60 synthesizer. So within seconds, you can generate ideas and experiment with styles and variations, with hundreds of chord sets of different genres, arpeggios and rhythmic phrases divided into 9 styles of 12 variations in each.
A programmable chord sequencer with 64 user patterns and up to 64 steps in each of them is complemented by a four-voice JUNO-60 synth engine with sound realized through Analog Circuit Behavior (ACB) technology. There are 64 synth presets derived from the original JUNO-60, filter and envelope controls for shaping sounds in real time, and, of course, a delay and reverb effects unit equipped with customizable settings.
The T-8 Beat Machine, a miniature rhythm station with legendary Roland TR drum registers and bass programs borrowed from another benchmark, the TB-303, offers an intuitive 16-step sequencer and a host of features for creating an almost infinite number of rhythm figures. Once again, patented ACB technology has been used to faithfully reproduce the tonality and behaviour of vintage Roland instruments.
There are six rhythm tracks with samples from the TR-808, TR-909, TR-606 drum machines, a bass track with sawtooth/square waveforms and a handy control derived from the TB-303 Bass Line, or the classic TR-REC drum sequencer with 64 user patterns and up to 32 steps for each. Of course, advanced rhythm programming is applied with sub step, last, velocity and probability functions, and you can use real-time recording, step loop, mute, fill, reload, pattern shift, as well as delay, reverb, overdrive or sidechain compressor effects.
Identically designed connectivity consists of the aforementioned USB-C port, TRS MIDI In/Out jacks, a pair of minijack connectors for sync and input plus Mix output, with the latter also serving as a headphone output. All models come with a USB-C – USB-A cable. The price has been set consistently at around 200 euros.
Dimensions and weight
Roland AIRA Compact E-4 Voice Tweaker: 41.7 x 106.5 x 188 mm, 290 grams
Roland AIRA Compact J-6 Chord Synthesizer: 36.2 x 106 x 188 mm, 295 grams
Roland AIRA Compact T-8 Beat Machine: 36.2 x 106 x 188 mm, 310 grams
If you have found an error or typo in the article, please let us know by e-mail info@insounder.org.