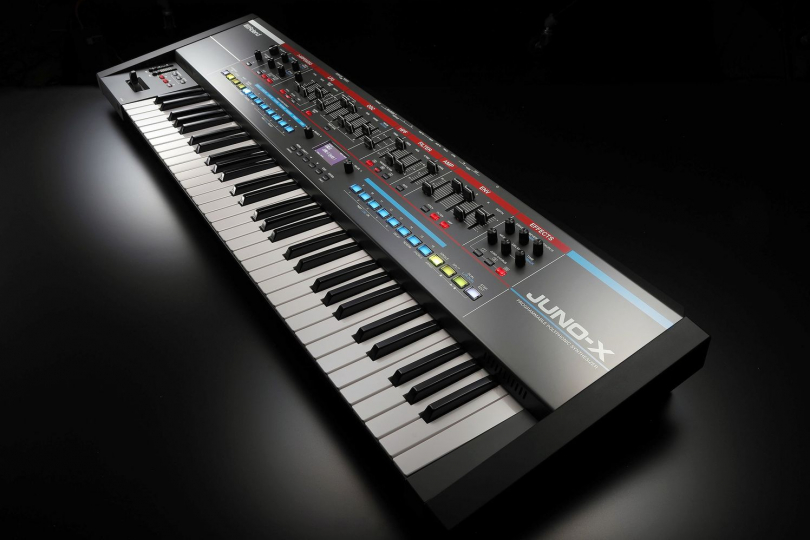 Roland Juno-X: Successor to the Iconic ZEN-Core Synths
Roland launched the first Juno synth in 1982, and over the years this instrument, now legendary, has had many successors. Forty years after the premiere of the Juno-6, the Japanese brand has come up with the latest version of the Juno-X, using advanced synthesis based on the patented ZEN-Core system, offering not only the sounds of the historic Juno-60 and Juno-106 models or registers taken from the popular XV-5080 or RD pianos but also Model Expansions with additional instruments and options.
The Juno-X Programmable Polyphonic Synthesizer, combining vintage era sound with state-of-the-art technology, is also fully compatible with Juno-X Editor software (Mac and Windows platforms), allowing you to take your creativity to the next level by making detailed adjustments to effects, sounds, scenes, presets, etc. Previous versions inspire the synth's control panel, and the "scene-based" work ensures fast and intuitive editing.
High-quality sliders and high-resolution encoders contribute to the precision of control; a 61-key keyboard with channel aftertouch function is integrated, in addition to the standard arpeggiator (known from the Juno-60) there is also an I-Arpeggio unit controlled by intelligent algorithms and a classic vocoder. There's also a 2 x 4 W stereo power amplifier connected to elliptical speakers (3.5 x 8 cm) plus 2-inch diameter tweeters, and the playback section supports Bluetooth wireless audio 4.2.
The new synth core offers a Super Saw waveform oscillator, velocity function, envelope pitch control, etc., among other features. Layering allows the use of up to four notes, the bank contains 4000 presets, 256 scenes and rhythm parts from over 90 drum kits, and the effects section has been massively enhanced, too. In addition to the pair of classic Chorus modes from the original, a Chorus III mode has been added, so up to seven of these modulation effects can now be assigned to any note, and you can choose from multi-effects units, overdrives, EQs, delays, compressors, etc.
Connectivity includes a Speakon microphone input with custom volume, a pair of main jack outputs combined with balanced XLR outputs, a headphone jack, a minijack Aux In, MIDI In/Out DIN jacks, two inputs for external footswitches (Ctrl, Hold) and a pair of USB ports (A/B) for audio/MIDI interface and data backup to a flash drive.
As already mentioned, the player also has user slots in the Model Expansions section for uploading (wireless adapter WC-1 Roland Cloud Connect) software instruments from the Roland Cloud series, including models such as Jupiter-8, JD-800, Vocal Designer, SH-01 or JX-8P. A total of 10 free Sound Packs should be available with the purchase of Juno-X.
Measuring 1072 x 118 x 333 mm and weighing 11.6 kg, the Polysynth Roland Juno-X is powered directly from the mains, eliminating the need for an adapter. The official price has been set at around 2000 euros for the European market.
If you have found an error or typo in the article, please let us know by e-mail info@insounder.org.